Whether you work at an SEO agency, in-house or for yourself as a freelance consultant, Raptor's SEO tools are for YOU. Our founding members have worked in SEO in all the roles mentioned above, combined, for two decades, so we know what SEOs need.
We've poured our years of experience into a cutting edge, state of the art SEO tools, affordable to any online business or SEO.
The 'TLDR' Version of This Page
Can't be bothered to watch a video or read the content on this page? Well here's the bullet point summary for you…
What We Do
Crawl websites
Scrape SEO web data
Make beautiful reports
Identify technical issues
Help with SEO
What this can help with
SEO Reporting
Optimising websites for target keywords
Technical Auditing
Competitor Analysis
SEO Snapshots
Competitive Benchmarking
Page Speed Analysis
If that's all you need to know, you can sign up for a free trial by clicking the link, or you can continue reading for more details.
Our Services
What we can Offer
---
Technical Audits
We look at over 200 components during a technical audit, and perform over 500 checks across every page of your site.
Page Speed Analysis
Granular and top-level page speed analysis, waterfall charts and intelligent analysis helps us to identify the biggest opportunities.
Over Time Tracking
We track all of the data all of the time! Meaning that we can easily identify correlations, causation and insights to improve organic performance.
Analytics / Reporting
All reports are customizable with components being easily removed or added, with template options to avoid creating the same report more than once.
Back Links
Regular and continuous back link analysis allows us to provide actionable link building opportunities.
Keywords
We support your efforts to find, target, collect and analyse keywords and keyword data with both keyword research and keyword rankings.
More Than Just a Web Crawler, We Help Businesses Grow
We've made our software easy to use, navigate and understand no matter your level of knowledge. Everyone from noobs to veterans will be able to get what they need quickly and efficiently. Our software helps automate manual tasks, perform checks, analyses data, and present visualisations in a goal driven environment.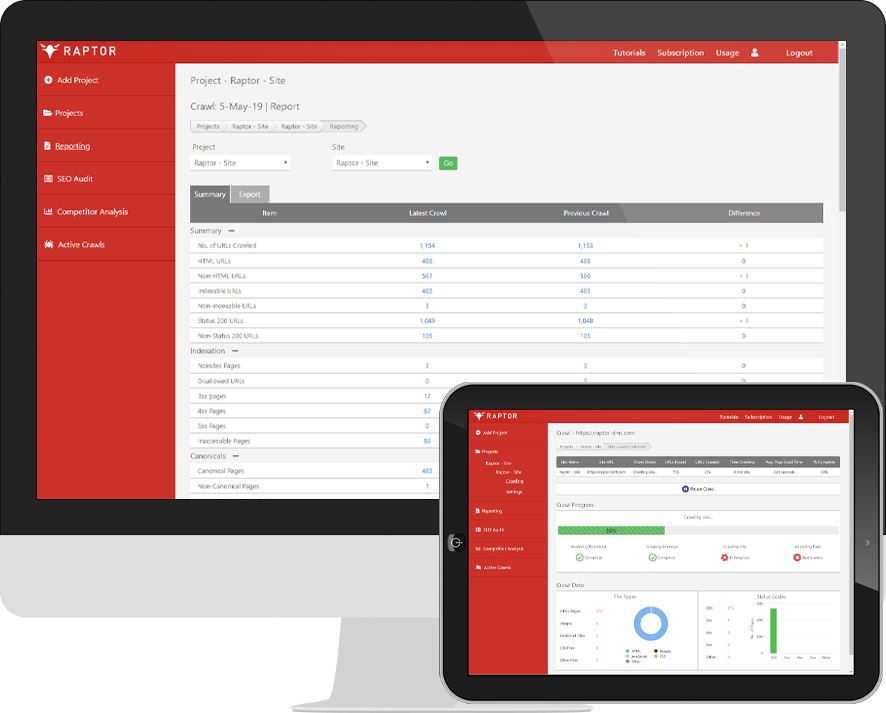 We understand that SEOs need tools for a wide range of activities and have designed our tools to meet those needs head on. SEO is goal driven and so are we, we know that you don't just want a CSV file or to find errors, you want to boost rankings, traffic and online sales for your clients or win pitches to get more clients.
How Can Raptor Help Your Business?
Raptor is here to help all businesses, from SMBs to large brands. Monitor your site over time, track changes, be alerted to critical issues, analyse competitors, benchmarking and much more. Raptor is for any online business that wants to grow their organic presence, drive sales and online profits.
We do this by providing you with the SEO data & visualisations you need to make smart decisions, all at the click of a button.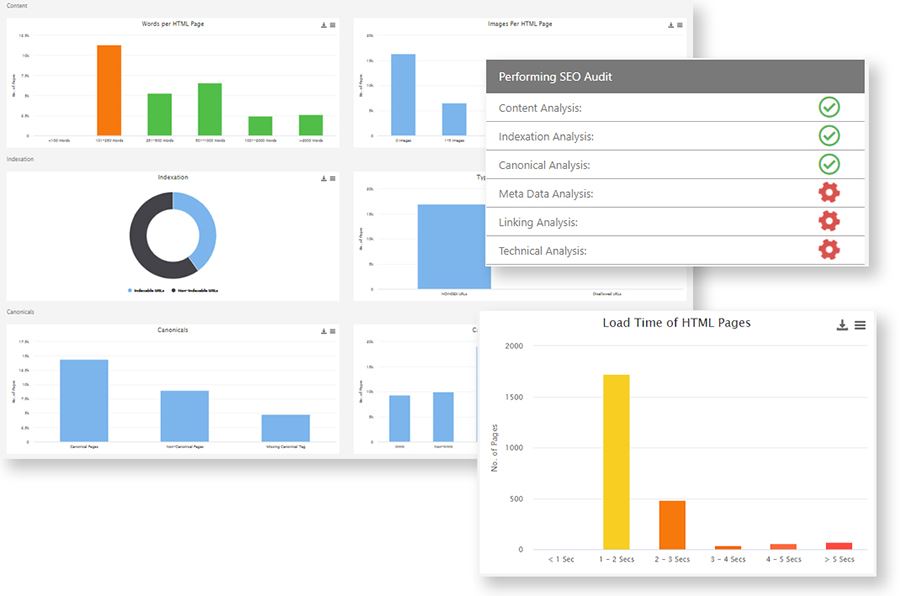 Technical audits ensure that your site is indexable and that all the nuts and bolts are tightened to the correct torque settings. Audits are a frequent job for SEOs and businesses because websites are continually updated with new content or makeovers. Raptor performs technical audits on sites, performing hundreds of checks and presents you with the findings.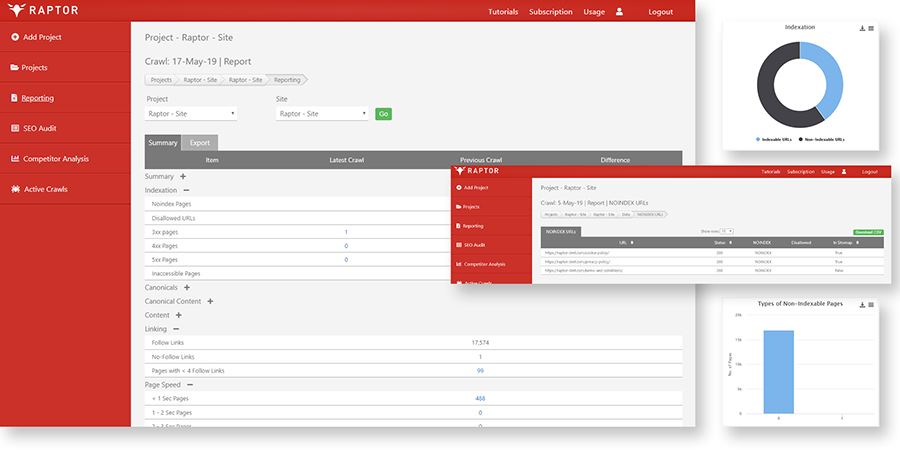 Learn more about how Raptor helps with & performs technical site audits.
Professional Quality Reports to Impress Your Clients
Whether you work in-house or for an agency, you have clients. You'll notice them as they are the people asking you for results or to demonstrate your value! Whether they take the form of your manager, the CMO or the people who come in once a month to see how much money you've made them, clients pay the bills, grow your business and provide you with pay rises, consequently it pays to keep them impressed.
Raptor produce quality reports that you can send straight to your clients. We also automate so much of the work, that you have more time to call and nurture your clients or focus on value adds.
Learn more about the SEO reports available in Raptor.
Optimise Any Site to Boost Rankings
A site can't rank for target keywords unless it targets them effectively on-page, to do that you need to crawl your site, analyse the data and ensure that keywords are used in the correct places. Raptor gives you all this information at your fingertips.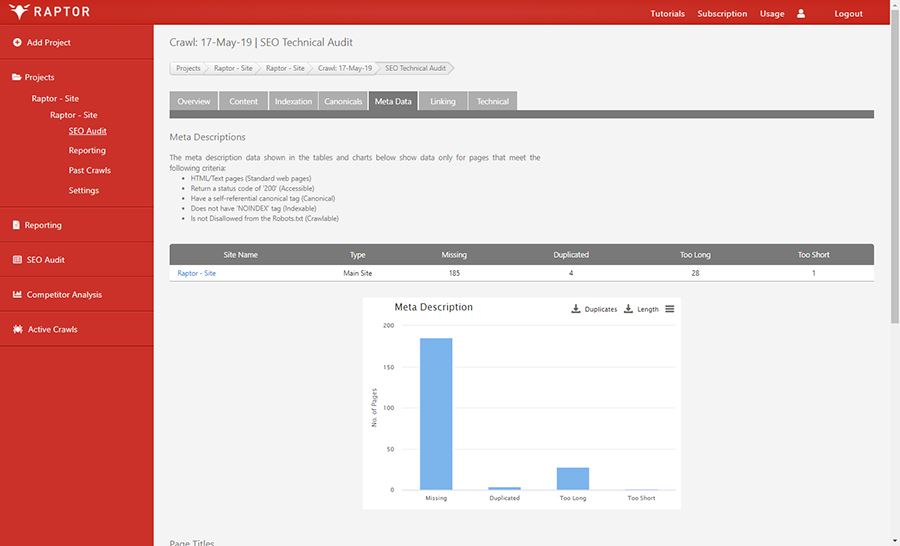 Whether its page titles, headers, anchor text or alt attributes, we provide you with the data you need to see if keywords are being effectively targeted. You can also use the exported data to map new target keywords and optimise your site to boost rankings.
Competitor Analysis to Increase Traffic & Sales
There are always reasons to spy on your competitors, whether you want to scrape their keywords, evaluate their SEO strategy or monitor their progress. Raptor allows you to add as many competitors as you like to a project, track and crawl them whenever you need.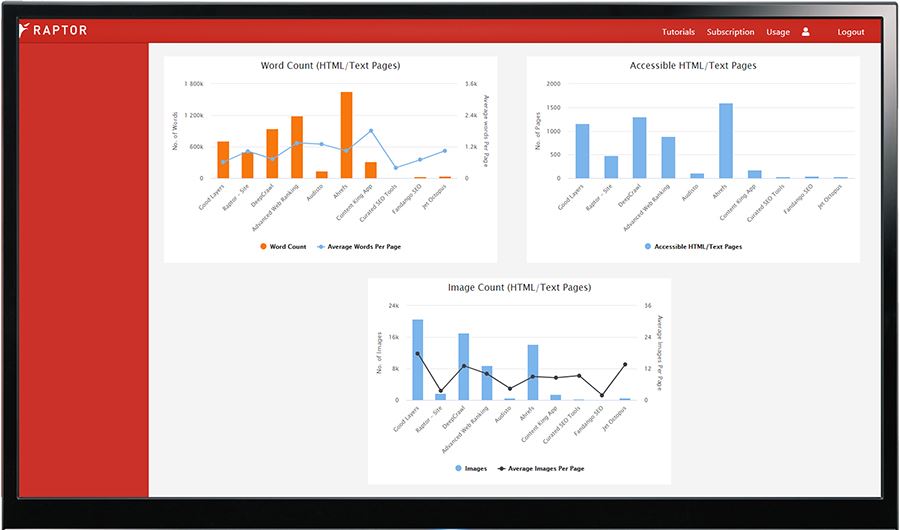 Our easy to use project management system is especially useful for agencies or freelancers who want to group client projects in one place. Keeping the main site (the client site) and their competitors in a single project, perform analysis on the whole project or crawl when required.
Learn more about our competitor analysis tools.
SEO Snapshot to Win Pitches
Pitching to prospective clients can be a time-consuming process for agencies and freelancers. One of the most time-consuming aspects of the process is gathering and analysing data to find the opportunities. This is where Raptor can help, without taking more than a minute of your time!
We can crawl and analyse your prospective client and their competitors, showing you all the opportunities. Comparing your prospective client to their competitors is a powerful lever when trying to demonstrate the value you can add. Nothing is more compelling than saying "all of your competitors are currently beating you in these areas"!
Benchmark Your Site in The Competitive Landscape
Competitive benchmarking isn't just for winning business or leveraging internal stakeholders to take actions or increase budgets. Benchmarking can provide critical input to strategic decisions about where to direct your efforts through identifying strengths and weaknesses.
Whether you have a seven- or four-digit budget, knowing where to invest or how to segment your marketing budget is critical to success. Justifying that spend is as important, benchmarking is one of the first steps in making this type of decision.
Page Speed Analysis to Improve the User Experience
User experience is as important as getting users to your site, and page speed is the crossroad where SEO meets UX (User Experience). Improving page load times not only dramatically advances the user experience, but it also directly improves rankings.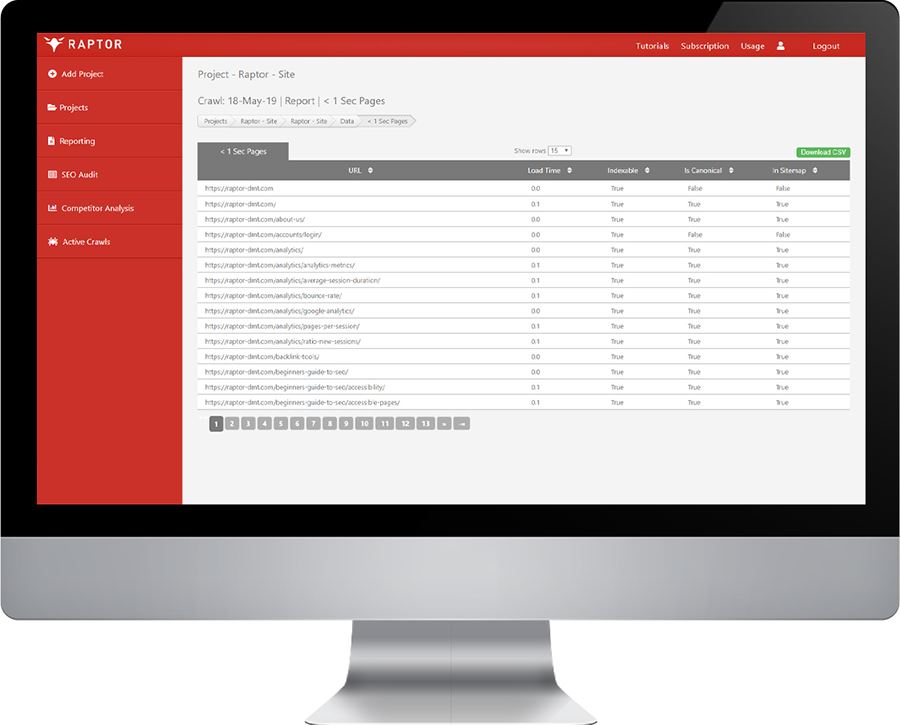 Raptor enables you to quickly find the slowest pages on your site and provides you with the data you need to see both why those pages are slow and what you need to do to speed them up. This is just one of the many ways we can help improve both UX and SEO.
Learn more about Raptor's page speed analysis.
How Are We Different from the Rest?
Depending on who you compare us to, there are many things that differentiate us from our competitors.
Unlike many of our competitors:
We don't want you to call a sales team that will try and push a sale
We don't withhold features from customers that can't afford the best pricing plan
We don't offer just two subscriptions, one of which requires you to sit through an hour-long pitch
We don't need your credit card details to get a free trial
We don't tie you into long contracts
We don't use 'opt-out' tactics
However:
We do offer affordable pricing options to meet the needs of freelancers to enterprise-level agencies
We do provide a single limit on usage… the number of URLs you can crawl per month
We do allow as many projects as you need
We do allow as many sites as you want to add
We do allow you to have as many users as you like
We do allow you to access our tool from as any devices as you have
We do provide all the lovely SEO data you need to make strategic decisions, grow existing business and get new customers
We do offer cloud-based web crawling, access your data from anywhere, anytime
Want to Know What Our USPs (Unique Selling Points) Are?
Raptor offers a huge range of selling points, such as those listed above, but the one thing we are asked the most is "what are your unique selling points?".
We offer better value for money than other web crawlers
Crawl more URLs for less cost than any like for like competitor
Unique competitor analysis
Our competitor benchmarking is unlike any other tool
Our SEO snapshot feature is totally unique
Sign Up for a Free Trial
With the free trial you access to every feature available in a paid package, so you can try everything that we have to offer! You get 5,000 URLs and 30-days to use them in. You can upgrade at any point you want.
You will notice at the top of the page when using Raptor's SEO Tools, a strip that tells you how many URLs you have remaining on your trial. This starts off green and turns orange then red as you get close to your limit. See image below:
Still not convinced. Try us for free today and crawl & analyse up to 5,000 URLs for no charge.
SEO WEB CRAWLER - FREE 30-DAY TRIAL!
30-Day Free Trial of our SEO Web Crawler Now Available, sign up with a valid email address and your name below to get instant access. No Credit Cards Required.