Step 2.22: Devices & Design Types
Basic Concepts | On-Page | Design Types For Devices
Direct Ranking Factor: Critical
Websites should be accessible from all modern device types, these include:
Desktop / laptop computers
Mobile phones
Tablets
The Problem!
In this day and ages, there are many ways in which people access the internet, and for different reasons. We have already mentioned how this can affect the SERPs themselves.
Page speed is one of the main considerations, as large files can clog up the smaller bandwidth of mobile devices.
Consequently, websites need to be accessible and functional on a huge range of screen sizes and capabilities.
Options
Most websites (even old ones) are usually fine when accessed from a desktop or laptop computer. There are essentially four main options available to you in order to make your site accessible on other devices.
AMP
This is Google technology and will enable your content to work seamlessly on mobile devices. As the screenshot below shows, there is an icon in mobile SERPs that indicates the usage of this technology, which can encourage click through rate. This tech is more about where the content is hosted, in this case on Google's servers which will make it lightening fast!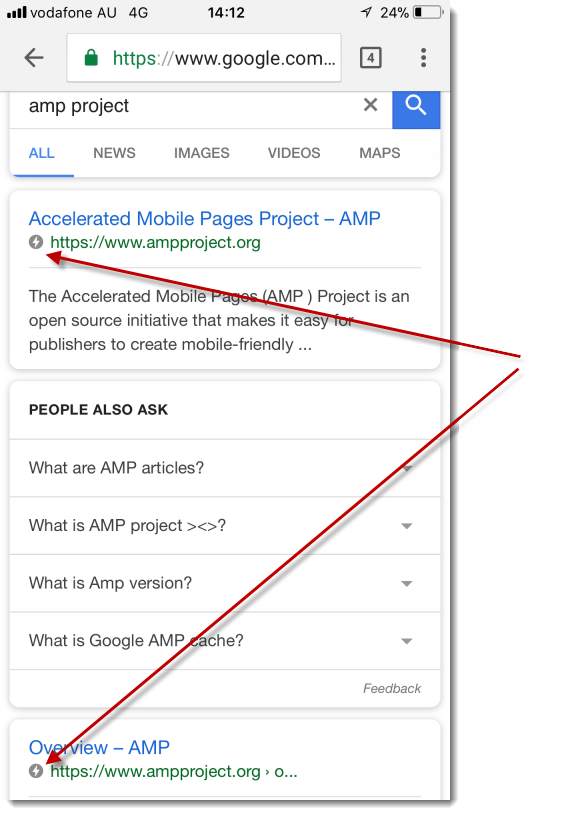 Mobile Site
This is an older method, where you have a mobile version of the site on a different URL structure, often done with a sub-domain like:
m.example.com
This requires its own management and does not guarantee efficient use across a wide range of screen sizes; thus, it is not ideal.
Responsive & Adaptive Website Design
These two options have been bundled together as you can use them separately or you can use a combination of responsive adaptive design.
These are technologies that either automatically adjust or adapt to variant versions of your site based on the device being used to access it.
Design Type Guidelines
Guidelines for creating websites for different devices are as follows:
Ensure functionality remains
Ensure content is readable
Ensure content is accessible
Ensure buttons (tap targets) are not too close together or too small
Ensure canonical issues do not arise from duplicating content
Aim mobile content at the intent behind the mobile search
< Previous Step 2.21: Sitemaps