Competitor Analysis with Raptor SEO Tools
Of all the SEO tools available on the market, our competitor analysis feature is unique in the data and visualisations that it provides. Not only is it unique, but the applications for this can help businesses in a number of ways.
Reviewing competitor sites is always valuable, whether you are looking to scrape keywords, get content ideas, or benchmark your site against theirs.
Benefits of Raptor's Competitor Analysis Tool
| | |
| --- | --- |
| | Scrape Competitor Data |
| | Spy on Competitor Keywords |
| | Benchmark Against competitors |
| | SEO Competitor Snapshot |
| | Track Competitors Over Time |
Group & Crawl Competitor Sites Within Projects for Easy Project Management
Most SEO tools require you to make different projects for each site you want to add. Rather than adding tens or hundreds of projects for each site or competitor, group them into a single project for ease of access.
This feature makes managing your sites and projects much easier, within any project you can add as many competitors as you like. Manage all crawls, crawl data and reporting for these sites from a centralised location.
Scrape Competitor Data to Spy on Their Keywords & Content
Understanding your competitors keyword can provide value for several reasons, especially when feeding into your own keyword strategy. This can highlight keywords that you may want to target on your own site, or it could dissuade you from targeting them entirely.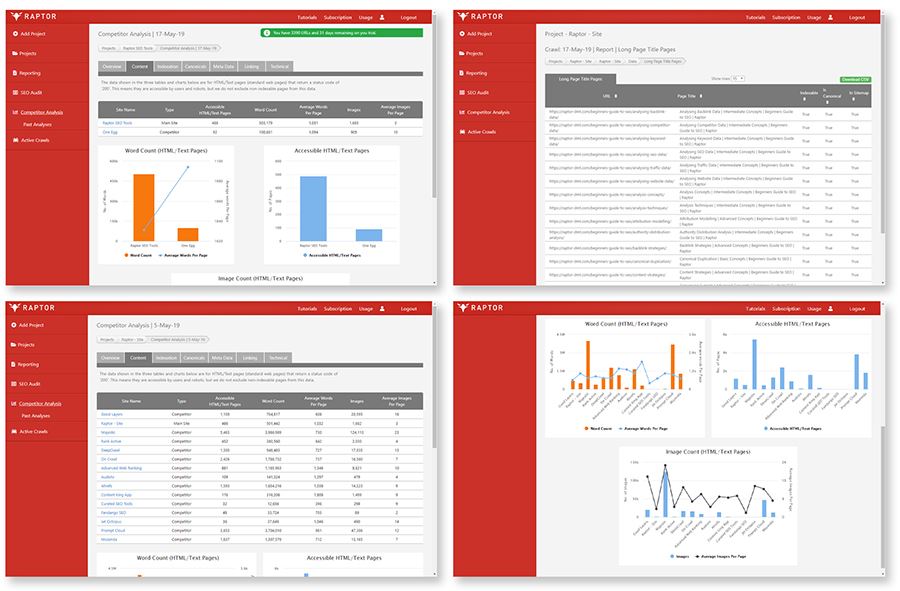 Comparing your content and keyword strategy to your competitors can also provide information about how much content you need in order to compete. Generate ideas for content for your own content strategy, or find open spaces in the competitive landscape poorly covered by your competitors.
No matter what benefit you take from competitor analysis, Raptor can help feed into that process with advanced SEO competitor data.
Benchmark Your Site Against Competitors. See How You Compare
Benchmarking your site against the competitive landscape can be a valuable technique for seeing where you need to be in specific areas. For example, comparing the page speed of your site to that of your competitors can provide valuable insights; as to how likely you are to rank for shared target keywords.
Build a Competitive SEO Snapshot. Great for Wining Pitches or Upselling!
Using our competitor analysis tool for building an SEO snapshot is also very useful when pitching for new business or upselling to existing clients. This process can take up a lot of your valuable time with no guarantee of any new business.
Raptor helps take the sting out of this process by automating much of the work for you, simply download the charts into a presentation. This gives you more time to practice your presentation or improve the pitch deck.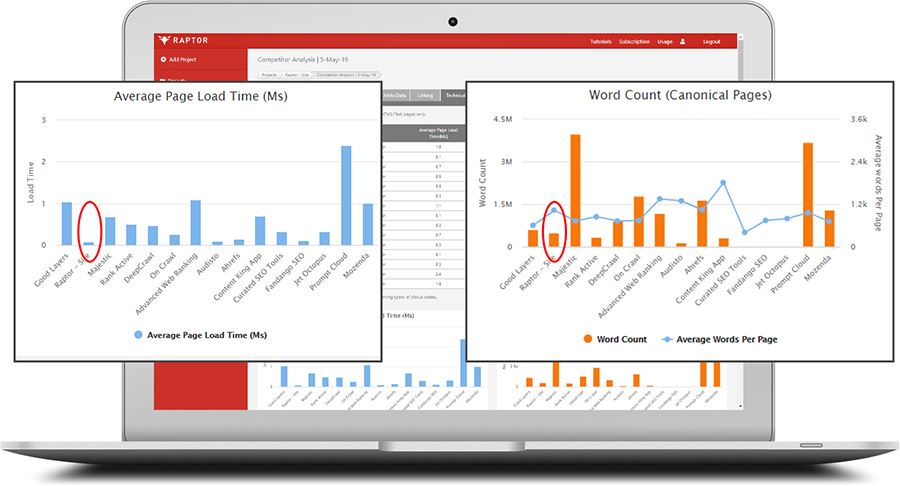 This type of analysis can provide beneficial direction when it comes to the wider SEO strategy, showing you where the biggest opportunities exist.
Track Your Site & Competitor Data Over Time & Correlate with Performance
Tracking both your own site data and that of your competitors over time provides a unique benefit. When combining this with ranking data or other performance data, you can often see why you may have gained or lost space to competitors.
Did a competitor revamp their site or keyword strategy, did they add a ton of new content or improve their page speed? Answering this type of question can only be done accurately with historical crawl data.
Because we provide a cloud-based solution for web crawling, you don't need to dig through months of csv files to find old crawl data! Just click on the 'past crawls' link in a project and select the crawl, no matter how old it is we keep it safe for you.