Technical SEO Site Audit Tool
Technical site audits are essential to ensure that your site isn't suffering technical issues that could prevent your content from being found by Google.
>
Benefits of Raptor's Technical Site Audit Tool
| | |
| --- | --- |
| | Quickly Perform Technical Audits |
| | Identify Page Speed Issues |
| | identify Indexation Issues |
| | identify Canonical Issues |
| | identify Meta Data Issues |
| | identify URL Issues |
| | identify Broken Links |
| | identify Internal Linking Issues |
Technical Auditing for SEOs By SEOs
Raptor's web crawler and technical auditing tools were designed by SEOs for SEOs, covering all the on-page technical auditing requirements you may have at an agency or in-house. Whether it's page speed analysis, indexation issues, canonical errors, or duplicate content Raptor will be able to help.
With two founding members of Raptor, Alec Sharratt & Ilan Shabad, both veterans of SEO, we have created a tool to help other SEOs identify and resolve technical site issues. Only by doing SEO can you know how to improve the processes and work-flows that other SEOs go through. Raptor meets those needs head on with powerful and intuitive software.
Perform a Technical Audit of Your Site to Improve SEO
We know that you want to spend less time finding technical site issues and more time fixing them! Raptor is designed to take the headache out of detecting SEO problems and put them emphasis on adding value.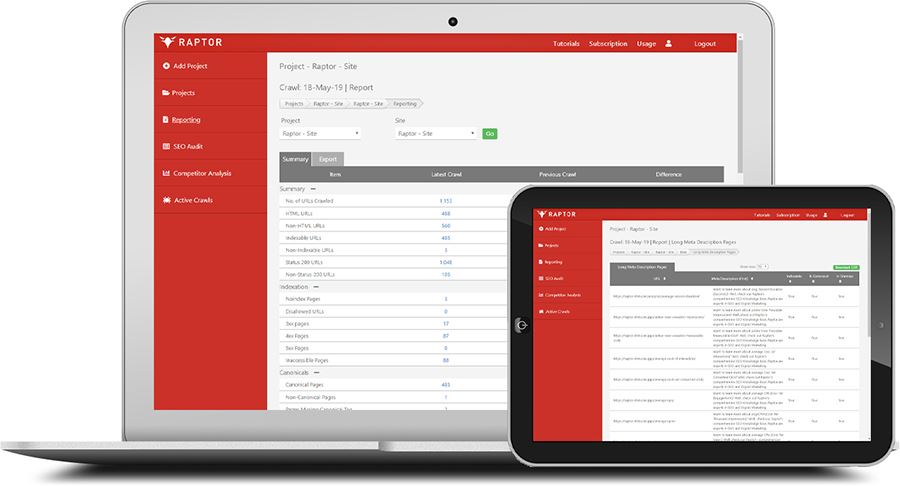 Quickly & Easily Locate Site Issues That Are Obstructing Rankings
We perform a long list of checks on site crawl data, essentially analysing everything with our algorithms and database queries. Because our servers run these operations, we can find site issues quickly and easily. This ensures that nothing is missed that might be obstructing better rankings.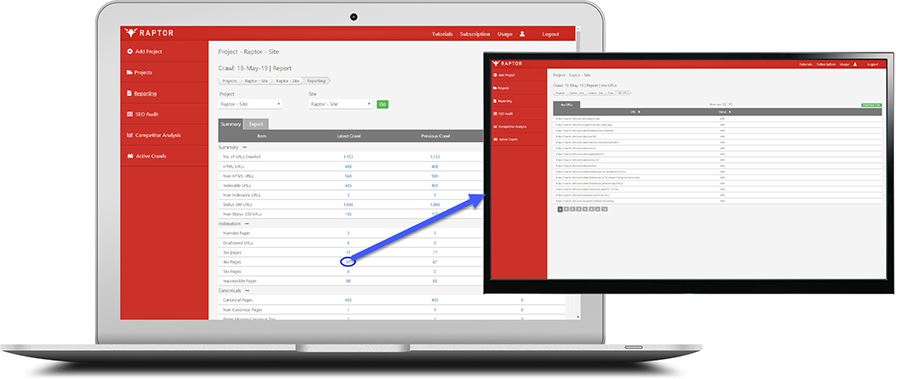 All errors are detailed within the "errors" tab in the reporting section of the tool and any informational components like redirects will show in the "FYI" tab.
Advanced SEO Auditing Data for to Advance Organic Visibility
Finding pages that can't accessed or indexed, that have canonical errors or poorly optimised meta data could not be easier. One we've crawled and analysed your site, these data are clearly presented and highlighted to you.
Whether you're looking to identify page speed issues, redirect chains or badly configured robots.txt files, we don't just help, we find them for you. All you need to do is make the recommendation or implement the solution to advance organic visibility.
Technical Checks That Can Boost Online Sales & Revenue
Reducing or completely removing technical SEO errors from a site will enable the site to rank higher and get more traffic, which leads to a boost in both online sales and revenue. Raptor performs hundreds of technical SEO checks on every site that we crawl. You'll find everything you would expect in a technical audit and probably a lot that you wouldn't!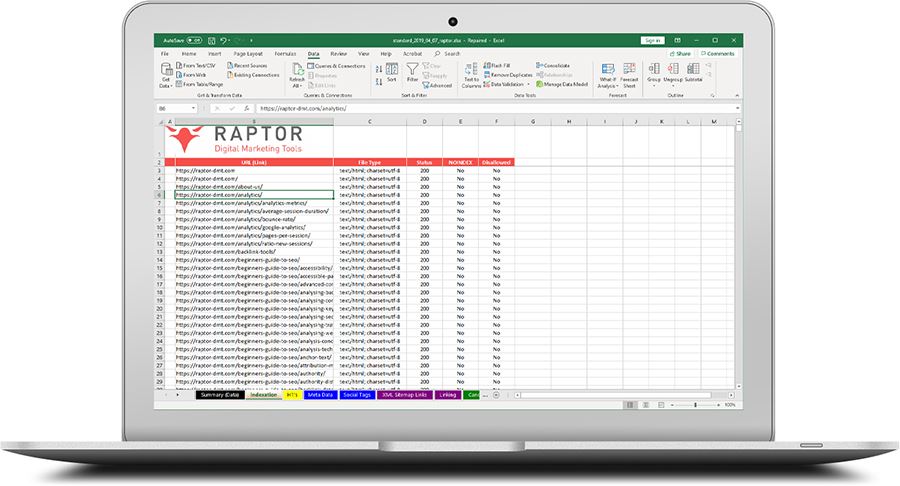 We perform a comprehensive amount of technical checks on every site and the fact that we don't withhold checks or features means that you can be as thorough with a small client as you can with a large one.
Visualising Technical Issues & Site Data, Makes Detecting Errors Effortless
Raptor uses unique data visualisations you won't find in other SEO tools or web crawlers. These visualisations are designed to enable easier analysis, making the detection of errors very easy. A table of data is great, we love data, but the right chart or diagram can speak volumes.
Colour coding, powerful charting tools and industry knowledge have allowed us to create visualisations and derive actionable insights from them.
Track the Progress of Your Work by Comparing Crawl Data
Tracking your site, or your client's site, over time with regular or scheduled crawls means that you can easily see trends in the data and track progress. With just two crawls of the same site, you can compare data, see what has changed and what's been added or removed.
Easily see if your recommendations have been implemented before you speak to your client or web developer. Compare historical data with current data to identify the cause of traffic fluctuations.
Impress Clients with Professional Technical Site Audit Reports
Impressing clients is always useful, professional reports are a good way to do this. If you don't have clients, you may have internal stakeholders or a manager who you'd like to impress. Spend less time building reports and more time practicing your pitch or presentation.
Save Time on Manual Tasks, Spend More Time on Growing Your Business
If you want to manually check a site or even manually review site crawl data, even if you are good at it, you won't be as quick, as thorough or as cost effective as Raptor. Because of this, we free up your time to grow your business and your client's business.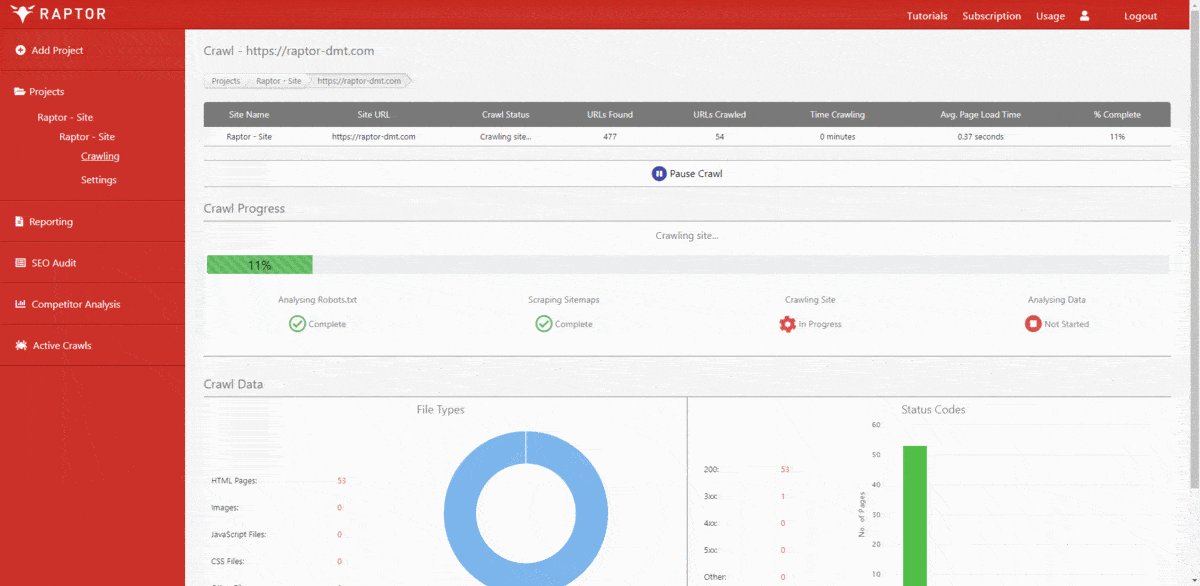 We build data visualisations that help you to sell your services more effectively. Whether it's in comparative analysis with competitors or distribution charts that emphasise not only the error but the gravity of the error.