Manually identifying SEO problems can be a time-consuming task unless you deploy technology to automate as much of the job as possible. At Raptor, we have built a comprehensive suite of SEO tools that allow you to do just this. With little more than a click of a button, you can have all the data you need at the tip of your fingers.
In late 2019 Raptor launched the 'SEO Errors' report in our SEO tool and in early 2020 we followed up by re-launching our new SEO auditing tool. The power of these two features combined enables our customers to crawl, process, analyse and visualise SEO data in a streamlined, comprehensive central location.
SEO Issues
SEO Issues can just as easily creep into old sites over time with incremental updates, changes to content, pages being retired, products going out of stock, etc. All these things and many more can allow issues to slowly build up. New sites often come out the box with SEO problems, such a relative linking, missing meta descriptions and such like.
No matter how or where SEO problems comes from on a site, they should be dealt with and to deal with them you first need to identify them. An SEO audit is the best way to identify the issues besetting a site. The screenshot below shows the errors report and you can see from this that they are grouped into categories: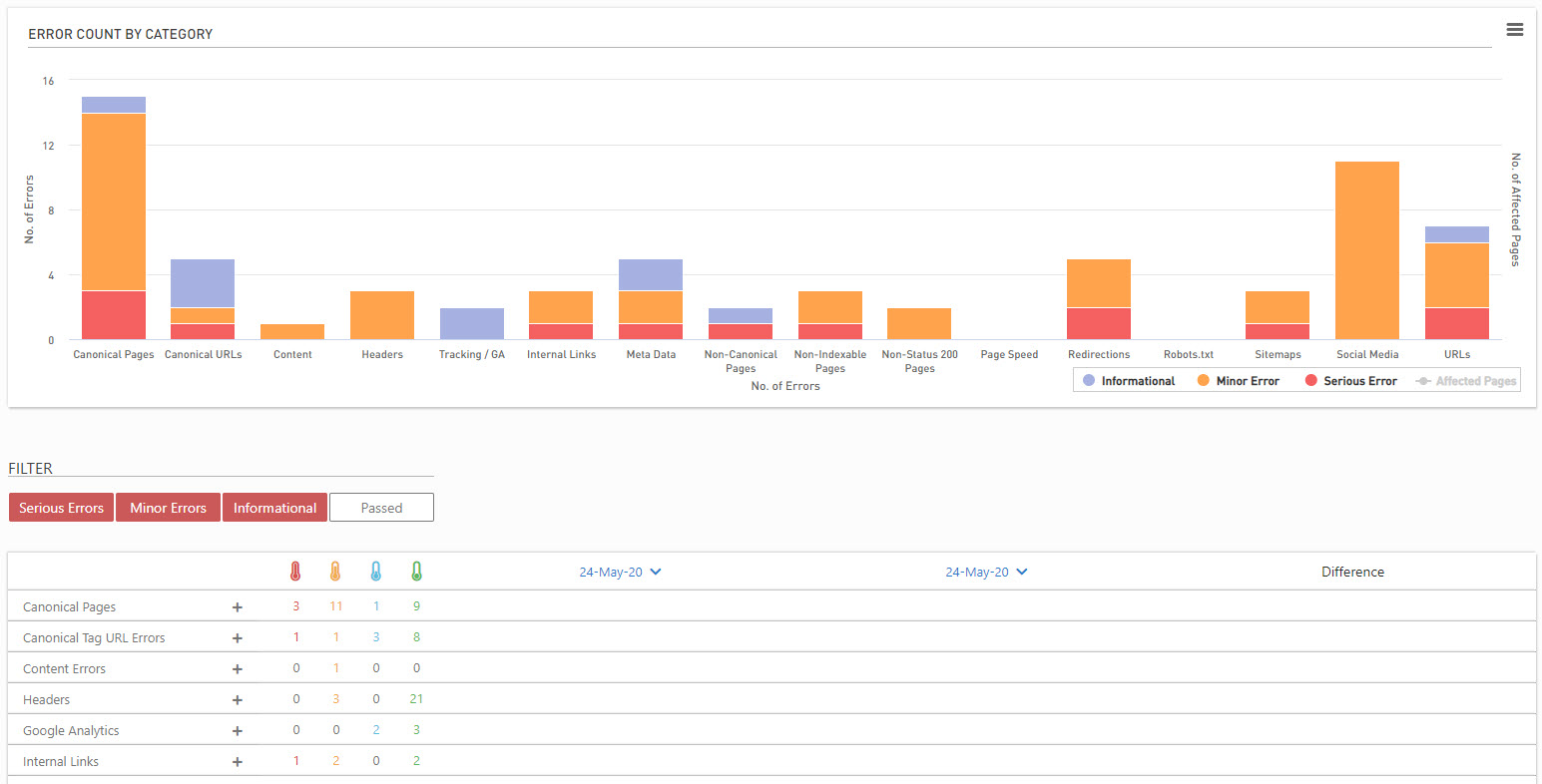 Our SEO Tool allows our customers to perform hundreds of checks across any number of webpages and website resources. These checks identify a wide range of errors and warnings that can be reviewed quickly and easily through our interface.
SEO Error Severity
Throughout our SEO tool, we provide severity ratings for each of the checks that we perform. The severity of an error is an advisory label that provides a hint or clue as to which are most serious. Typically, the severity of the error is based on its ability to affect the organic visibility of a page, or our tool's ability to determine if it is an error.
Serious SEO Errors
Anything that affects the accessibility or indexation of a page will be classified as a 'serious error'. Issues affecting powerful direct algorithmic ranking factors such as page titles will also be classified as a serious error.
Minor SEO Errors
Minor errors refer to things that are incorrectly implemented but are not as likely to strongly affect either the indexation or organic visibility of a page or the site as a whole. This category of error includes things like canonical pages not being listed in an XML sitemap or H1 headers being too long. These problems still need to be addressed but with less urgency than the more severe SEO issues.
Informational SEO Errors
These are to be considered as more of a warning than anything else, these are typically data that cannot be said to be an error but might be. For example, 'short page titles', these may be fine, or they may need to be optimised for target keywords.
Passed
This category is included within the data to show how many SEO checks have been passed (vs failed) and exist only as a reference. You can use these data to ensure that a check has been conducted and a page is clear of an error.
We also group all other checks into the 'error' bucket throughout the interface to show how many checks are passed or failed (error vs not-error).
Filtering by SEO Problems
The screenshot below illustrates these four error severities, you can simply check or uncheck a box to show or hide the errors by severity.
Visualising SEO Issues
The SEO auditing tool uses the data from the SEO errors report and puts this into a series of charts that help you to see where the errors are, how severe they are and in what categories they fail into. Throughout the tool we provide four main views of errors at the top-level:
Number of SEO Errors (By Severity)
This chart data shows the total number of errors broken down by the severity of the error and provides a top-level summary of the SEO issues we have identified across the whole site.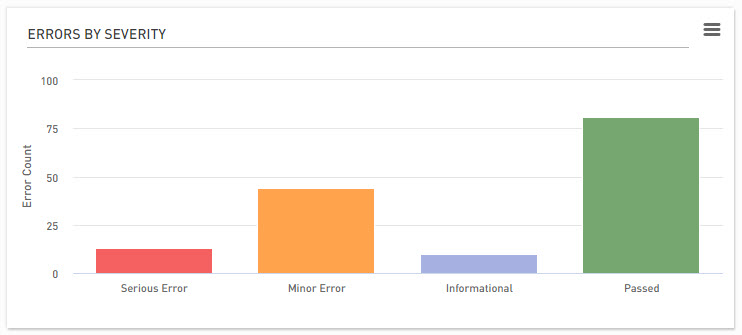 Number of Pages Affected by SEO Errors
This segments the errors by the number of pages affected, for example you may find that there are 100 errors on a site, but 50 of those errors occur on just 10 pages. This chart shows the distribution of errors by severity and segmented by the number of pages affected by those errors.
Passed Vs Failed
This is the highest level of SEO issue summary, where all serious, minor, and informational errors are grouped into the 'error' bucket and compared to the checks that were passed.
Error Count by Category
Because we perform so many SEO checks on a site and each page, we break these down into categories to allow us to visualise that data. We provide categories such as 'canonical errors', 'meta data errors' and 'header errors'. Within each category we show the errors by severity. This allows you to see how many errors there are in each category and how serious they are.
SEO Checks & Issues Categories
As mentioned, we group SEO problems into relevant categories for top-level reporting and visualisation. There are 16 categories of SEO checks that we perform on a website and these are segmented into two broad types.
Check on Specific Page Segments
These checks are performed on specific types of pages such as 'canonical pages' or 'non-indexable pages'. Consequently, the checks that are performed on these segments are specific to the segment. For example, non-indexable pages should not be listed in a sitemap, while canonical pages should not have duplicated page titles.
Consequently, we perform meta data checks and header checks on canonical pages and these are grouped under 'canonical page checks'.
Canonical Page Checks
The errors in this category are specific to canonical pages and hence all the checks in this category are performed only on canonical pages. A canonical page is a webpage that has a self-referential canonical tag. These SEO checks include the following:
Duplicate H1 sets
Multiple H1s
H1 Too Long
H1 Too Short
Missing H1
Non-indexable
Nofollow in links
Less than 4 follow in links
Duplicate meta description sets
Multiple meta description
Missing meta description
Empty meta description
Meta description too long
Meta description too short
Duplicate page title sets
Multiple page titles
Missing page titles
Empty page titles
Page titles too long
Page titles too short
Not in sitemap
Pages with 101 - 250 Words
Pages with <100 Words
Non-Canonical Page Checks
The SEO checks our tool performs on non-canonical pages are specific to this type of page. Non-canonical pages are pages that have a canonical tag linking to a different URL. Essentially when the canonical URL and the URL of the page do not match a page is determined to be 'non-canonical'. Pages missing a canonical tag will not be shown or analysed in this section.
Non-canonical pages are handled differently to canonical pages as they typically are intended to be shown in the SERPs.
Indexable
Follow in links
Listed in xml sitemap/s
Canonical URL links to external site
Canonical URL returns 3xx
Canonical URL returns 4xx
Canonical URL returns 5xx
Non-Indexable Page Checks
This check is performed only on pages that are non-indexable as a result of a noindex tag or a disallow from the robots.txt file. Pages that are inaccessible are not included in this analysis.
Follow in links
Is Canonical
Listed in xml sitemap/s
Non-Status 200 URL Checks
Pages that are inaccessible are defined in this series of SEO checks as returning a status code (response code) that is not 200.
In links
Listed in xml sitemap/s
Checks on All Pages or Resources
These checks are performed on any and all crawl data, for example, where we check for meta data errors like missing page titles; we perform the check on every page that could have a page title. This is opposed to the previous type of checks stated above where the checks are only performed on specific segments.
Consequently, all these checks are grouped into categories that focus on specific components like meta data or redirections rather than specific types of page or website resource.
Canonical URLs
Canonical URL errors are SEO issues that affect the link defined in a canonical tag. We perform checks 13 SEO checks on this element to establish whether it is implemented correctly on-page and as a theme throughout the site.
www
Non-www
Https
Http
Trailing slash
Non-trailing slash
Contain spaces
Contain underscores
Pages Missing Canonical Tag
Uppercase URLs
Canonical URL to non-canonical page
Empty canonical tag
Relative link
Google Analytics
The 5 checks that we perform on Google Analytics tracking ensure that every page has either the latest Google Analytics Universal Tracking code deployed directly or through Google Tag Manager. This helps you to ensure that every page is being tracked in Google Analytics to maintain data integrity.
Multiple GA Code
Legacy GA Code
Missing GA Code
Multiple Tag Manager Code
Missing Tag Manager Code
H1 Headers
We perform 6 checks on each H1 header found throughout the site's HTML webpages regardless of canonicalization. These are designed to check whether one of the most powerful on-page direct algorithmic ranking factors has been implemented or used correctly.
Missing H1 Header
H1 contains bullet points
H1 contains image
H1 headers not heading content
H1 headers used to style text
Empty H1 tag
Headers
30 SEO checks are performed on headers (other than the H1) as there are many ways in which these valuable structure components of content can be incorrectly deployed throughout a website. Headers are a valuable tool in the SEOs arsenal, they should be both implemented correctly and where relevant optimised for target keywords.
H2 but no H1
H2 contains bullet points
H2 contains image
H2 headers not heading content
H2 headers used to style text
H3 contains bullet points
H3 contains image
H3 headers not heading content
H3 headers used to style text
H4 contains bullet points
H4 contains image
H4 headers not heading content
H4 headers used to style text
H5 contains bullet points
H5 contains image
H5 headers not heading content
H5 headers used to style text
H6 contains bullet points
H6 contains image
H6 headers not heading content
H6 headers used to style text
H3 but no H2
H4 but no H3
H5 but no H4
H6 but no H5
Empty H2 tag
Empty H3 tag
Empty H4 tag
Empty H5 tag
Empty H6 tag
Internal Links
Our SEO tool performs 5 checks on internal links to ensure that the link is working and is implemented correctly. Internal links are a major part of any SEO audit and we provide a range of reports both online and downloadable to help analyse them and the SEO issue they may have.
We check every link that we find, if we find two identical links on the same page and both are broken, this will count as two broken links.
Uppercase URLs
Contain spaces
Broken link
Contain underscores
Relative links
Meta Data
We perform look for 6 SEO issues with each page title (title tag) that we encounter during a crawl. Page titles are incredibly important SEO components and all the issues we find have the potential to impact organic visibility of the affected pages.
Duplicate Page Title Sets
Empty page title tags
Long Page Titles
Short Page Titles
Missing Page Titles
Missing Meta Descriptions
Raptor performs the same number and class of checks for SEO issues on meta descriptions as we do on page titles:
Long Meta Descriptions
Short Meta Descriptions
Multiple Meta Descriptions
Duplicate Meta Description Sets
Multiple Page Titles
Empty meta description tags
Page Speed
We perform 10 checks regarding page speed, such as determining slow pages, large pages and compression issues that could result in long load times. Page speed is very important to the SEO of your site and slow pages can seriously affect organic visibility. We are in the process of developing this suite of SEO checks and will soon be adding many more checks to this category.
2 - 3 Sec load times
3 - 4 Sec load times
4 - 5 Sec load times
5 Sec load times
File size 20 - 49Kb
File size 50 - 99Kb
File size 100 - 149Kb
File size 150 - 199Kb
File size >200Kb
Images not compressed
Redirections
Our SEO tool analyse all the redirections identified during a website crawl for SEO issues. Almost all of the 10 checks performed on redirects have the potential to impact the user experience. In the most severe cases these checks can identify issues that can render a whole site inaccessible.
Redirect chains (redirect to 3xx URL)
Redirect loops
Redirect to 4xx URL
Redirect to 5xx URL
Follow in links to redirect page
Listed in xml sitemap/s
Redirect to non-canonical page
Redirect to non-indexable page
Redirect to non-indexable, non-canonical page
Redirect to different file type
Robots.txt
These checks are performed on the text file named 'robots', which serves to provide instructions to Google and other bots as to what to crawl and what not to crawl.
Missing Robots.txt
Robots.txt disallow /all
Robots.txt no XML sitemap link
Robots.txt not served as plain text
XML Sitemaps
This category of SEO check centres around the xml sitemaps we identify. You can specify the location of your xml sitemaps in our SEO tool if they have unusual naming conventions. We identify sitemaps by looking for them in the normal locations as well as the link within the robots.txt file. If we cannot find them linked from the robots or they are named something non-standard you will need to specify their location/s.
3xx URLs
4xx URLs
5xx URLs
Other non status-200 URLs
Non-canonical HTML pages
Non-indexable HTML pages
Changefreq not used in sitemap
Lastmod not used in sitemap
Priority not used in sitemap
Missing (no xml sitemap)
>10Mb
>50K links
Tracking parameters in sitemap URLs
Session ids in sitemap URLs
Social Media
An often-overlooked aspect of a site are the social media tags such as OpenGraph or Twitter Cards. These don't provide any value to SEO but they are incredibly useful for social media promotion as they determine how they display on social media platforms like Facebook when shared. Therefore, these are not SEO problems, but are good for your wider digital marketing strategy.
Missing 'og:description'
Missing 'og:image'
Missing 'og:title'
Missing 'og:type'
Missing 'og:url'
Placeholder text in og tags
Blank og tags
Missing 'twitter:card'
Missing 'twitter:creator'
Missing 'twitter:description'
Missing 'twitter:image'
Missing 'twitter:site'
Missing 'twitter:title'
URLS
Our SEO tool performs 17 SEO checks on each unique URL that we identify during a website crawl.
Uppercase URLs
>100 characters
>3 slugs
Contain spaces
Contain underscores
Directory Depth all
Directory Depth Depth =0
Directory Depth Depth =1
Directory Depth Depth =2
Directory Depth Depth =3
Directory Depth Depth =4
Directory Depth Depth =5
Directory Depth Depth =6
Directory Depth Depth =7
Directory Depth Depth =8
Directory Depth Depth =9
Directory Depth Depth =10+