Page Speed Analysis Tool
Our SEO tools are being constantly added to in terms of available data and features, one of the features now available is a series of page speed analysis & checks. Page speed has never been so important, being a major direct algorithmic ranking factor, improving this can have massive upside for any website.
Benefits of Raptor's Page Speed Tool
| | |
| --- | --- |
| | Quickly Identify Slow Pages |
| | Easily Spot Large Files |
| | Ensure Images Use Next Gen Formats |
| | Reduce Redirects |
| | Benchmark Against Competitors |
Improve the UX (User Experience) of Your Site
There are many benefits to improving load times, top of the list should be the impact on the User Experience. Studies show pages that take more than a couple of seconds to load can dissuade users from accessing your content.
This can have many implications for your site, such as users going back to Google to make a purchase with your competitors. Losing business to solvable problems like this should upset any business owner. The rise of mobile web browsing means that your pages need to even snappier than on desktop devices.
The fact that the majority of people research a product on their phone before making a purchase, means that losing out on mobile traffic could put a big block in the top of your conversion funnel.
Moreover, you might not even be aware of this, if a user clicks back before your tracking code is fired, you won't see any data for them in your analytics tools.
Improve Rankings, Traffic and Online Sales
For the very reason that page load time has such an impact on user experience, Google places significant importance on it. This weighting comes in the format of rewarding fast load times with better rankings and vice versa. Google also view load times for desktop and mobile differently, meaning that your mobile rankings can often be worse if your site speed is poor on mobile devices.
As such, your page load times have a direct effect on the volume of traffic you get, and this can impact the amount of sales and profits you can make online.
Often you will find that page speed can be easily improved by simply reducing the size of images or minifying scripts and stylesheets. Don't let these simple and easy to implement optimisations hold your site back from online success.
Quickly Identify Slow Pages
We group website crawl data into load time buckets so that you can easily identify which pages are slow or just slower than the rest of a site. Within just a few clicks you can identify all the pages with poor load times. Saving you time finding such pages, means you have more time to improve their performance.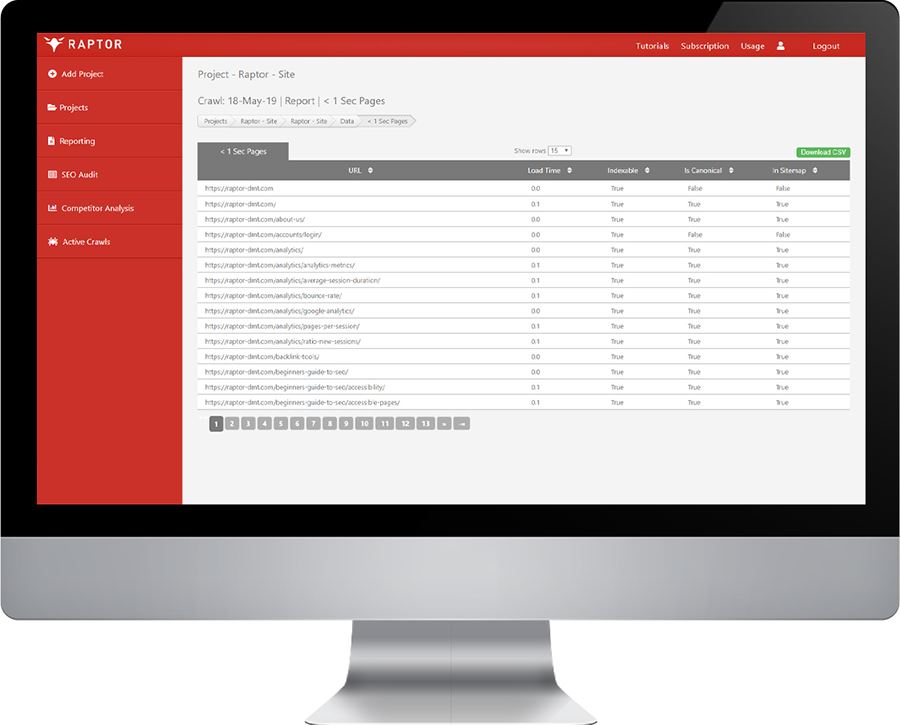 Easily Spot Large Files
We also group pages & URLs into buckets of file size so that you can see which images of other files are too big for web usage. In just a few clicks you can find a complete list of all pages that exceed or are between specific volumes in Kb (Kilobytes).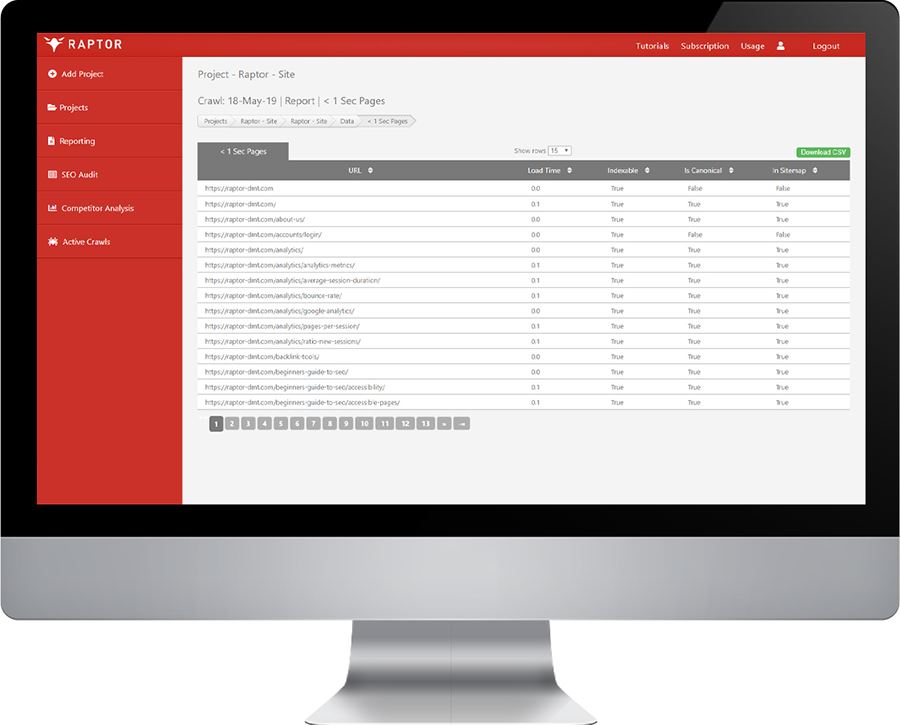 If you need advice or guidance on how to reduce the file size of your images, you can refer to our extensive knowledge base tutorials on optimising images and improving page speed.
We don't just give you the data, we tell you what to do with it!
Ensure your Images are Using Next Gen Formats
Using the wrong type of format for images is commonplace, often such things are the result of legacy files from years ago or simply not knowing what image formats to use. We provide you with a comprehensive downloadable image report and image data viewable online. These data allow you to identify image formats, find the location of images and where they are used throughout a site.
Reduce High Volume Redirects
Redirections in large volumes can have an impact on page load times, our SEO auditing & reporting features identify and report on all site redirects. Quickly check to see if you have too many of these present on your site. Then download the broken links report to see every link, where it is and what redirect type it uses.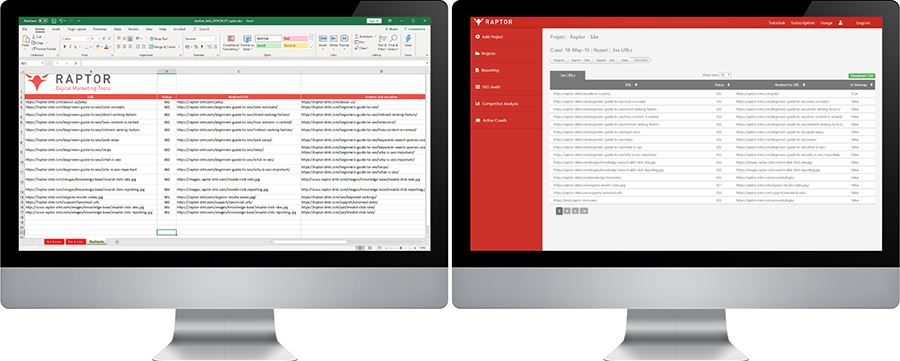 Benchmark Your Site's Page Load Times to The Competitive Average
As much as there are objective standards for page speed, such as pages loading in less than 2 seconds, you should also consider what the competition is doing. Just because your site loads in 1.5 seconds doesn't mean that the sites currently ranking for your top tier target keywords aren't loading in less time.
Because of the importance that Google place on page speed, they will often prefer faster sites to slower sites, and these metrics are relative. Using our competitive analysis feature, you can benchmark your site's load times against those of your competitors.
Take a sneaky peek at your competitors load times to benchmark how your site measures up. Shaving off a few fractions of a second, especially in competitive markets can make the difference between appearing above the fold or under it.
Even in less competitive areas such as local businesses, the benefits of improving page speed will have an impact on your site's SEO. Because our prices are so affordable, even for small businesses, and the data we provide is so easy to understand, its very easy for people with a low level of SEO knowledge to make changes to your site that will have a direct impact on your online sales.