AdWords Editor Components
Contents:
In this section, we look at components specific to AdWords Editor, what we mean by this is things like 'how to post changes' or import CSV files. If you would like to know what a keyword is or how to build an account, please see relevant articles on these topics in the SEM Knowledge Base.
Here you will find interface commands between offline and online data. We discuss each one below in more detail.
Clicking this will open up the below screen, allowing you to choose which account you would like to manage. This is more relevant if you manage multiple accounts.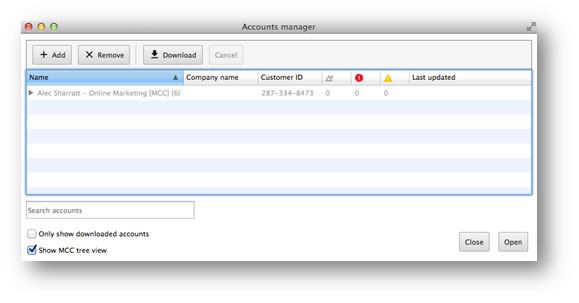 Follow the link for more information on accounts and what all the settings for this are, how they work and how to use them.
There are two options available here, see image below:
Basic (Faster)...
This is the quicker of the two options, this will download all changes in the account made since it was last downloaded. Both this option and the one below provides the following window from which to select further options: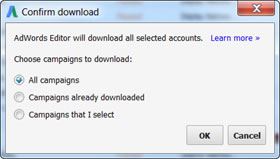 From here you can choose what of the account you would like to download.

All Campaigns: This will download changes from all campaigns within the account

Campaigns already downloaded: This will download changes only for campaigns you have currently downloaded into AdWords Editor.

Campaigns that I select: Here you will have the option to choose from a directory style list with tick boxes, what you would like to download.

Depending on the size of the account and the speed of your internet connection this can take anything from seconds to minutes to complete.
More Data (Slower)...
This option includes the above changes and also the following metrics and information:
Top of page bid estimates
First page bid estimates
Quality Score (QS)
Approval information
Depending on the size of the account and the speed of your internet connection this can take anything from seconds to minutes to complete.
There are two options provided here, either get basic data or 'more data', the main difference being how long it takes to perform the download. If you are intending on looking at statistics, you will need to download 'more data' but for daily usage the basic option is more than adequate.
For each of the initial two options, you can choose to download:
'All campaigns' = Downloads all campaigns (Paused and Enabled)
'Campaigns already downloaded' = Only campaigns that are currently in AdWords Editor will be downloaded
'Campaigns I select' = Only download selected campaigns (you determine what campaigns to download)
99% of the time, downloading 'all campaigns' will be the one you select.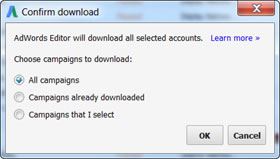 Once downloaded, you will see changes split into three categories:

Red = Conflicting changes, meaning that you have unposted local changes in Editor that conflict with changes made to the live account. This is most commonly where someone has made a change to the account since you last downloaded it, then you have made a change offline that conflicts with this.

Purple = Unposted, meaning that your unposted local changes that are yet to be uploaded. These do not conflict with posted changes though.

Green = Downloaded changes; these are the changes that you have just downloaded. This will not highlight components that have not changed since the last download.

Click the 'done' button to close this.

There are two options for this, either post changes or (at the time of writing) post URL changes. The latter option is the result of changes in URLs and how they are handled by the system and is not often used.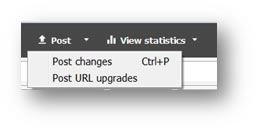 After selecting 'post changes' you will have the options to post 'all campaigns' or 'selected campaigns':
You can see here how many changes Google will attempt to post, once you click 'post'. We say attempt, because Editor will often highlight errors and it will not post errors.
Here it is possible to download statistical data from AdWords.
There are a range of options to allow you control over what you download, you can choose specific metrics, campaigns, date ranges, etc and filter these through the interface below.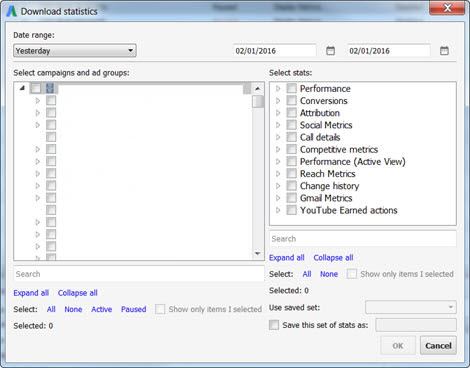 Here we are referring to the "account" option on the dropdown menu, from here you can export the account in various formats and also import changes.

Or on Windows it looks like this:

We describe each option is each the account tab below.
You can import either from file (CSV file) or from pasting text.
Or on Windows it looks like this:
Past Text
By selecting to 'paste text', you see that the following screen will load: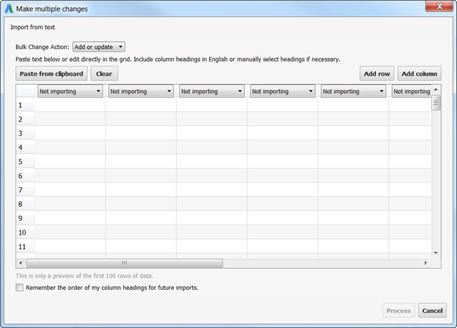 From here you can paste the text you have copied from a file, typically a spreadsheet. AdWords will try to automatically detect the column types (keyword, status, Max. CPC, etc) but where it cannot you will have to choose this from a dropdown menu (see below):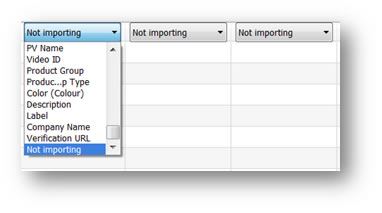 All columns must be headed, at which point you can click to 'process' this.
Importing From File
Selecting this opens an explorer window allowing you to navigate to the desired location from which to load the file. Only files that can be opened will be shown in this window.
This is where you can export the account or parts of the account to various formats such as .CSV file. This is useful if you need to back up the account or parts of it before implementing new changes. You can also use this feature to share your unposted changes with another account manager.
Typically, exports are produced in a .CSV format and downloaded to a location that you specify.
Export Whole Account
This, the first of the three options, allows you to export the entire account. This will be a significantly large file if the account is big, as this typically contains a lot of components. Even small accounts can be surprisingly large files.

Export Selected Campaigns and Ad Groups

If this option is selected, you can select by ticking the 'tick boxes' in the selection window that will open. An example of this is below:
Export Current View
This will export everything currently showing in the pane numbered '5' as described earlier in this guide. Again, this will be saved as a .CSV file to a location of your choosing.
We cover these features earlier in this article; these features are also accessible from the Account drop down menu.
This option is only available from the 'account' drop down menu and will download a complete copy of the account from online. If you select this option you will see the below window pop up: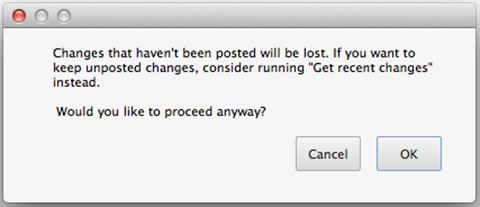 Clicking 'OK' will not only download the complete account, it will overwrite any changes that you have made in AdWords Editor. Thus, if you have unposted changes, you will need to back them up or lose them.
Here we cover the features located in the 'Tools' tab, there is also a range of other features that you could describe or categorise as 'tools' that we cover later in this article (see 'other tools'). The image below shows the 'tools' drop-down menu: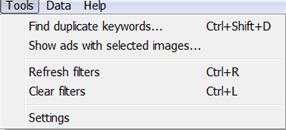 Selecting this feature will enable you to search your account or parts of it for duplicate keywords.

This is a very valuable feature of AdWords, having duplicate keywords throughout an account will result in you losing control of which ad is appearing. This kind of setup will force Google to choose which ad to show and consequently this may not be the most relevant and may not lead to the most relevant landing page.

This is especially important when reviewing or managing new accounts that you are unfamiliar with. Allowing you to identify where inefficiencies exist within the account.

If this is selected, the window (see below image) will appear; from there you can select which campaigns or ad groups you would like to search within.
The image above shows you all of the options available to you when attempting to find duplicate keywords. We briefly describe each of these below:
Word Order
This allows you to filter out / in keywords from based on the order in which the words you are searching for appear in. For example, if you search for 'buy shoes', do you want to see 'shoes buy'. This can be useful if looking for broad match keywords or broad match modified keywords, where the order of the words is less relevant to the search term.
Match Types
Here you can specify whether the filtered results are to include keywords with either the 'same' or 'different' match types. Often an account will have the same keyword in the account on different match types as part of best practices and account structure.

This may be a problem if all keyword match types for the same keyword exist in the same ad group.
Location of Duplicates
Here you can specify whether the keywords you are looking for should all be in:
The same ad group (as each other)
The same campaign (as each other)
Only campaigns that you select
This allows you to narrow your search to identify specific problems within the account.
This is essentially a short cut to a filter, allowing you to search for image ads within the account based on criteria that you set for that filter / search. It does this by adding the filter to the search field: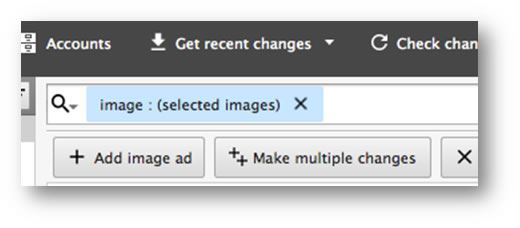 If AdWords doesn't show filtered results or if you click between panes, this can sometimes cause issues, this 'refresh' button can refresh the results showing in pane '5' of the app.
This will remove any filters you have added, ensuring that the contents of pane '5' are showing all available components (not filtering any results out). Forgetting to remove filters can cause temporary issues for new users, as this can look like some to all of the account is missing.

Clearing filters is a good habit to get into when beginning to work, as this prevents problems with dealing with filtered data unintentionally.
Here we cover what is hidden in the 'data' tab, mostly this is just a navigational aid allowing you to jump to different panes / panels within the application: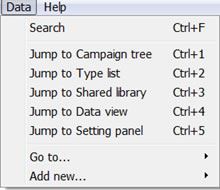 Search
Selecting this will put the cursor in the Search field allowing you to being searching / filtering data within the data view (pane 5). We covering AdWords Editor 'searching and filters' later in this guide.
Jump to Campaign Tree
This selects the Campaign Tree otherwise referred to as pane 1.
Jump to Type List
This selects the Type List otherwise referred to as pane 2.
Jump to Shared Library
This opens the shared library, for which there are limited options within AdWords Editor:
This differs to the shared library in the online AdWords application and only shows certain shared components, we discuss these briefly below:

Shared Bid Strategies

Otherwise referred to as custom bid strategies, these are applied to campaigns and ad groups throughout the account and as such are 'shared'. They can be applied to both Search and Display campaigns and help to automate bidding for specific goals.

In order to edit these, you must be logged into the AdWords account online; these cannot be edited in AdWords Editor.

Shared Sitelinks

Sitelinks are another common resource / component that are shared across campaigns and are thus included within this section of the application.

Sitelinks are additional links that appear under paid adverts in the SERPs, for example we have highlighted these below in red: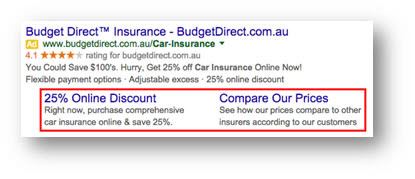 These can be edited within AdWords Editor by selecting this option from the Shared Library, see screenshot below:
Here you can edit all of the fields related to the sitelink, we discuss these in more detail in our guide on sitelinks:
Headline
Description (Line 1 & 2)
Destination URL (now not used)
Final URL
Final Mobile URL
Device preference (which device/s this should target)
Start & End Date
Shared Call Extensions

Call extensions allow users to click on a number or 'call' button to directly call from an ad in the SERPs. These can be added and edited within AdWords Editor.

The image below shows what these look like on a mobile device, which is where they are most effective: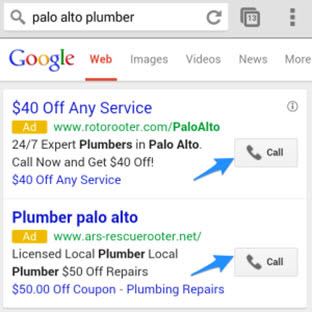 The screenshot below shows the options available for editing call extensions, there are not a lot of options for this and most are self-explanatory. We cover this in more depth in a guide on Extensions.
Labels

Labels are literally a 'label' that can be applied to a campaign, ad group, keyword or ad. Many labels can be added to any component of the account and this is predominantly used for segmenting data… For example, you can add a label to all campaigns that sell shoes that reads 'shoes', thus enabling you to filter campaigns by label to only show you 'shoes' campaigns or to show you all campaigns that are not 'shoes' campaigns.

This has no impact on account performance but is rather a feature to assist in management of the account.
The below screenshot above shows the options available for this, these are minimal and are limited to:
Adding labels
Removing labels
Label Name
Label Description
Jump to Data View
This activates the 'data view' pane otherwise referred to as pane '5'.
Jump to Settings Panel
This activates the 'setting panel' otherwise referred to as pane '6'.
Go to…
This allows you to jump to / select components of the account specifically if you are unable to navigate to them in the application. If ever you cannot find where to edit something, search for it in this exhaustive list.
Add New
Here you can add any component of an AdWords account available to add or edit within AdWords Editor. This is not the most common way of accessing options, but like the 'go to' feature, this provides an exhaustive list of components that can be added.
This is what is kept within the 'help' tab: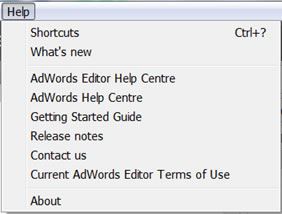 Most of these options will load support from Google in an Internet browser window, because the aim of this article is to cover the operation of the application, we do not cover each of these options here.