Revenue Per Conversion Metrics
Contents:
*A conversion is when a user performs a desired action (being tracked) on your website. This could be buying a product, downloading a file, clicking a link or any other desired action. Typically conversions are linked either directly or indirectly to revenue.

*Conversion tracking needs to be setup to see conversion data in AdWords.
These are different metrics for analysing the revenue per conversion:
Quick Description = Roughly how much, on average, each of your conversions is worth

Calculation: Total value of conversions / number of conversions

Referred to as = Value / Conv.

If you have a campaign with multiple conversion values this metric provides you with the average value of those conversions. If however you have a campaign which only ever provides one conversion type and hence it has only one value, this metric will be of no value as the average conversion value will simply be the conversion value or the conversion.

This is more useful when looking at a lot of data either across multiple campaigns or for shopping and ecommerce sites where the average conversion value is more relevant.

For example if a campaign received 10 conversions from multiple conversion types with the values shown below: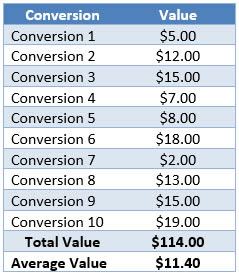 Here we see the average conversion value is $11.40 across those conversions.
Quick Description = The average value of all conversions

Calculation: All Conversion Value / All Conversions

Referred to as = Value / All Conv.

This is calculated in the same way as the above metric but refers to 'all conversions' where a value exists for them for all of the following (in addition to 'conversions'):
Phone calls
Store visits
In-app conversions
Cross device conversions
Any conversions not tracked in the 'conversions' column
Quick Description = The average value of a Converted Click

Calculation: Conversion Value / No. of Converted Clicks

Referred to as = Value / Converted Click

As discussed earlier, 'converted clicks' differs from 'conversions' and is typically a smaller number than conversions. Because a user may convert multiple times after Clicking only one ad, converted clicks only represents the number of clicks that resulted in a conversion. Consequently this metric will typically be a smaller value than the conversions metric.

This metric takes the value of your conversions and divides it by the number of converted clicks, for example; if you have 100 clicks convert and they had a total value of $2,000 we would calculate this metric in the following way:

$2,000 / 100 = $20
If you liked this guide on conversions, you may also be interested in the following guides related to this subject:
Clicks
Converted Clicks
All Conversions
Converted Click Rate
Conversion Tracking
Conversion Rate
Cross Device Conversions
Cost Per Converted Click
Avg. CPC (Cost Per Click)
Revenue Per Conversion
CPA (Cost Per Acquisition)
Conversion Optimiser