Conversions
Contents
*A conversion is when a user performs a desired action (being tracked) on your website. This could be buying a product, downloading a file, clicking a link or any other desired action. Typically conversions are linked either directly or indirectly to revenue.
Conversion tracking needs to be setup to see conversion data in AdWords.
Quick Description = The total number of Conversions
Referred to as = Conversions
'Conversions' is the most commonly used conversion metric as it refers to the total number of conversions that occurred. Conversions are represented by a number between 0 & ∞ (although we have never seen infinite conversions!).
Conversions and conversion tracking underpins one of the biggest differentiator between paid search and traditional marketing... They allow us to track and attribute value to the most granular level. This gives paid search marketers the ability to fully demonstrate with hard data the value of their work.
Below we have listed some important features, behavior, and information on Conversions below:
Conversions allow you to understand the value of Clicks and the performance of ads, campaigns, etc.
Conversions require you to implement tracking code on your website
Conversions are the same irrespective of what network they occur on
There is a 'conversion window' in which a conversion can be attributed to a channel or Click. This conversion window is typically 30 days, but can be changed manually. Reducing this conversion window reduces the volume of conversions recorded in AdWords.
Conversions can be assigned monetary values in AdWords (this is used for calculating revenue)
This does not refer to or mean either of the following:
No. of people that have converted
No. of Clicks that have converted
A user on your site could convert multiple times, for example; they could purchase two products and download a file (resulting in 3 conversions). This would be counted as 1 'Converted Click' or 1 'Converted User'.
In addition to total account conversions, it is possible to segment conversions by campaign, ad group, keyword, placement, and ad.
Conversions do not include the following data, which are included within 'All Conversions':
Phone calls
Store visits
In-app conversions
Cross device conversions
Any conversions not tracked in the 'conversions' column
Conversions essentially equate to the collective purchases (conversions) of all customers / users; whereas a converted click is basically a unique customer. A good analogy of this would be a customer in a supermarket that buys 4 bananas... This would be the equivalent of 4 conversions but only 1 converted click.
To use an example in AdWords; if we imagine a campaign that received 40 Conversions and 300 Clicks, but it is the case that all 40 of those conversions came from just 30 Clicks... we would have 40 conversions and just 30 Converted Clicks.
Consequently this metric is used a lot in reporting.
Conversions can be seen in most reports within AdWords by default, this is also the case even if you are not tracking conversions. Many businesses have multiple conversions and each with different values, you can see performance for each in the 'conversion name' report within the Dimensions tab.
The screenshot below shows where this report is located: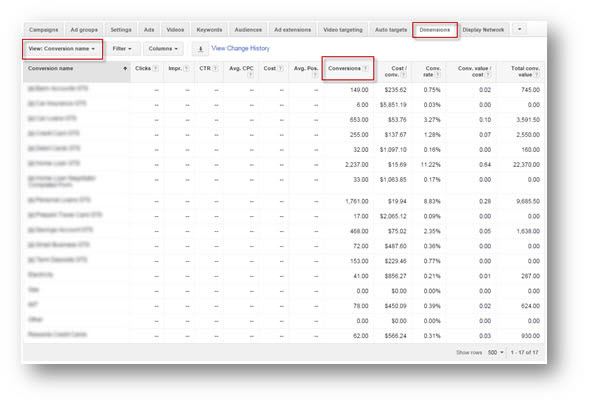 Viewing conversions as a total can often be misleading, especially when those conversions have different values. If you have a conversion with a value of $100 and another with a value of $10, aggregating all conversions into a single metric holds little value.
Conversions have names, which you define when setting up the conversion. These can be used as a segment in most reports in AdWords. For example, navigate to the campaign tab, click the "Segment" drop down menu and select 'conversions' > 'conversion name':
The screenshot below shows in blue the top level data for the campaign and then nested underneath you can see all of the conversions (conversion names) and their data individually.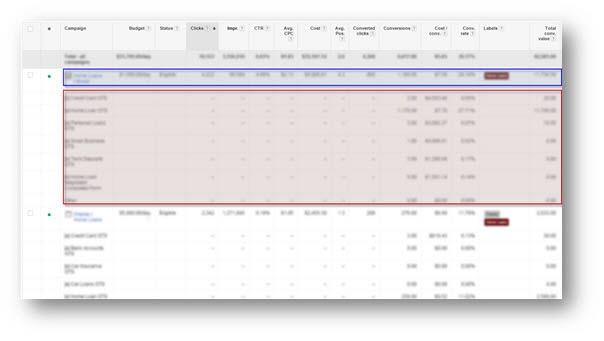 If you scroll to the bottom of the page and expand the "Total - all enabled campaigns" drop down, you can see the aggregated data across all campaigns for each conversion name. From here you can see how many conversions each conversion name received.

You may have noticed that standard performance data such as Clicks, Cost, etc are not present for each conversion name, this data exists only at the top level and not at the conversion name level.
Many website owners have multiple conversion types on a site such as; downloads, sales, lead generation, collecting user information, requesting a quote, calling a phone number, etc. Each of these has a different value even if the value is not hard and fast like the value of a phone call... It is typically beneficial to attribute a value to the conversion in AdWords.
Having a value allows us to optimise for different goals such as a cost per conversion.
As mentioned earlier, attribution is one of the defining differences between paid search and traditional marketing. Having conversion tracking setup enables us to perform attribution modelling, to better understand what 'world view' value works best with our customer behavior. For this, there is a suite of attribution metrics that all use conversion data. We cover these in more detail in other guides.