Image Ads
Contents:
Image ads are clickable links that deliver traffic to your website. Ads are the account components that are shown to users / searchers making them unique in that respect. All other account components, such as keywords, campaigns, ad groups, etc, are not things people can see.

Ads is an abbreviation of the word 'adverts', they are the gateway to your site from paid advertising and as such are a very important object. You may also be interested in learning more about other ad formats:
Image ads are simply images that you have created to appear on Display Network sites and are clickable links to landing pages on your website.

Image ads are only available on Display campaigns and ads on the Display network differ at a fundamental level in their delivery to ads on the search network. The display network allows you to use text and image ads, but they are built in very different ways.

Image ads also come in various flavours:
Animated ads
Static ads
JPEG, JPG, PNG, GIF
HTML5
Flash
Rich Media
Image ads can be used for encouraging clicks or impressions, depending on your campaign goals… Typically these fall into two mutually exclusive categories:
Direct response campaigns are designed to gain clicks / traffic for any number of reasons, you will typically pay for this with a CPC (Cost Per Click) or CPA (Cost Per Acquisition) bidding strategy. The performance of these campaigns is more easily measurable than with branding strategies.
These are campaigns where the aim is increase brand awareness, thus Clicks become less important and hence a CPM (Cost per Thousand Impressions) bidding method. Image ads are particularly good at this because they can contain the brand logo, sales message, motto, tag line, etc. The success of these is harder to qualify and quantify, you may see uplift in other areas of your online marketing strategy such as organic and SEM CTR.

We cover all of the above image ad types in this guide as well as some additional conceptual information about the display network.
The search network is the network that most people are familiar with; people search in Google, click an ad and land on a webpage. The display network shows ads to people based on a range of criteria, but these are not shown as results to people searching. Rather ads appear on websites / webpages that have opted into Google's Display Network.
The image below shows three examples of where you might see a display ad (of any type / format):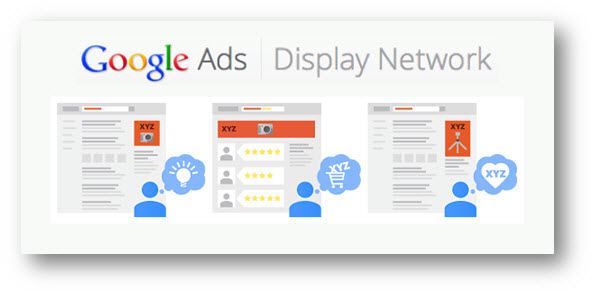 Rather than using keyword match types to match a keyword to a range of search queries, keywords are matched to webpage content. This is just one method for targeting ads on the display network, other methods include:
Placements
Topics
Interests
Remarketing
Demographics
The Display network has much lower CTR (Click Through Rates) than the search network, which is due to the nature of the network. People seeing your ads did not ask to see them or search specifically for something.
We cover more on these topics in our guide to the display network.
AdWords provides some inbuilt functionality to create image-based ads within the application… However, this is a very poor way to create ads, your ads should be created in a program such as Photoshop or any free alternatives to Photoshop.

This is not something we cover in much detail in this guide, as creating compelling image ads is a complex job for a graphic designer / marketer… Please see our best practices section below for some general advice on this topic.

We typically use AdWords Editor to build ads, because it's much faster and more efficient to do it this way. AdWords Editor also allows us to bulk build and upload ads as well as allowing us to make mistakes without having them go live instantly.
There are many components of an image ad that are the same as text ads but there are a few completely unique components, we describe each of these in detail below.
This component is where you can name the ad; we recommend a consistent naming convention that includes ad dimensions, date created and any other relevant information such as product type. This will make ad management easier and more efficient in the long run. Although this has no impact on ad performance, you can make your life easier by naming your ads something both logical and consistent in nature.
The image is literally the image that has been created for the ad; this is loaded from wherever it is stored on your computer.
The Display URL, shown in green text in the image below, is the URL that is shown to the searcher; this can (and typically should) differ from the destination URL.

The display URL has to contain the domain of the website to which the ad is delivering traffic and the domain used in the Final URL (described below).

This should be simple and easy to read, avoid using prefixes such as http:// or https:// as well as www. We avoid using prefixes because of the maximum character length is capped at 35 characters. For websites with domain names longer than 35 characters the Display URL will be shortened / truncated in the search results.

The display URL is a very common location to include keywords to improve relevance between the ad and the keyword.
This is the URL of the landing page that a user will reach after clicking your ad. This is not visible to users before they click on an ad, after a click they will be able to see this in the address bar of their Internet browser.

The Final URL replaces the 'destination URL', which has been used historically for many years.
The domain used in the Final URL needs to match the domain used in the Display URL but there is not character limit to this component.
It is also possible to add in a Final Mobile URL, which differs to the Final URL, which will be used if the ad is shown to users on mobile devices. This means that you can have one ad for both desktop and mobile users but with different landing pages.

This operates in the same way as the Final URL, in that the domain name must match that used in the Display URL. This can a valuable component if you have good reason to provide mobile users with a custom landing page that addresses mobile user intent better than a catchall-landing page.
This has been phased out and replaced by the Final URL and Final Mobile URL (both described above).
This feature is new and came out with the release of Final URLs. This uses ValueTrack parameters, which are similar to URL Parameters, and they allow you to collect information about the user such as the device type they are using when they clicked one of your ads. This works specifically with GA (Google Analytics) and parses information to GA.

ValueTrack parameters can be set up at any level (account, campaigns, ad groups, keyword, ad) and can be implemented in AdWords Editor under the 'URL Options' tab.

We discuss Tracking Templates and ValueTrack parameters in more detail in another article.
These are an advanced versions of URL parameters where you can define what values are recorded one someone clicks your ad.

We discuss Custom parameters in more detail in another article.
Labels are a simple way of tagging ads with relevant information, for example you could add the label "blue dresses" to all ads that advertise blue dresses. Equally you could add labels that describe anything about the ad, this can be filtered in AdWords (using filters) or once exported into a spreadsheet you can use these for SUMIF, VLOOKUP, COUNTIF formulas, etc. Essentially providing customisable segmentation criteria for your ads.

AdWords already provides functionality to filter ads by network, device, and criteria such as minimum Clicks or Conversions, so labels are only relevant when adding another criteria with which to filter or segment data.
There are two options for this:
Either an ad targets all devices or just mobile devices; this is defined with this setting. The default is "All Devices" but in scenarios where you need a different type to CTA (Call to Action) for mobile users, having a mobile ad to serve can improve performance on mobile devices.
There are just three statuses for an ad, all of which are self-explanatory:
The table below shows the technical requirements for non-animated image ads on the display network. Google permits only certain file types for ads, the image must be equal to or under the file size limit and the ad dimensions can be only those listed below.

File type

.JPEG

.JPG

.PNG

.GIF

File size

150 KB or smaller

Image size

Vertical rectangle: 240 x 400

Mobile leaderboard: 320 x 50

Banner: 468 x 60

Leaderboard: 728 x 90

Square: 250 x 250

Small square: 200 x 200

Large rectangle: 336 x 280

Inline rectangle: 300 x 250

Skyscraper: 120 x 600

Wide skyscraper: 160 x 600

Half-page: 300 x 600

Large leaderboard: 970x90

Large mobile banner: 320 x 100

Billboard: 970 x 250

Portrait: 300 x 1050
It is highly recommended that when creating ads, you create a number of different sizes, this maximises their opportunity to appear to users. Not all sites have space for all ad sizes, so having the full range ensures that your ads are not prevented for showing due to incompatible dimensions.

Furthermore different ad sizes allow you to use different creative, more or less text, longer CTA's (Call To Actions) and so forth.
The table below shows the technical requirements for animated image ads on the display network.

File type

.GIF

File size

150 KB or smaller

Image size

Banner: 468 x 60

Leaderboard: 728 x 90

Square: 250 x 250

Small square: 200 x 200

Large rectangle: 336 x 280

Inline rectangle: 300 x 250

Skyscraper: 120 x 600

Wide skyscraper: 160 x 600

Half-page: 300 x 600

Large leaderboard: 970x90

Large mobile banner: 320 x 100

Billboard: 970 x 250

Portrait: 300 x 1050

Animation length & speed

Animation length must be 30 seconds or shorter

Animations can be looped, but the animations must stop after 30 seconds

Animated GIF ads must be slower than 5 FPS
Failure to comply with these rules will result in either ad disapproval or failure to import the ad into AdWords.
Google have said that more and more people are viewing ads on HTRML 5 compatible devices. Google have recently released their 'Google Web Designer' tool, which is a free downloadable program (download from here) used to create HTML5 rich media interactive ads. This tool removed the need to know HTML5 or code of any sort, while still enabling you to create richer ads.

The table below shows the technical requirements for HTML5 image ads on the display network.

Supported ad sizes

Banner: 468 x 60

Leaderboard: 728 x 90

Mobile leaderboard: 320 x 50

Square: 250 x 250

Small square: 200 x 200

Large rectangle: 336 x 280

Inline rectangle: 300 x 250

Skyscraper: 120 x 600

Wide skyscraper: 160 x 600

Half-page: 300 x 600

Large leaderboard: 970x90

Large mobile banner: 320 x 100

Billboard: 970 x 250

Portrait: 300 x 1050

Panorama: 980 x 120

Top banner: 930 x 180

Triple widescreen: 250 x 360

Netboard: 580 x 400

Supported file size

150 KB or smaller

File type

.ZIP - The .ZIP file should contain the HTML for the ad as well as any of the other following file types:

.CSS

.JS

.HTML

.GIF

.PNG

.JPG

.JPEG

.SVG
These ads can be uploaded in bulk via a zip file with a maximum of 40 per file. When using Google Web Designer, you will also need to be aware of the following limitations:
Ad environment

When creating your ad in Google Web Designer, you must specify the AdWords environment.

Supported components

Tap Area

iFrame

Swipeable Gallery

Carousel Gallery

360¡ Gallery

Gallery Navigation

Image Button

Spritesheet

Publishing for AdWords

In Google Web Designer:

1. Click the Publish button.

2. Select Publish locally.

3. Upload the resulting .ZIP file to AdWords.

Limitations

Expandable ads are not supported.

All images used in HTML5 ads must be local images, not referenced images and should be part of the assets that comprise the ZIP file.

Only Google web fonts are supported. Other web fonts are not supported.

For environment target actions, timer and multiple exits are not supported.

Local storage methods cannot be used in HTML5 ads.
It is possible to code your own HTML5 ads by coding them yourself, this obviously requires some degree of expertise in coding but if you do chose to do it manually, the following rules will apply:

HTML requirements

HTML5 ads must include:

<!DOCTYPE html> declaration

<html> tag

<body>tag

Ad format size meta tag within the <head> tag. For example:

<meta name="ad.size" content="width=300,height=250">

Upload requirements

All code and assets must be referenced using a relative path to resources included in the .ZIP file. No external references are allowed except references to:

Google Fonts

Google-hosted jQuery

Google-hosted Greensock

https://s0.2mdn.net/ads/studio/cached_libs/

tweenlite_1.18.0_56fa823cfbbef1c2f4d4346f0f0e6c3c_min.js

https://s0.2mdn.net/ads/studio/cached_libs/

tweenmax_1.18.0_499ba64a23378545748ff12d372e59e9_min.js

Google-hosted CreateJS

https://s0.2mdn.net/ads/studio/cached_libs/

tweenjs_0.6.1_40840f08e9fb382ae9e4a337da542ed5_min.js

https://s0.2mdn.net/ads/studio/cached_libs/

easeljs_0.8.1_58add2e69ca7fbe25e8f82a2b5f6a510_min.js

Using an exit URL

HTML5 ads that are not created in Google Web Designer are, by default, clickable on the entire area of the ad. If you wish to limit the clickable area to specific elements, you will need to include the exitapi.js script.

To use exitapi.js, include the following script in your HTML <head> tag:

<script type="text/javascript" src="https://tpc.googlesyndication.com/pagead/gadgets/html5/api/exitapi.js"> </script>

Then make the following JavaScript call to enable your final URL:

ExitApi.exit()

For example, send a consumer to the final URL, using a standard anchor:

<a onclick="ExitApi.exit()">Learn more</a>

If you don't include the extiapi.js script, AdWords will make the entire ad clickable, and you won't need theexit() call.

For ads created in Google Web Designer, you don't need to add this script.
Flash Rich Media ads are less accessible, many mobile devices will not show Flash content, and as such it is not as common, especially with the advent of HTML5 Rich Media and the ability to convert Flash to HTML5… There is not a huge need for this ad format, that said, here are the requirements for Flash ads:
File type

.SWF (Flash)

File size

150 KB or smaller

Image size

Banner: 468 x 60

Leaderboard: 728 x 90

Square: 250 x 250

Small square: 200 x 200

Large rectangle: 336 x 280

Inline rectangle: 300 x 250

Skyscraper: 120 x 600

Wide skyscraper: 160 x 600

Half-page: 300 x 600

Large leaderboard: 970x90

Large mobile banner: 320 x 100

Billboard: 970 x 250

Portrait: 300 x 1050

Animation length and speed

Animation length must be 30 seconds or shorter

Animations can be looped, but the animations must stop after 30 seconds

Flash ads must be 24 fps or slower

Flash version

Important:

1. AdWords currently supports only Adobe Flash Player versions 4 to 10.1. If your ad uses any other version (such as 10.2), it cannot be uploaded.

2. Including these parameters can cause Flash ads not to work in some cases.
The following image ad requirements apply to all image ad types, failure to adhere to them could result in ad disapproval:
The following rules apply to the visual layout of your ads:
Ads must fill the whole image space for any ad dimensions
Ads must not appear sideways, upside down or otherwise poorly rotated
Ads must not be segmented
Ads must not contain copies of themselves within the ad
Ads must be singular (do not include multiple ads in one ad)
Ads must not expand beyond the frame
Ads must not encroach on the website or app
Ads must not be resized to account for the graphic overlay that Google apply to it
Ads cannot have a white border (typically a 1px border is required of any colour other than white)
All ads must be relevant to the landing page, website or app they are advertising. The following rules also apply to the relevance and quality policies:
Ads must be clear
Ads must be recognisable
Ads must contain legible text
Ads must not be blurry, unclear or confusing
Any kind of strobing or flashing ads that could be considered distracting are not allowed by Google.
Google does not permit mimicking publisher content, or content on the page of any kind. Pretending to be AdWords with your ads is also not permitted.
There are two categories of family status:
Family Friendly
Non-family Friendly / Adult Content
Ads should include any of the following if they are also present on the landing page:
Prices (if competitive)
Discounts
Offers
Promotions
Reduced rates
You should only include the above if they are genuine, advertising prices and discounts that do not exist on your site and specifically on the landing pages is not good. These help to drive up CTR and conversions, if people think they are getting a good deal.
Provide a relevant call to action to enable your potential customers to take the action you want them to take. For example use of any of the following CTA's can help to encourage CTR:
Call Us Today
Purchase
Get a Quote
Order Online
Sign Up For…
This is not an exhaustive list but provides some examples of good CTA's, primarily these should be relevant, do not say 'get a quote' if the user cannot get a quote.

Another thing to consider is that your ad may not be recognised as an ad by the user, adding a strong CTA onto the ad such as "Buy Now" can help the user to recognise your ad. Unintentional clicks on your ad are a waste of your budget.
All of your competitors are advertising the same services or products to prospective customers, so you need to stand out or to provide a reason for someone to click your ad rather than another. USP's or features, services, or components of those that are unique achieve this goal for you.

We have detailed some examples of USP's below:
Lower prices
Better service
Length of time you have been in business (if a long time)
Fast shipping
Anything you offer that no one else does
Anything you do better than everyone else
There is no such thing as a perfect ad or an ad that can't be improved; the way to improve ad performance is to test them against each other or against a hypothesis. The best way to do this is to split test or do multi-variant testing. There are only a few fields that can be edited but the volume of potential variants is essentially infinite.

For example, try including prices or rates, see which works best and then try moving the rate to different fields / parts of the ad.

Continue this process over and over again; trying completely new ad copy verses variants of high performing ad copy.
Split testing is a pivotal component in the process of optimising your ads, campaigns and improving account performance. Split testing is the process of creating two ads and running them against each other to see which one performs the best; then deleting the lower performer and creating a variant of the higher performing ad; this then runs through a process of rinse and repeat.

Depending on what performance metric is being used to determine the highest performing ad, over time this metric should steadily improve.

MVT (Multi-variant Testing) is essentially the same as split testing but it involves using more than two ads at any one time. We discuss both split testing and MVT in a more comprehensive guide.