Interactions
Contents:
Quick Description = The primary action taken by a user that you are paying for (based on ad type)

Referred to as = Interactions

Interactions is a metric that measures the number of times a user has interacted with an ad, but the nature of this interaction depends on the ad format. Clicks, Views and Engagements are the three types of interaction available at the moment.
An interaction differs depending on the ad being used, for search ads an interaction is a Click, for a video it's a view, etc. the column in AdWords for this metric will describe the interaction as part of the data, see the screenshot below: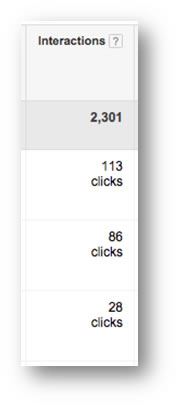 The table below shows you all types of interactions that AdWords uses (at the time of writing):
| | | |
| --- | --- | --- |
| Ad Type | Interaction | Campaign Type |
| Text Ads | Clicks | Search & Shopping |
| Image Ads | Clicks | Display |
| TrueView Video Ads | Video Views | YouTube |
| LightBox Ads | Engagements | Display / Gmail |
Consequently when looking at aggregated interactions across multiple campaign types the value you see may include a variety of actions, typically these are also the metrics used for billing. For example you are billed when someone 'clicks' a text ad, when someone expands (engagement) a LightBox Gmail ad, or views a video ad for 30 seconds (view).

The interaction metrics are used specifically for cross-campaign performance analysis and enable you to compare data across different campaign types using different metrics as measures of success.
For example if you have a LightBox Gmail campaign and a Search campaign, comparing Clicks is not necessarily the most relevant way to compare campaigns. Interactions resolve this problem by creating a single metric with which to compare these campaigns.
If you liked this guide on Interactions, you may also be interested in the following guides related to this subject:
Interaction Rate
CPI (Cost Per Interaction)
Invalid Interactions
Invalid Interaction Rate
Clicks
Engagements
Views