Google Keyword Tool
Contents:
You can find AdWords Keyword Tool by clicking the link. We cover how to use the tool in this guide with explanations of each screen but discuss the applications of this in more detail in other guides relevant to those applications. Here are some other guides that may be of interest to you:
Keywords
Keyword research
Negative keyword research
Display Planner
The keyword tool is one of many free tools that Google provide as part of the AdWords suite. It has multiple applications for both SEO and SEM, with multiple uses for each. Primarily we use this tool to identify keywords for one purpose or another and Google provide several ways to do this.

Everyone in SEO or SEM will have to be familiar with this tool, although there are alternative tools, Google provide this one specifically for use with AdWords. The four main benefits of using the keyword tool are:
Researching keywords
Getting historical statistics and traffic data
Getting forecasting data
Building campaigns (more for novices than advanced users)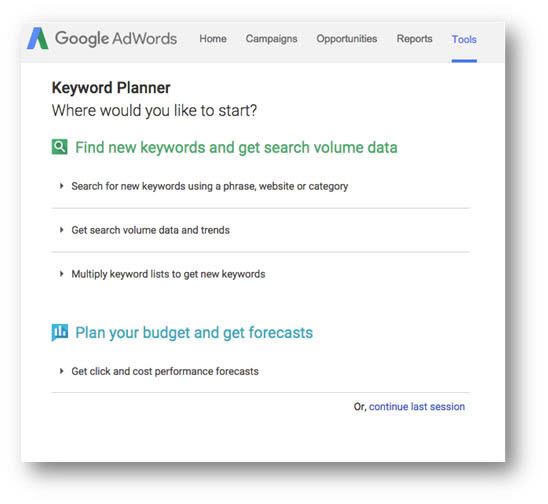 We analyse each of the above options provided by Google in the following chapters of this guide.
There are a few metrics that come up in this tool, which we have described briefly below to assist in understanding the content of this guide. See our guide to AdWords metrics for more detailed information on this topic.
This is the average number of searches performed each month for a keyword or set of keywords. Some months may be higher or lower, but this represents the yearly total divided by 12. This is based on the previous 12 months of data and is affected by the criteria you have selected but refers only to the search network (and search partners if selected).
This is one of the most useless metrics ever created! Google will suggest bids to you "based on the CPC's that advertisers are paying for this keyword for the location and Search Network settings that you've selected".

That said, you should never use this to set your actual bids!
The amount of impressions that you have received divided by the total number of searches (for the location and network that you're targeting) that matched the keyword exactly in the last calendar month.
This is an indication of how competitive a keyword is (considering the location and targeting options selected). This is a very broad indicator and provides little to no practical application in the real world.
The share of organic (non-paid) impressions you received as a percentage of all available (organic) impressions (considering the location and targeting options selected).
The average position that your website appears in organically for a given keyword (considering the location and targeting options selected).
This feature of the tool allows you to find new keywords that you may want to target. The options for this are shown in the screenshot below:
It is possible to use a combination of the following options but typically using the "your product or service" field is the most commonly used.
Here is where you can enter your initial keyword ideas, separating each one by a comma, for example if you wanted to get ideas for keywords around 'blue dresses' you would enter them like this:
Keep these phrases closely related, for example if you have a page for each of the following terms we would recommend entering these separately to maximise the relevance of the results to each product page:
Formal dresses
Casual dresses
Summer dresses
Here you can enter the URL of a landing page and Google will analyse the page to try and identify potential target keywords. This will work better the more well optimised your landing page is, poorly optimised landing pages or pages built in such a way that Google cannot read them (e.g. Flash pages) will not deliver very relevant results.
You can choose from a drop-down menu the product category that is most relevant to your business or landing page: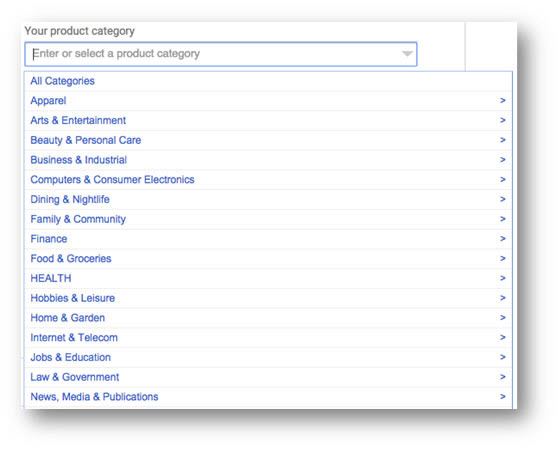 You can control targeting options to limit the results to those most relevant to your business:

Country

Here you can search for and add geographical regions (countries, states, cities, etc) from this section. Google provide thousands of specified regions to choose from but this doesn't cover every backwater two house town in the world! There are also some regions, which are bundled into the wider area, so you may be able to target the city but not specific areas of it with this tool.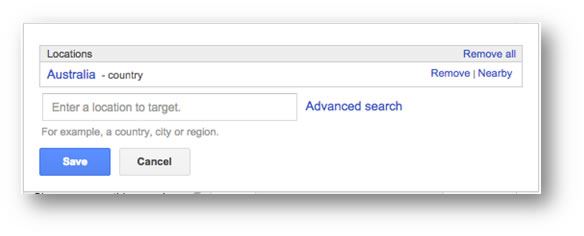 This selection will show statistics for those regions you have selected.

Languages

Here you can choose what languages you would like to see statistical data for, from the drop down menu.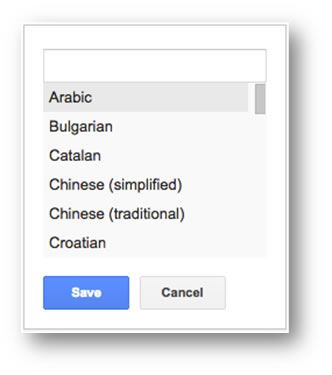 Network

From here you can choose either just 'Google' or 'Google and search partners'. This will affect the data on the results pages. Typically, you can base this on campaign type, if you are looking to add keywords to a campaign that uses search partners, it is relevant to include them for example.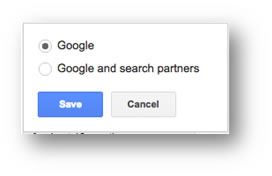 Negative Keywords

Adding some negative keywords in here will prevent them, and terms containing them, from showing in the results once you click 'get ideas'. This can be useful if certain irrelevant phrases are likely to appear in the results.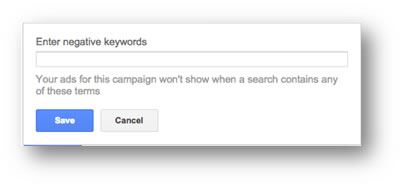 If you want to, you can customise your search by setting criteria or parameters in a number of ways:
Keyword Filters
These allow you to set minimum values for the following criteria:
Average monthly search volume
Suggested bid
Ad Impression share
Organic impression share
Organic average position
These options are shown in the screenshot below, using any of these may limit the final results, its often just as easy to collate all of the available results then filter them in a spreadsheet. This way you get more data and are less likely to miss something that falls outside of the criteria specified.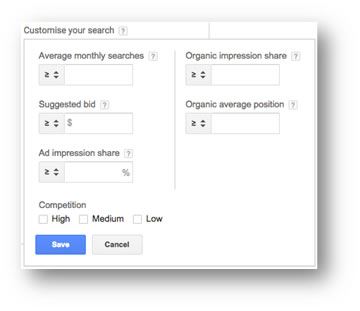 Keyword options
There are four options you can toggle on or off; all of them are 'off' by default. The options are as follows and help to restrict terms or allow more terms to be shown.
Only show ideas closely related to my search terms
Show keywords in my account
Show keywords in my plan
Show adult ideas
Keywords to Include
Here you can add specific terms that you want to see included in the results, here you can use matching options to determine how these words will be included. For example, using quotation marks around a word will mean that any phrase including that word will be included. For more information about keyword match types, please follow the link.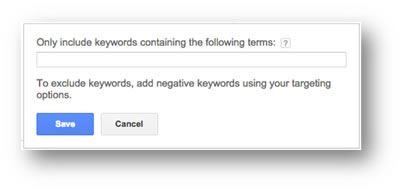 Once you have set your criteria, picked your options and chosen your method for getting ideas, you can click the blue "get ideas" button. The below screenshot is the top of the results page and shows data taken from all of the keywords that have been identified:
The blue chart at the top shows average search volume for each month over the past 12 months. You can change what data is shown in this chart by selecting the drop-down menu at the top left of the chart:
This is consistent whether you have the 'ad group ideas' or 'keyword ideas' tab selected. The screenshot below shows (highlighted in red) the options available to you before you click the "get ideas" button, you can edit these from this screen also, in order to revise your search criteria: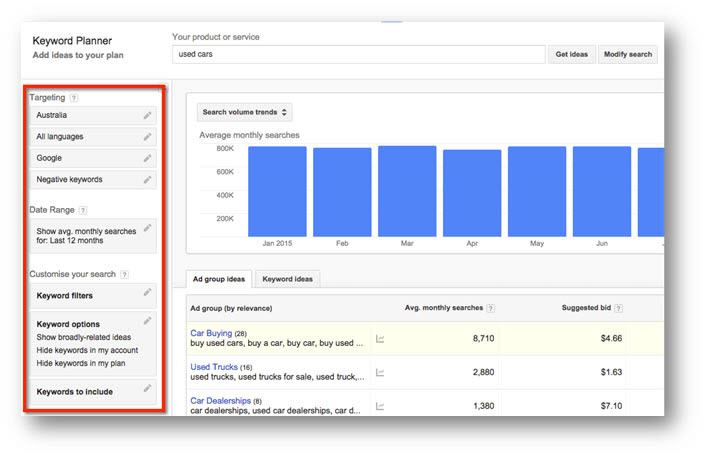 The screenshot below shows the options available to you for downloading and customising the view:

From here you can download the results being displayed below, you can add them to the planner (which we describe later in this guide) or you can customise the columns. The options for columns are all selected by default with the exception of the 'competition' column:
It is also possible to add, remove, and edit more seed keywords from the field at the top of the window:
When you do, you will see a page like the following (with the ad group tab selected by default. The area highlighted in red below shows the section of the page that is changed by having the ad group ideas tab selected, all other areas of this window stay the same regardless of the selected tab.

In the Ad Group Ideas tab, you see that Google has combined relevant groups of keywords into ad groups, which can be added to the planner by clicking the "Add to plan" button:

When you look at the 'keyword ideas' tab, which is more commonly used for keyword and negative keyword research, you will see a different set of data. Rather than seeing ad groups constructed of similar keywords you will see a list of all keywords (one per row), which we have highlighted in red below.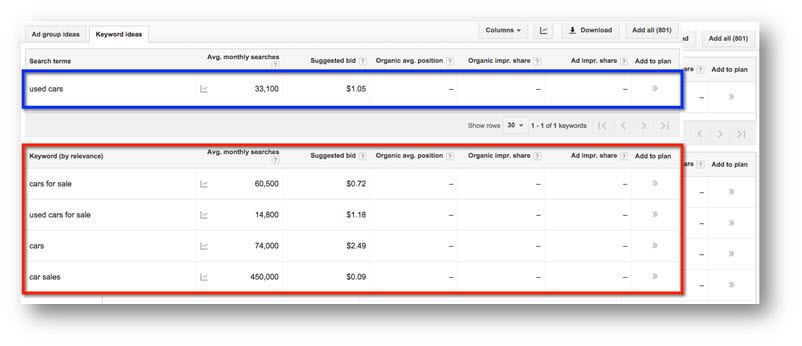 The area highlighted in blue above contains all seed keywords that you entered initially. In the same way as with ad groups, you can add individual keywords to the planner by clicking the arrows highlighted in red below:
This feature is used to get data for keywords rather than to find new keywords, so the only results shown, when using this feature, are for the terms that you entered.
If you have all of your keywords in a file, you can import this by clicking 'Option 2: Upload File' and navigate to where the file is saved. Otherwise you can simply copy and paste or manually enter terms into 'Option 1: Enter keywords'.

All of the targeting options here have been explained in the previous section of this guide, please refers to that for more information on those options.

Date Range

The date range is the only option for this feature that is not available on the previous feature. Here you can choose to set a 'from and to' date range:
You can also choose to compare date range, with the options shown below:
This is less relevant on this feature as typically this feature is used for data gathering rather account construction. Often the terms being searched are either in an account or being used for something other than SEM.
All features previously described are still relevant here; the only difference is that new keywords or keyword ideas are not included. You will only see data for keywords that you have entered through whatever means. This is typically capped at around 800 keywords, if you want to pull out data for more than this, you will have to repeat this process in groups of 800 keywords.
The screenshot below shows what the chart looks like if you choose to compare date ranges:
This option is a huge timesaver for advertisers who need to systematically produce lists of keywords based on two types multiplied together. For example, if you sell holidays to different locations, you could upload two lists:
Locations
Relevant keywords
In this example, we could assume the following lists:
| | |
| --- | --- |
| List 1 | List 2 |
| New York | Hotel |
| Los Angeles | Resort |
| Washington | B&B |
In this example, the keyword tool will produce all of the following combinations of these terms:

New York Hotel
New York Resort
New York B&B
Los Angeles Hotel
Los Angeles Resort
Los Angeles B&B
Washington Hotel
Washington Resort
Washington B&B
The below screenshot shows how you can upload these lists, simply add one list to the left-hand field and the other list to the right-hand field: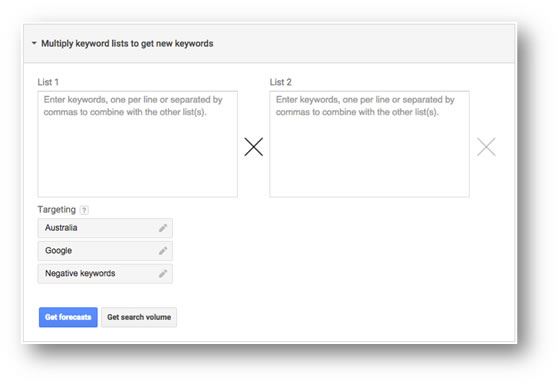 The other options that differ from previous features here are the two buttons:
Get Forecasts
This will take you to the keyword planner.
Get Search Volume
This will take you to the screen below; we have continued the example of hotels and locations here:
This feature allows you to get forecasts for your AdWords account; the options for this are similar to all previous feature options. We cover what happens when you click "get forecasts" in the next chapter as this leads to the keyword planner.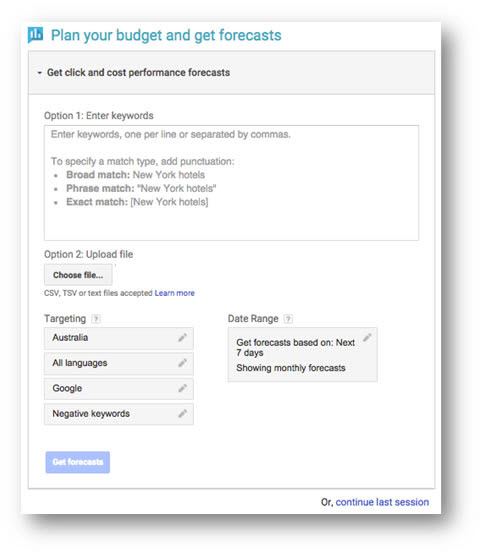 Note that here you have to use quotation marks; brackets or neither to denote whether the keywords entered are either broad match, phrase match or exact match:
The date range options here are a little different than with other options, we show these in the screenshot below: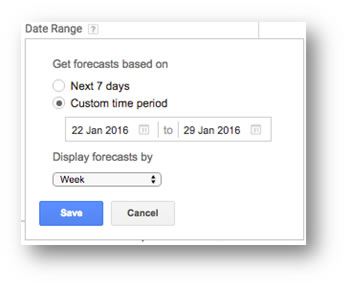 We have mentioned throughout this guide the 'keyword planner', this is a component of the keyword tool. When you click the blue arrow next to a keyword in the keyword tool that keyword will be added to the planner, you can see where it has been added in the area highlighted in red below:
The keyword planner can also be reached directly when you try and get forecasts typically by clicking a button showing the text "get forecasts". In the example above, you can click "review plan" to enter the keyword planner. The keyword planner looks like this:
The keyword tool is primarily a forecasting tool designed for advertiser looking to get forecast data or to plan for account expansion in some way (adding keyword, changing CPC's, etc). Therefore the results shown here are based at least in part on historic account performance, so if you are chucking keywords into this, which have no relevance to existing account keywords, the results may not be as accurate as they could be.

Also bear in mind that you can enter the same keywords into the keyword planner of two different accounts and you will often notice a variance between the data.
Note: We would also add that the data Google provide here is to be taken with a generous pinch of salt, for those not familiar with that idiom; Don't believe everything you see! Like most data Google provide, there is a degree of inaccuracy inherent in it, they cannot predict everything and they don't want you to know everything. Typically, when forecasting, we use low, medium and high case scenarios to allow for this deviation from reality.

There are several options and controls that you can use in the keyword planner, each of which are described below:
Slider
The slider bar highlighted in red below can be clicked and dragged left or right along the horizontal axis that represents CPC, with the CPC value increasing as the slider moves to the right. You can also set the CPC bid to a specific value by entering the desired value in the field titled 'enter a bid'.

Either moving the slider or setting a new CPC bid will force a refresh of the data shown on the screen because what you are prepared to pay for a click will determine how many Clicks you receive.
Graph
The graph has two axes, the X (horizontal axis) represents a scale of CPC; the Y axis (vertical axis) changes depending on what tab has been chosen and will hence represent a metric.

The graphs shown under each of the metric (which we discuss next) are a visual clue as to how that metric will be affected by higher or lower CPCs. For example, in the graph below, we see a gradual increase in Cost after a sharp increase at the far left of the chart:

However, the chart below we see a vertical shift in clicks followed by a plateau of Clicks, hence an increase in CPC will not translate into more Clicks in the below example:

The tab options are shown in the screenshot below, these are clickable and will change the y-axis on the graph to the selected metric:
Clicking on a different metric will show you a new chart with a different data distribution relevant to he selected metric; this will provide you with an idea of how changing the CPC bid will affect the selected metric.

The Clicks, Impressions and Cost metrics will be affected strongly by the budget, if you have a budget set to $1 Billion in order to see how many clicks or Impressions are out there, this will create an unrealistic cost.

The following metrics all come with an additional variable, which is the ability to add or edit a conversion value and expected conversion rate:
All Conversions
Avg. CPA
All Conversion Value
ROAS (Return on Ad Spend)
If you click on the edit icon (right hand side of the screenshot below):
You will see the options below appear, from here you can enter a conversion rate, conversion value, and even specify this by device. Keep this mind when looking at the data, because these values may not be accurate for your business or fit for the purpose of forecasting: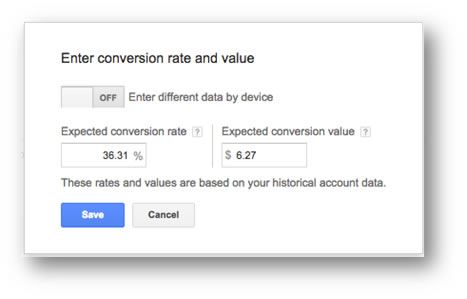 You can define the CPC bid for the forecast in this field. You can also use the slider, which we describe above.
Here you can enter a budget for the purpose of the forecast: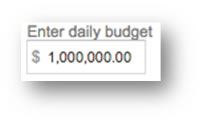 There are several logical approaches you can take:
Enter an essentially unlimited budget to see how much search volume or clicks are out there if unlimited by budget.
Enter a realistic budget to see what you could get at an affordable budget
Enter a range of budgets to see how this effects data
It very much depends on what you are using the planner for and what you want out of it.
The options in this drop-down menu change depending on what tab you have selected (Ad group or Keyword but is not available on the Device or Location tabs). The below screenshot is what you will see in the ad group tab: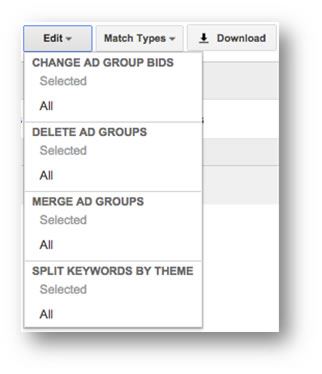 From here you can change bids, delete ad groups, merge ad groups or split ad groups should you so choose. The below screenshot is what you will see on the keyword tab, from here you can change bids or delete keywords:
These options remain the same on both the ad group and keyword tabs. From here you can change the data shown to reflect data for different match types:
Again, your aim, goal or purpose for using the tool will determine what you select here if you have not previously defined what the match type of the keywords are. If you are using the tool to get some more accurate data for SEO, you may have a formula to represent the ratio of exact to broad match keyword data… If you are getting forecast data for a new set of ad groups, you will need each keyword to reflect the actual match type you intend to target.
As with almost all AdWords data you can download it into your preferred format for analysis or reporting: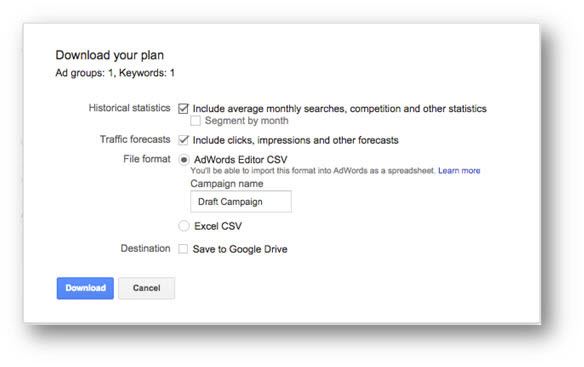 There are four tabs near the top of the window that can be clicked / selected, each of which will show you something different:
Ad Group
This tab aggregates keywords into an ad group or ad groups. The example below is an ad group with eight keywords in it:
Keyword
Continuing the example above, if we select the keyword tab, we can see all of the keywords listed one per row:
Device
There are several options that will change what is shown in the graph area for this tab option. Essentially this tab will show you forecast data segmented by device. These options are chosen from the drop-down menu:
We discuss each of these below in more detail.

Bid

This is similar to the ad group and keyword tabs where you can adjust the bid to see how this affects the data: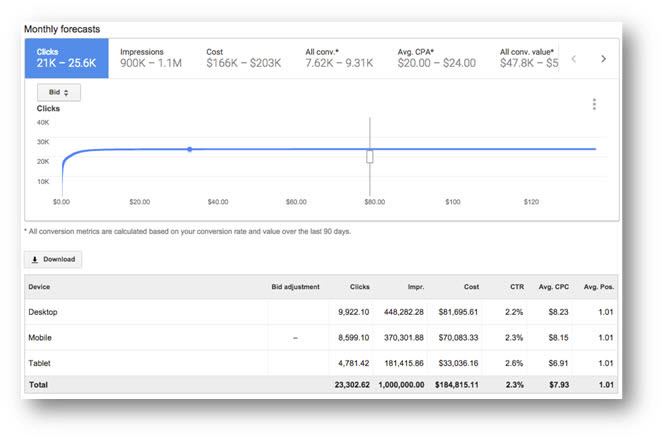 Mobile Bid Adjustments

Using this option allows you to change the mobile bid adjustment and see how this affects the data for the forecast:
Devices

This option shows you a pie chart as a visual representation of the metric that you have selected for the forecast data. It also shows you these as a percentage: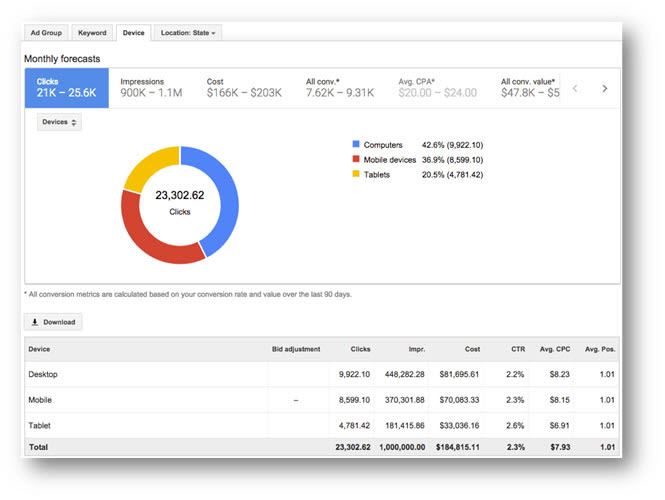 Location
The location tab shows you a segmentation of metric data via any of the options shown in the screenshot below:
This is represented in the graph area as a pie chart and some top-level data summary and in the table at the bottom we see a more detailed segmentation of data by location: