Maximise Clicks
Contents:
This guide is a detailed look at Maximise Clicks bidding, if you are unfamiliar with this bidding technique you may want to read our introduction to bidding strategies first.

Maximise Clicks is an automated Bid Strategy used to generate as many clicks as possible within your specified budget. As with all automated bid strategies you are able to define this for just one campaign or set it up as a portfolio bid strategy, enabling you to apply this to multiple campaigns.
Before we explore CPC Bidding in more detail it is first worth explaining a little bit about how auctions work and what they are. The auction is the process that occurs with each search performed in Google (the display network works slightly differently to this).
Automated bidding strategies allow Google to control your bidding through algorithms and automated computing systems in order to achieve a target. All automated bid strategies are goal orientated bidding systems, meaning that they are designed to help the advertiser achieve their goals.

There are two flavours for automated bidding strategies, which we describe below in more detail.
This means that the strategy will apply only to one campaign and all of the ad groups within it.
Portfolio bid strategies can be applied to multiple campaigns and they work across all of these campaigns to achieve targets. In the case of 'Maximise bids', this will apply a target spend across all of the campaigns to which it is applied… meaning that some campaigns may have a low spend and others a high spend, but in total the spend will be in-line with the target spend for the bid strategy.
Google / AdWords aims to increase Clicks in all campaigns using this bid strategy, showing your ads and adjusting bids in order to maximise the number of clicks you get. This type of bidding strategy should be chosen carefully and should map with your goals… If you have budget to spend near the end of financial year or the account you're managing doesn't have conversion tracking setup; this may be of benefit to you.

Typically account managers are tasked with hitting a CPA target or an ROAS / ROI target, because these are more in line with the wider business or commercial goals. However, some businesses are only interested in Clicks for any number of reasons. You can use Maximise Clicks Bidding with manual CPC bidding in order to spend additional budget remaining after manually managed keywords have spent all they can.
As the image below shows, there are two settings with which to customise this bid strategy that we describe below.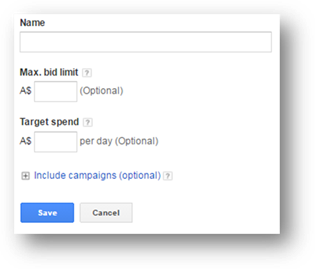 CPC Bid Limit – As shown in the image above the Max Bid Limit is a maximum CPC bid to limit the Cost Per Click. Google will try and get as many clicks as possible with this maximum CPC and within your daily budget.

Target Spend – This is the total spend / budget to be used across all of the campaigns to which this strategy is applied. In this case, budget can be distributed across multiple campaigns and / or ad groups and keywords to maximise spend to achieve the maximum number of clicks.
To some extent many of the pros and cons of this automated bid strategy are the same as using any automated bid strategy, such as less control vs less work… however, we have limited the pros and cons here to those relating to this specific bidding method.
Pros
Allows you to force spend to reach a specific amount
Can work with manual CPC bidding to ensure budgets are spent
Maximises traffic to your website / most efficient way of generating traffic
Cons
The only control that you have over hitting other targets such as CPA is controlling the maximum CPC
No control over traffic quality
Less meaningful results
As a portfolio bid strategy Maximise Clicks can be applied to multiple campaigns and thus the targets work across all of these entities. If a target budget is not specified, the daily budget for a campaign is used instead. Similarly, if a maximum bid limit is not set, Google will adjust your CPC bids to gain as many clicks as possible.

You can use ad scheduling to limit when your ads show to specific days or the time of day where you have identified the most value to be gained. Maximise clicks will work with this to enable you to get the most Clicks possible during these times, but any bid adjustments specified during these times will be ignored by this bidding strategy.