Product Listing Ads (Shopping Ads)
Contents:
Shopping ads are an ad format available in shopping campaigns in AdWords designed for retailers and resellers. These allow you to advertise specific products and relevant product information to users when they are searching for those products.

You may also be interested in learning more about other ad formats:
Referred to as both 'shopping ads' and 'product listing ads' (PLAs), this family of ads allow you to advertise local inventory to potential customers at the point when they are looking for products that you offer. The image below shows how PLAs appear in search results: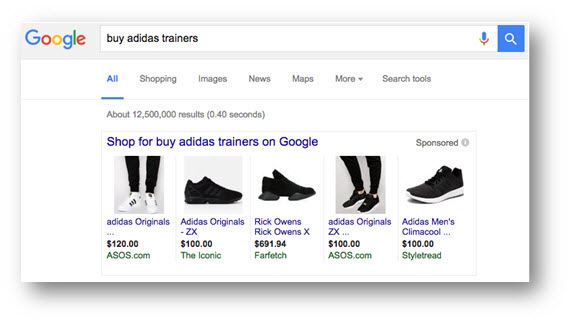 Users can also search specifically within the shopping tab in Google (in the below image, you can see shopping highlighted and underlined in blue). From here users can set criteria for their shopping related searches to find the products that they are looking for. This makes PLAs a very attractive channel for retailers and advertisers who want to get their products in front of potential customers.

Because your products will be listed next to similar / identical products form competitors, companies that are not able to compete on price may struggle to get Clicks.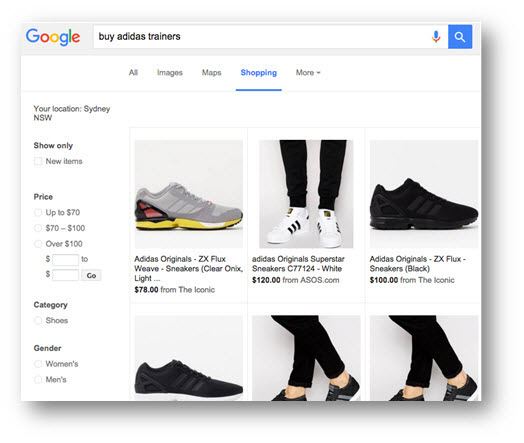 Rather than matching keywords to search terms in order to target users, PLAs use the product data within your Google Merchant Centre account (which we discuss in more detail below). Google use this data to match your product listings with search terms.
To create a shopping campaign, simply select it from the drop down menu shown below: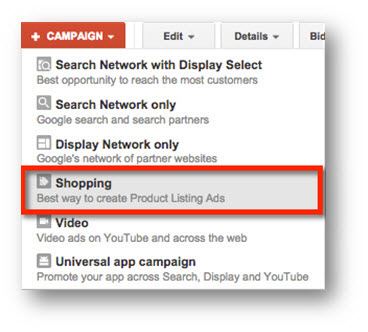 Creating PLAs is very different from creating all other ad formats, at no point to do go into an ads tab and start creating ads! Instead we use feeds and the data contained in feeds to create ad groups that are constructed based on those feeds.
As mentioned above, you will need a Google Merchant Centre account and have this linked to your AdWords account should you want to setup shopping campaign. If you do not have this setup and linked, you will see the following error message when trying to create a shopping campaign:

We cover Google Merchant Centre in more detail in another guide, for this we describe only those features and components relevant to the PLAs that are the subject of this guide. Google Merchant Centre is where most of the work is done when setting up PLAs, as this is where you upload your feeds and provide Google with product information.
A product feed is essentially a data feed containing all of your products and the information / attributes that Google cater for. The feed can take one of many forms such as XML or CSV, if you have a large inventory it is essential that the feed is generated automatically. Discrepancies between feed data and website data can prevent your PLAs from showing… On larger eCommerce sites, the only way to manage this is through automation.

You can create different feeds for each product range or category of product or you can create one single feed containing all products. Often companies use the shopping cart provider to do this but there are 3rd party companies out there that can help you with this.
The term 'item/s' refers to specific products but is different from what we call a product, as it is a specific type of product such as a red or blue shoes rather than just a 'shoe'. Items are essentially variations of products, which may vary by size, colour, etc.
Items may take up to 72 hours before showing in AdWords.
Products are the groups of items in your inventory, whatever it is you sell is a product but these can include a wide variety of items.
Product groups are a way to organise products using the product attributes, typically used for bidding and in place of keywords. What group a product belongs to is derived or determined by the attributes of the product (see below product information). The default product group is 'all products' but this can be split out into smaller more closely related product groups.
Within Google Merchant Centre there are a range of components that you will need to provide when creating a product Feed.
This is the ID (identification) used to uniquely identify the product.
There is a character limit of 50 characters for the ID
Only valid Unicode characters will be accepted in the ID
Do not change the product ID once it has been submitted
Do not use the same ID for another product even if the old product is not using it anymore
XML Feed example entry: <g:ID>example123</g:ID>
This is the name of the product; this text is visible in the Product Listing Ad.
Max 150 characters (most of the time 70 characters of fewer will be shown)
DO NOT CAPITALISE EACH WORD
Do not include promotional information such as "free delivery"
There is a requirement for structured titles among common products, for example if you sell Round Digital Widgets for different operating systems, you could use the following structure:

Round Digital Widgets – Windows
Round Digital Widgets – Mac
Round Digital Widgets – Linux
XML Feed example entry: <title>example title</title>
This is a product description and will be visible within the Product Listing Ad once clicked. This should include all relevant product information.
Max 5,000 character limit (500 – 1,000 recommended
DO NOT CAPITALISE EACH WORD
Do not include promotional information such as "free delivery"
Do not include any of the following:

Links
Payment, billing or sales information
Reference to product categorisation
Comparisons using phrases like "faster than X"
Info about similar products
XML Feed example entry: <description>example description</description>
Google provide a complete list of product taxonomy from which you must chose the one that is most relevant to the product. You cannot create or define your own taxonomic categories.
Include only one category
Use either the category ID or the full category path
XML Feed example entry:
Using the ID: <g:google_product_category>2271</g:google_product_category>
Using the path: <g:google_product_category>Clothing &amp; Accessories &gt; Clothing &gt; Dresses</g:google_product_category>
This is a user-defined attribute:
You can include multiple product types
Max 750 characters
Include the full product category string (described above)
XML Feed example entry: <g:product_type>Home &amp; Garden &gt; Kitchen &amp; Dining &gt; Appliances &gt; Refrigerators</g:product_type>
This is the URL the user will land on if they click your ad.
Max 2,000 Characters
If an item is out of stock, simply change the 'availability' attribute to "out of stock"
XML Feed example entry: <link>http://www.example.com/product-page</link>
This is the URL the user will land on if they click your ad, you can choose to send them to a mobile optimised landing page if you have one available.
Max 2,000 Characters
If an item is out of stock, simply change the 'availability' attribute to "out of stock"
XML Feed example entry: <link>http://www.m.example.com/product-page</link>
This is the location of the product image that the user will see in your ad:
4MB max file size
Minimum dimensions 32x32 pixels
Clothing should be at least 250x250 pixels
Max 64 megapixel image size
Recommended 800 pixels in height for images
Don't scale images or use thumbnails
Product should be between 75% and 90% of the full image
Use clear high quality images
XML Feed example entry: <g:image_link>http://www.example.com/image.jpg</g:image_link>
There are only three types you can choose from here:
Preorder
In stock
Out of stock
XML Feed example entry: <g:availability>in stock</g:availability>
For times when products are available on pre-order, use this attribute to inform users of when this product will become available:
Date is to be specified in the format: YYY-MM-DD, which is followed by the letter T; this indicates the time that it becomes available
Max 25 characters
XML Feed example entry: <g:availability_date>2014-12-25T13:00-0800</g:availability_date>
The price of the item:
The price must include a currency
Price must not be 0.00
For products 'on sale' include a 'sale price attribute in addition to the normal price
XML Feed example entry: <g:price>15.00 USD</g:price>
Where a product is on sale, you can include a sale price:
The price must include a currency
Price must not be 0.00
Include the normal price attribute
XML Feed example entry: <g:sale_price>15.00 GBP</g:sale_price>
This is to be used with the 'sale price' attribute and informs the user of the dates between which the sale prices are in place:
Date is to be specified in the format: YYY-MM-DD, which is followed by the letter T; this indicates the time that it becomes available
Max 51 characters
XML Feed example entry: <g:sale_price_effective_date>2011-03-01T13:00-0800/2011-03-11T15:30-0800</g:sale_price_effective_date>
Google provide three types of enhancement for shopping ads, each of which is described below in more detail:
With Merchant Promotions you can distribute your online promotions with your Product Listing Ads (PLAs) on Google.co.uk and Google Shopping. These are then displayed with PLA's as 'special offer' links that are billed in the same way as your PLA's. You will need to apply to be included in this promotion, the following requirements apply:
You require a Google merchant centre account
Only operating in the following countries:

USA
Australia
Britain
France
India

Must have at least one product feed
Complete the Merchant Promotions Interest Form for a review of your request, typically answered within 1-2 business days
Product ratings provide users with a trusted source of review, represented by a five star rating system: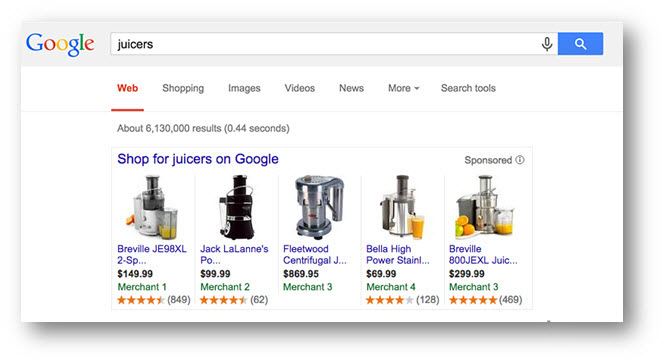 These reviews need to be submitted to Google for approval, complete their product ratings interest form. Or you can use a 3rd party company to collect reviews, Google provides a list of authorised partners:
This is a badge (see below) that you can become eligible to have them appear on your ads after applying to Google. This creates trust and encourages CTR (Click Through Rate).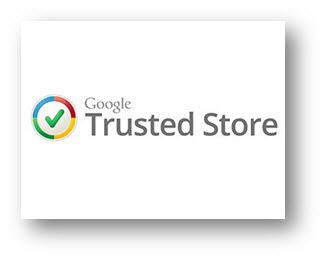 The most obvious benefit of using PLAs is that you can promote specific products to users who are searching for those products. Thus the relevance is typically very high and the path to transaction is improved for the user.
You only pay when someone clicks your ad, so you only pay for PLA's when they deliver (typically highly qualified) traffic to your site.
PLA's are a completely different breed of ad and hence occupy a different space within the SERPs; it is entirely possible to have a Search Campaign ad, a shopping ad, and an organic result all on the same page. Consequently you can increase your presence within the SERPS and thus your chance of receiving a click.
As with any component of AdWords, reporting is highly detailed and granular, allowing you to both report on and analyse data for optimisation. Filters allow you see the performance of any item, product, product group, etc.
PLA's typically deliver more qualified potential customers to your site. This is a different channel for promotion in AdWords to all other ad types and hence you can use this to deliver additional traffic and conversions to your business.