Total Cost
Contents:
Quick Description = Total costs including phone call costs in addition to Click and CPM costs

Calculation: Cost + Phone Cost

Referred to as = Total Cost

This is only relevant if you use call extensions or call only ads, where 'Cost' omits the 'Phone Cost'.
Cost does not include the cost of phone calls made using Google's forwarding service, if you are using call extensions you can see the phone cost as its own metric. This has been largely phased out now as clicks on call extensions cost the same as a click without the call extension.
We haven't recently seen a different figure for 'total cost' compared to 'cost'.
Total Cost is viewable by adding the column in from the custom columns drop down menu as the image below shows. This can be done at the campaign and ad group level but not at the keyword, ad.

Select either Campaign or Ad group from the tabs and then select the 'Columns' drop-down menu:

Then select total cost from the performance menu and click save.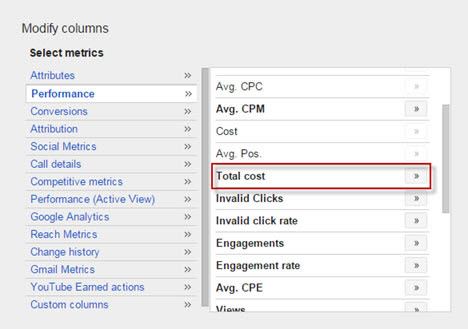 There are several types of cost and metric relevant to cost that you may be interested in knowing about, we have listed these below:
Clicks
Total Cost
Phone Cost
Avg. CPC (Average Cost-Per-Click)
Avg. CPP (Average Cost-Per-Phone Call)
Avg. CPM (Average Cost Per Thousand Impressions)
CPA (Cost Per Acquisition)
CPV (Cost Per View)
Avg. CPE (Average Cost Per Engagement)
Average Cost (of Interaction)
Cost / Converted Click (Average Cost Per Converted Click)
ROAS (Return on Ad Spend)