Videos Played to (25%, 50%, 75%, 100%)
Contents:
Quick Description = The percentage of users who watched 25%, 50%, 75% or 100% of your video

Calculation: Example at 25%: No. of users who watched 25% of a video / Total No. of users of watch any percentage of a video

Referred to as = Videos Played to (25%, 50%, 75%, 100%)

This can be initially confusing as the description uses the word percentage quite a few times, all of which refer to different things! But here goes…

This suite of metrics applies only to YouTube Video campaigns and will be shown if you select a YouTube video campaign within AdWords. Because TrueView ads are powerful ads often used to drive brand awareness. They are billed for in a unique way, using 'Views' and consequently Google provide a set of metrics to help you understand your video ads performance.
Firstly, the percentages (25%, 50%, 75%, 100%) are triggered once a viewer watches at least 25% of a video (or 50% or 75% or 100%). So for example if someone watched 32% of a video they will fall into the 25% category, or if someone watches 60% of a video they will fall into the 50% category.

The actual metric that you see in AdWords columns represent the percentage of people that falls into each category. For example, if you had 10 people watch your video and each one watched the following amount of that video, we would calculate it like this: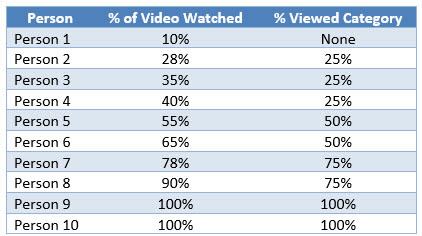 Now we can count the number of people that fall into each category and divide this by the total number of people:

 This is how 'Videos Played To' is calculated, although you will never need to do this yourself, this is what the metrics means in AdWords, you will see this represented by percentages: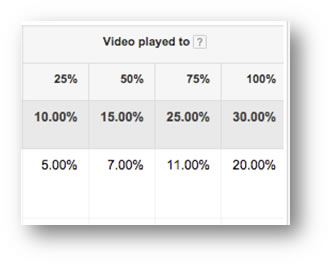 You can however reverse engineer this data to see actual number rather than percentages, for example; multiple the percentage by the number of impressions to get the value for each grouping. In the example below we assume 10,000 impressions: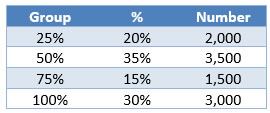 Each cell in the  'number column of the above table multiplies the cell to the left by 10,000 to get the number of views each group received.
Using this data you can optimise your videos to perform better and reach more of your target audience. You can also review the Video Ad content, if for example you find that most people do not get past 25% of a 30 second ad, you may need to review the first 7.5 seconds of the ad to see if you can make it more compelling to users.

You can also use this data to look at what targeting options, ad groups, campaigns, ads etc are performing better and find new niches to expand your budget into.
A 'view' differs from impressions and is calculated in a unique way. To qualify as a view, either of the following criteria must be met:
The viewer watched 30 seconds of the video ad
The viewer watched the whole video ad
Depending on the length of the video ad, you will be charged when one of the above conditions are met first. You will often find that the 100% 'Video Played to' metric is very close to the total views unless your video ads are longer than 30 seconds.
You may also be interested in reading some of the following guides relevant to Views:
CPV (Cost per View)
View Rate
Views
Earned YouTube Metrics