View Through Conversions
Contents:
*A conversion is when a user performs a desired action (being tracked) on your website. This could be buying a product, downloading a file, clicking a link or any other desired action. Typically conversions are linked either directly or indirectly to revenue.

*Conversion tracking needs to be setup to see conversion data in AdWords.
Quick Description = The number of conversions that occurred after an Impression on the Display network (that did not result in a Click)

Referred to as = View-through Conv.

This occurs when a person sees one of your display ads (but does not click on it) and later converts on your site, a view through conversion is counted. A number between 0 & ∞ represents this.

Although not a hugely valuable metric to many, this can still provide some insight into how Display advertising impacts other channels. Conversions from Display are recorded as 'Conversions', so this metric simply refers / alludes to the value of the branding benefits of the Display Network.
It's hard to conclude to any degree of certainty what impact a campaign has had with this metric alone. Turning off display advertising and measuring the impact this has on conversions from other channels; then turning Display back on and comparing data will provide a more detailed insight into the relationship between branding and conversions from other channels.

The biggest problem is; did the view contribute to brand or product awareness enough (or at all) to actually assist in the resulting conversion. It is entirely possible that the person was already searching and reading content, and by coincidence converted on your site, without having noticed the ad.
There is (by default) a 30-day conversion window in which conversions can take place and be attributed to the display ad view. You can set this to a new value within the specific conversion, in the screenshot below we show how / where this can be set when creating a conversion:
Once the conversion has been setup, simply navigate to Tools>Conversions>Conversion Name>Edit: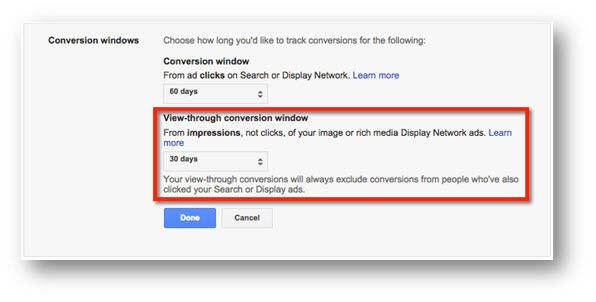 From here you cans set the 'view through conversion window'. You are not able to segment View Through Conversions by the day or time that these occurred.
This was an option some time ago but has since been removed by Google and de-duplication is now enabled by default. Previously, you could disable this feature and thus could duplicate conversions.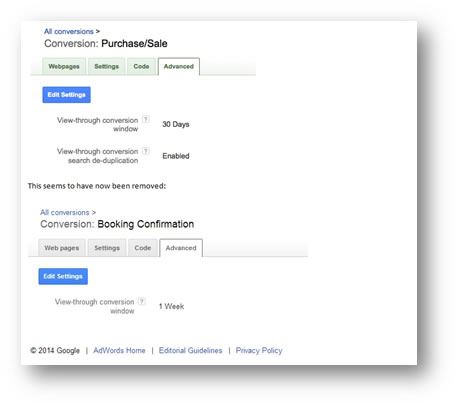 This metric is only used for search campaigns, if you are interested in seeing how search keywords assisted in conversions you will need to see the suite of metrics on attribution:
Click Assisted Conversions
Impression Assisted Conversions
Click Assisted Conversion Value
Impression Assisted Conversion Value
Click Assisted Conversion: Last Click
Impression Assisted Conversion: Last Click
Display campaigns often have lower conversion rates or can be used for branding purposes; this metric enables you to attribute some additional value to these campaigns. This is especially relevant on branding campaigns or campaigns with low volumes of conversions.
If you liked this guide on View Through Conversions, you may also be interested in the following guides related to this subject:
Clicks
Converted Clicks
All Conversions
Converted Click Rate
Conversion Tracking
Conversion Rate
Cross Device Conversions
Cost Per Converted Click
Avg. CPC (Cost Per Click)
Revenue Per Conversion
Conversion Optimiser