SEO Audit Tool
SEO audits are one of the most common types of audit an SEO will perform and are vital to ensuring that a site is optimised for its target keywords.
What is an SEO Audit?
'SEO auditing' means different things to different people and can often be used interchangeably with the phrase 'technical site auditing'. We define an SEO audit as the process of auditing a site's SEO components specifically for keyword optimisation. Whereas a technical audit addresses site issues such as canonical or indexation problems.
There's nothing wrong with using either term to describe either process, some people may even bundle the whole lot into the same bucket! That said, we make the distinction primarily because for a technical audit you do not need to know anything other than the current state of the site. For an SEO audit, you will need to know what the target keywords are for each page at some point during the process.
Typically, you will perform a technical audit of a site to ensure that it's not suffering from issues that could affect its ability to appear in Google or prevent users from accessing it. Once you have all the nuts and bolts in place, performing an SEO audit will ensure that the site is relevant to the keywords that it targets.
There is certainly some crossover in these two types of audit, as you will need to optimise page titles for example, so ensuring that they are in place is essential.
Perform SEO Audits to Improve Organic Visibility
The whole point of SEO auditing is to improve the organic visibility of a site. Organic visibility is a term used to describe how much exposure a site gets for its target keywords within Search Engines. The amount of organic visibility a site or page gets is based on:
The organic position
The search volume / organic impressions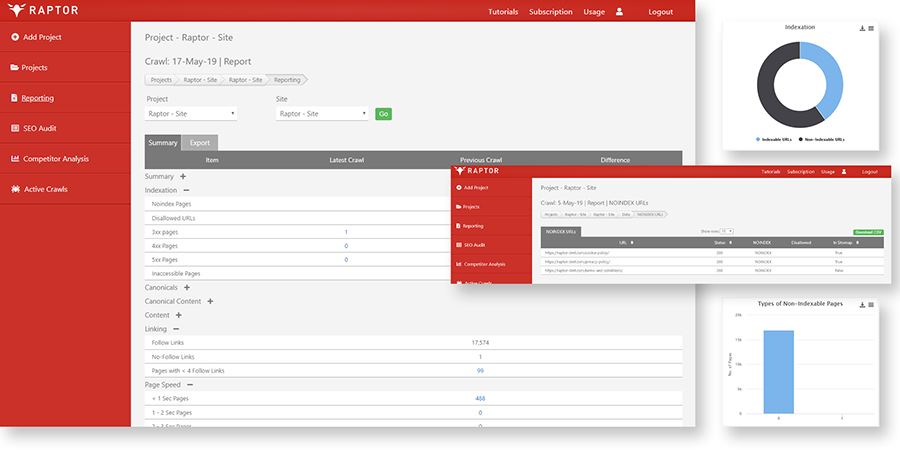 Optimising your site for target keywords, if those target keywords are valuable, is a major step towards both ranking for those keywords and improving organic visibility.
Visualising SEO Data Makes Auditing Easier Than Ever
Because our web crawler analyses SEO data, we are able to present it in interesting and useful visualisations that help you to more quickly digest the information.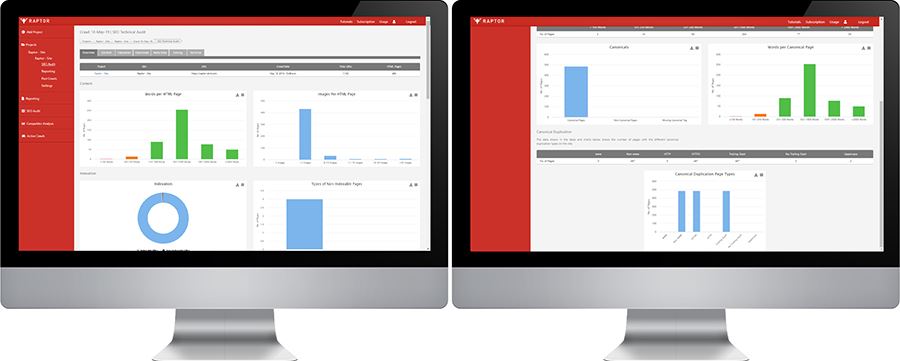 Export Data in Stunning SEO Site Audit Reports to Impress Clients
Our SEO tools have a wide range of features designed by SEOs for SEOs. As such we have created pre-formatted downloadable Excel reports that segment data into different tabs. This not only looks nicer, but it makes it easier to navigate, use and find the data you need.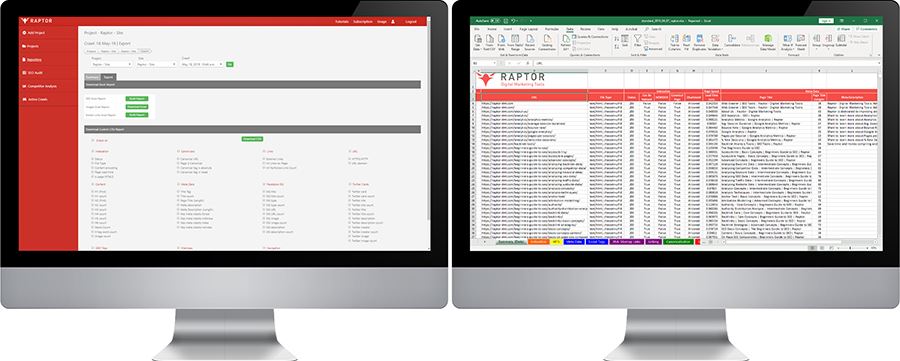 If you'd rather download the data into CSV, you can create customised CSV downloads with just the data you want. All this data is available online through our reporting features, meaning that you don't need to leave the software or have Excel installed to view or use the data.
We Give You All the Data You Need for Any SEO Audit
Raptor provides you with all the SEO components you need to perform an SEO audit. Our web crawler scrapes SEO data and analyses it to give you a clear picture.
Analyse Content
Our SEO audit tools provide you with a few different ways to look at content in order to save you some time. Our content distribution charts illustrate the number of pages on a site per word count.
We also filter this data to show you the number of canonical pages rather than 'all' pages per word count. The word count brackets are divided up to show you pages with:
Thin content
Borderline thin content
Lots of content
This segmentation allows you to identify pages that potentially require more content for you to fully optimise it for target keywords.
Analyse Meta Data
If you want to check that a site has any meta data errors, you can easily check the SEO audit section to see charts that break this down for you.
Click through / drill down into this data to identify any pages with issues, or simply view the meta data you want to see. In this section we provide data for meta descriptions and page titles as these are the most common and valuable types used in this type of SEO audit.
Analyse Headers
Our SEO report includes a headers tab that details every header on every page, the length and contents of the header. Easily spot sites that are using headers to style content rather than target keywords and head section of content.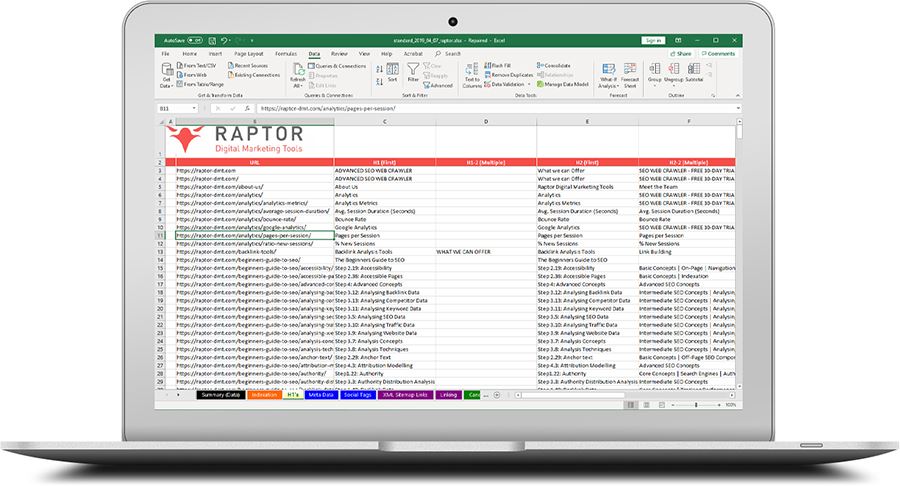 Analyse Images
Download our images report for a complete list of all images on a site plus the location where each image is used, and the alt attributes used in that location. This makes optimising images very easy as they are already mapped to the pages where they are used. Simply add a column to make custom alt tag or file name recommendations for your clients.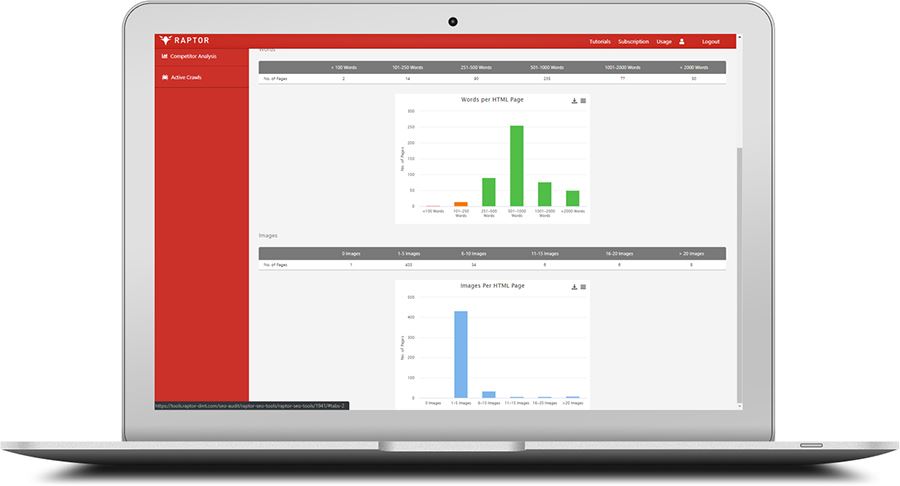 Complete End to End Support
We provide written and video tutorials to cover every aspect and feature of our SEO software in our support documentation. More than just tutorials on our tools, we also have over half a million words of content on every area of SEO in our SEO knowledge base.
So, if you need to brush up on your SEO skills and knowledge or find out what some of the data means, how to use it or why you would need to, we have hundreds of guides, videos and step by step instructions. We've also built a range of guides pitched at anyone either in SEO or wanting to get into SEO from beginner to advanced.