SEO Reporting Tool
The Raptor web crawler scrapes a lot of SEO data and it performs a lot of checks and analysis on those data. We provide this information to you in several formats to make it both easy to navigate & identify issues, we also provide two file types for downloading or exporting your data; Excel and .csv files.
Our SEO tool's reporting functionality makes navigating and identifying problems incredibly easy, whether you're new to SEO or a seasoned veteran. Quickly find issues with meta data, indexation, broken links and canonical errors.
Benefits of Raptor's SEO Reporting Tool
| | |
| --- | --- |
| | Access Your Data Online |
| | Download Beautiful SEO Reports |
| | Custom Data Downloads |
| | Visualise Your SEO Data |
| | Broken Link Report |
| | Detailed SEO Reports |
SEO Reporting: Why Is It Important? What Is It? How Can We Help?
SEO reporting is important no matter whether you work in-house, as a freelancer, in an agency or for yourself. SEO reports help you to identify errors on a site, improve optimisation for target keywords and ultimately contribute to improving online sales and revenue.
SEO reports can take many forms, and we provide you with as much of the data as you'll need and in all the formats you need them in.
Our SEO tools provide a suite of reporting features that deliver data, checks and top-level analysis of website data from crawls. We also provide a comprehensive range of downloadable reports that can be fed into wider audits and processes or be sent straight to clients.
We don't charge extra for you to white label our report or data, the way we see it, if you pay for a subscription, it's your data and you can whip out our logo and exchange it for yours. We pride ourselves on being able to offer the same features and functionality to our smallest customers and our largest.
We don't withhold features such as white labelling or reporting because you're a freelancer and you don't need to crawl 2 million URLs per month. When you sign up for an account with Raptor, you get access to everything.
We even provide all features with a free trial so that you can try before you buy, so why not sign up for a free trial today to see for yourself?!
View Your Reporting Data Online
We segment our SEO reporting data into multiple tabs within the reporting section of our web crawler. Whether you are looking for a graphical overview of the SEO of your site or you want to drill down into the numbers, we have features that cater to either need.
Raptor breaks down your crawl data into a summary tab, errors, and informational data. Within each tab we categorise the data into easily identifiable segments such as data for canonical pages or checks on indexable URLs.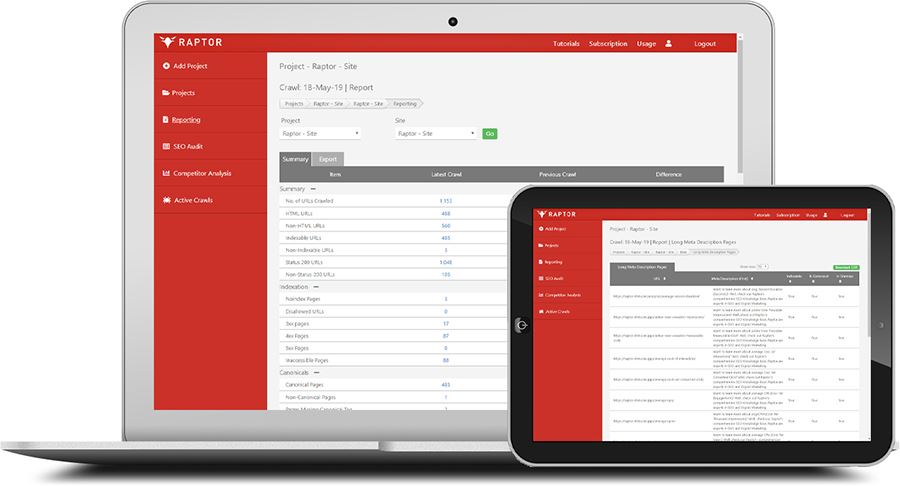 Custom Exports, Get Everything You Need!
Raptor provides a wide range of exportable data in our SEO software, everything from headers and page titles to the UA numbers of your site's Google Analytics code. With our customisable csv reports, you can easily build your own reports to download with any to all the SEO data you need.
Formatted Excel Reports, Save Time Preparing Data
One of the more popular features that Raptor provides for our users are formatted Excel reports, splitting out data into multiple worksheets provides several benefits over csv exports.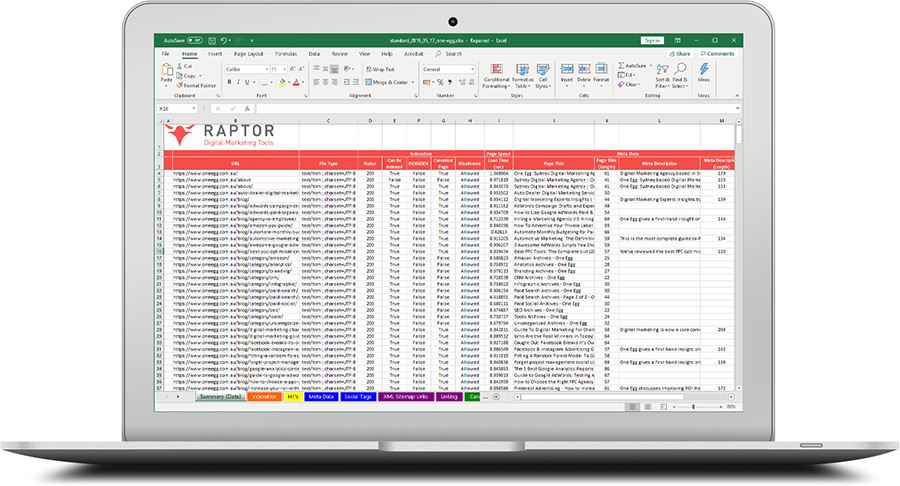 The tabbed data in our reports also makes it easier to review, analyse and saves time when preparing reports to send to clients or internal stakeholders. Especially if you are sending a PDF or PPT report that accompanies the spreadsheet, making references to specific tabs makes it much more efficient.
Visualised SEO Data Makes Reading Reports Easier for You and Your Clients
In addition to tables of data we also give you a lot of graphical representations of data in summary reports such as the SEO auditing and competitive analysis. These reports make it very efficient when analysing lots of data.
We not only provide a graphical representation, but we also colour code charts to highlight areas of the data that are errors, potential errors, informational or have no issues at all. Even within the tabled data in Raptor, we provide visual aids that allow you to see which of checks are errors.
Broken Link Reports
Everyone in SEO needs a broken links report on a regular basis, we give you a downloadable Excel file with all inaccessible links split into tabs based on their status code. The report details every broken link identified during the crawl, its location on the site and the status code returned.
The tabs provided split this data into 4XX errors, 5XX errors and 3XX redirects, making it easy to report to your clients or delineate priorities for implementation.
Image Reports
Images are often overlooked when optimising sites for target keywords, this can be because getting page-level data for images isn't very common in SEO tools. The downloadable image report we give you details each image per row and the location that image is used.
If an image is located on multiple pages; we list the image multiple times so that you can see the alt attribute used in each location. This makes it super easy to review or optimise alt tags & filenames.
Google PageSpeed Insights will often suggest that images use next gen formats, we provide you with the format of images within the image report so that you can review these data and optimise accordingly.
SEO Report
Crawl data for a site, especially large sites, can be unwieldy in a csv file; with our SEO Report you get all the data but split into multiple tabs segmented into the typical SEO categories you would expect. The SEO report includes tabs for:
Indexation
Headers
Meta data
Social tags
Xml sitemaps
Internal linking
Canonical data
Google Analytics & Tag Manager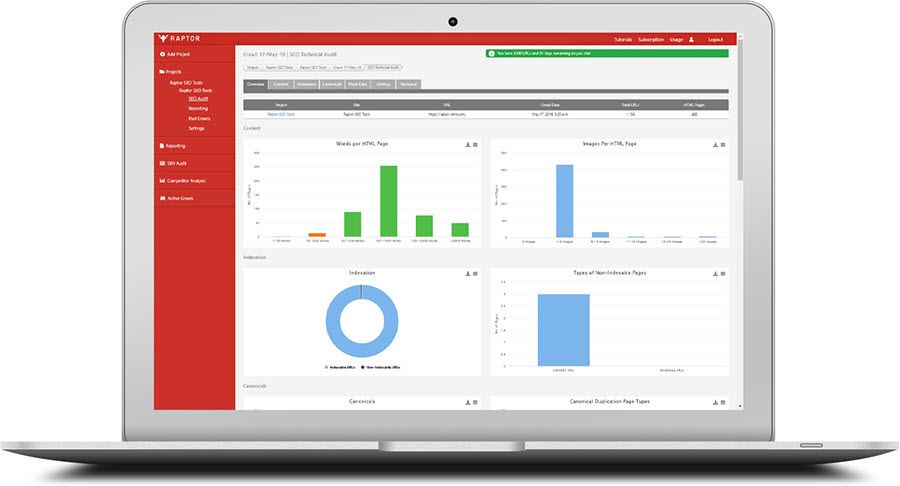 We also include a summary tab in the SEO report that contains the majority of SEO data that you'll need to identify all the most common SEO errors.
Summarised Data from SEO Checks Focuses Your Attention Where It's Needed
Our SEO software performs hundreds of checks on website crawl data, when we present this to you in the reporting section, the data is split into expandable / collapsible SEO audit categories.
These sections are grouped into sets of relevant checks and data such as those listed below:
Canonical + Indexable Pages
Canonical Pages
Canonical URL Errors
Content
Google Analytics
Indexable html Pages
Internal Links
Meta Data
Non-canonical Pages
Non-Indexable + Non-Canonical HTML Pages
Non-Indexable HTML Pages
Non-Status 200 URLs
Page Speed
Redirections
Robots.txt
Sitemaps
Social Media
URLs
All these categories are split over multiple tabs into errors & informational tabs that help to focus your attention where its needed. We do this because some things like an error 404 page are by definition an error, whereas other components like a redirect could be an error or may be intentional.
SEO Reporting Data
Our web crawler provides the following reporting data, which is segmented into the following categories:
Canonical + Indexable Pages
Duplicate page title sets
Nofollow in links
Less than 3 follow in links
Duplicate meta description sets
Duplicate H1 sets
Missing meta description
Missing H1
Multiple meta description
Multiple H1s
Pages with <100 Words
Pages with 101 - 250 Words
Not in sitemap
Missing page titles
Multiple page titles
Canonical Pages
Nofollow in links
Less than 3 follow in links
Non-indexable
Duplicate page title sets
Duplicate meta description sets
Duplicate H1 sets
Missing meta description
Missing H1
Multiple meta description
Multiple H1s
Pages with <100 Words
Pages with 101 - 250 Words
Not in sitemap
Missing page titles
Multiple page titles
Canonical URL Errors
Pages Missing Canonical Tag
Uppercase URLs
Canonical URL returns 3xx
Canonical URL returns 4xx
Canonical URL returns 5xx
Canonical URL to non-canonical page
www
Non-www
Https
Http
Trailing slash
Non-trailing slash
Contain spaces
Contain underscores
Relative link
Empty canonical tag
Content
Pages missing H1 headers
Images missing alt attribute
H1 contains bullet points
H1 contains image
H1 duplicate sets (canonical & indexable pages)
H2 contains bullet points
H2 contains image
H2 headers not heading content
H2 headers used to style text
H3 contains bullet points
H3 contains image
H3 headers not heading content
H3 headers used to style text
H4 contains bullet points
H4 contains image
H4 headers not heading content
H4 headers used to style text
H5 contains bullet points
H5 contains image
H5 headers not heading content
H5 headers used to style text
H6 contains bullet points
H6 contains image
H6 headers not heading content
H6 headers used to style text
H2 but no H1
H3 but no H2
H4 but no H3
H5 but no H4
H6 but no H5
Empty H1 tag
Empty H2 tag
Empty H3 tag
Empty H4 tag
Empty H5 tag
Empty H6 tag
Google Analytics
Multiple GA Code Pages
Legacy GA Code Pages
Multiple Tag Manager Code Pages
Missing GA Code Pages
Missing Tag Manager Code Pages
Indexable html Pages
Nofollow in links
Less than 3 follow in links
Non-canonical
Multiple meta description
Multiple H1s
Pages with <100 Words
Pages with 101 - 250 Words
Multiple page titles
Internal Links
Uppercase URLs
Internal Links Contain spaces
Internal Links Contain underscores
Internal Links Relative links
Meta Data
Duplicate Page Title Sets
Empty page title tags
Long Page Title Pages
Missing Page Title Pages
Missing Meta Description Pages
Long Meta Description Pages
Multiple Meta Description Pages
Duplicate Meta Description Sets
Multiple Page Title Pages
Empty meta description tags
Non-canonical Pages
Indexable
Follow in links
Listed in xml sitemap/s
Canonical URL in links to external site
Non-Indexable + Non-Canonical HTML Pages
Follow in links
Listed in xml sitemap/s
Canonical URL returns 3xx
Canonical URL returns 4xx
Canonical URL returns 5xx
Canonical URL links to external site
Non-Indexable HTML Pages
Follow in links
Is Canonical
Listed in xml sitemap/s
Non-Status 200 URLs
In links
Listed in xml sitemap/s
HTML
Image
CSS
JS
SWF
PDF
Page Speed
2 - 3 Sec Pages
3 - 4 Sec Pages
4 - 5 Sec Pages
>5 Sec Pages
File size 20 - 49Kb
File size 50 - 99Kb
File size 100 - 149Kb
File size 150 - 199Kb
File size >200Kb
Images not compressed
Redirections
Redirect chains (redirect to 3xx URL)
Redirect loops
Redirect to 4xx URL
Redirect to 5xx URL
Follow in links to redirect page
Listed in xml sitemap/s
Redirect to non-canonical page
Redirect to non-indexable page
Redirect to non-indexable, non-canonical page
Redirect to different file type
Robots.txt
Missing Robots.txt
Robots.txt disallow /all
Robots.txt no XML sitemap link
Robots.txt not served as plain text
Sitemaps
3xx URLs
4xx URLs
5xx URLs
Other non-status-200 URLs
Non-canonical HTML pages
Non-indexable HTML pages
Changefreq not used in sitemap
Priority not used in sitemap
Missing (no xml sitemap)
>10Mb
>50K links
Tracking parameters in sitemap URLs
Session ids in sitemap URLs
Social Media
Missing 'og:description'
Missing 'og:image'
Missing 'og:title'
Missing 'og:type'
Missing 'og:url'
Placeholder text in og tags
Blank og tags
Missing 'twitter:card'
Missing 'twitter:creator'
Missing 'twitter:description'
Missing 'twitter:image'
Missing 'twitter:site'
Missing 'twitter:title'
URLs
Uppercase URLs
>100 characters
>3 slugs
Contain spaces
Contain underscores