Breadcrumb Navigation
Contents
'Breadcrumbs' are a navigation path that illustrates to the site visitors where they are within the website's hierarchical structure.  This is useful for navigation to other relevant pages higher up in the hierarchy.
Breadcrumb trails assist visitors in site navigation by providing links to previous hierarchical levels of navigation by allowing them to navigate up through relevant category pages. It is this improvement to the user experience that provides an indirect SEO benefit; because
Google look at bounce rate, time on site, exit rate and other engagement metrics and breadcrumbs can assist in improving engagement through improving the user experience, it is through this that an indirect benefit to rankings could be received.
In addition to this indirect benefit, breadcrumbs offer internal linking opportunities, they help crawlers read your site's hierarchy better and Google can display breadcrumbs as rich-snippet-like links within the search results.
All of these factors have a direct or indirect effect on the overall SEO of your site. For these reasons it is highly beneficial to have optimised and efficient breadcrumbs throughout your site.
Breadcrumb navigation trails should be located at the top of the page underneath the header but above the main body of content

Although there are several reasons for this, the primary reason is usability, breadcrumbs more often than not exist in this location and hence users expect to find it here. Putting them at the bottom of the page or anywhere else may lead users to believe that there is no breadcrumb navigation.

If a page has a lot of content and is thus very long, consider adding a 'back to top' link so that users can scroll quickly to the top of the page rather than duplicating the breadcrumb navigation at the bottom of the page.
There are several models that can be used for creating and structuring breadcrumbs:
Location-based: displays the current page the user is on relevant to the entire site structure (recommended)
Home > Category > Page 1
Path-based: displays the current page the user is on based on the path taken to reach the page. These are dynamically generated based on the users navigation and does not necessarily reflect the true hierarchy of the site and its structure.
Home > Category > Page 1
Home > Page 1
Home > Page 2
Attribute-based: displays a list of attributes of the current page
Keyword 1 / keyword 2

Aside from the current page component of the breadcrumb trail, all of the other parts should be clickable links that lead through to the associated page within the site's hierarchy. All breadcrumbs should start with the 'Home' page of the site. For example:

Home > Category > Page

It is also possible to have more than one breadcrumb trail, a good example of where this could add value to the user experience is by having a breadcrumb trail for a service page that has two obvious associations.
Keyword usage within breadcrumbs is not of paramount importance and as much as it could assist in building relevance it could also damage rankings if the breadcrumbs appear on hundreds of pages with the same exact keyword rich anchor text. For example the home page should appear as 'Home' within the breadcrumb navigation and not a primary home page keyword.
This is discussed in another article of this Knowledge base under the Schema.org section.
Google have been automatically creating breadcrumb links within the URL component of a SERPs listing. They have been doing this for some time, often determining this from the URL structure. Originally this was reserved or large sites and ecommerce sites with vast amounts of products and categories.

They have however improved and expanded this and now they try to use this for most sites, even smaller sites without breadcrumb navigation.

You can see this is an example below (taken from Google Webmaster Central) where the left image is how t looked before and the right image is how it looked after the change: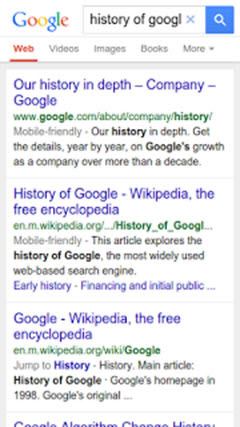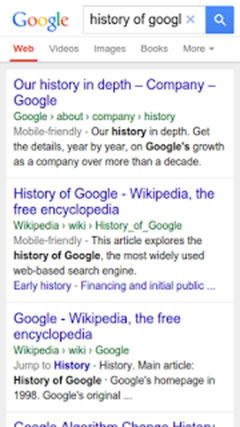 It is not good to rely on Google to do this and like many Google features it can change.
The following is some basic advice on general best practices that should be adhered to when creating breadcrumbs:
Only use breadcrumbs that help the user
Do not link to the current page
Do not replace the main navigation or other primary navigation systems with breadcrumbs
Ensure the usage of breadcrumbs is consistent throughout the site
Do not use breadcrumbs in the title tag or Meta data
Do not present different breadcrumbs to Google or hide the breadcrumbs from the user
Mark-up the breadcrumbs to make them visible in search result pages (SERPs)
Do not stuff keyword into breadcrumbs