An Introduction to SEO
Contents:
If you are new to SEO or perhaps you just want to brush up on your knowledge, this guide will be of use to you! Each topic, and many others, mentioned in this guide are covered in other guides that we have available in this knowledge base. With this guide we aim to introduce you to the fundamental principles, components and tools of SEO.

Even if you have no idea what SEO is or how it works, by the end of this tutorial, you will have a broad understanding of the topic.
Let's start at the beginning; what is SEO? Search Engine Optimisation (SEO) is a goal driven, strategic process of improving a website's organic visibility. SEO is the discipline of improving the volume of organic traffic to a website from search engines through a process of optimisation.

SEO is a marketing channel used to assist in selling products and services, improve brand awareness, collect donations, or bring your message to the masses… Hence SEO is a form of 'internet (or online) marketing'.

Typically, when we talk about SEO and how well SEO works for your site; we are talking about how a website ranks for its target keywords and consequently how much traffic the site receives from search engines from these rankings.

So, if you have a website, the odds are at some point you will need to know about SEO, and unlike most other forms of online marketing SEO provides traffic for free (with the exception of agency costs or in-house SEO staff).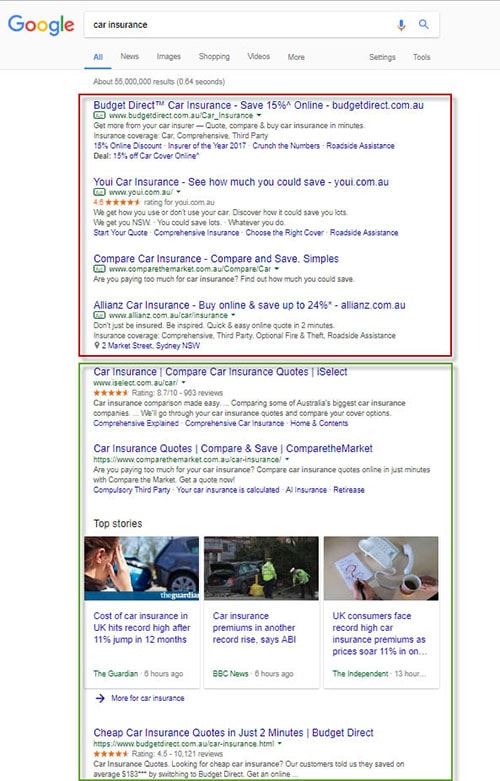 The image above shows the organic listings within the SERPs (Search Engine Results Page) compared to the paid listings (paid ads) when someone searches in Google.
'Traffic' refers to people on the Internet who are visiting websites. Web or Internet traffic can come from many sources, which in the Internet marketing world we break down into groups, such as:

Social traffic – People coming from social media sites such as Facebook, Twitter and Pinterest to your website

Direct Traffic – People coming directly to a site (not from another website) such as through a saved link or bookmark.

Referral Traffic – Traffic from other websites (excluding sources listed here).

Paid Traffic – Traffic from paid ads, traffic that was directly paid for.

Organic traffic – This is traffic from search engines that was not paid for. When someone clicks an organic listing (see above image) and they land on your website, this is your organic traffic.

Traffic is the lifeblood of a website, no matter what the purpose of a website it will need traffic to fulfil the goals of the website.
What we mean by 'organic visibility' is the website's visibility within the search results pages (SERPs) across the full range of relevant keywords and search terms relevant to the website.

Organic visibility also considers the value of the search terms that you have visibility for… For example if 10,000 people search for 'phrase a' in a month but only 10 people search for 'phrase b' in a month, having greater visibility for 'phrase a' will improve overall visibility more than ranking well for 'phrase b'.

The better your rankings for a keyword, the more people are likely to see your organic listing, from the total volume of people searching for the keyword. Different keywords have different value based on how many people are searching on this term each month.

Broadly speaking, the greater the organic visibility of a website the larger the volumes of traffic you can expect the website to receive.
The primary goal of SEO is to deliver traffic to a website and moreover quality traffic from relevant keywords. When done properly SEO will deliver incremental increases in organic traffic to a website over time.
One of the intrinsic features of online marketing, present in SEO, which separates it from traditional forms of marketing such as TV, Radio and Print, is the ability to track performance to a very granular level.

For example with TV advertising, you will have an approximate idea of how many people saw your TV ad, and you can perform an analysis to try and attribute uplift in sales in the periods following the airing of your ads. However, SEO has a range of tools at its disposal to track any aspect of your website's performance and the behaviour of people on your site.

Tools such as; Google Analytics, Google Webmaster Tools, Search Metrics, AWR Cloud, Moz, etc allow you to see how many people visited your site and what they did while on the site. With SEO it's easy to find out where people came from, how long they stayed on your site, how many pages they visit, etc.

But more importantly, you can see how many people bought something on your site; the value (revenue) of the purchases, and you can interrogate, cut, slice and segment this data to show you almost anything you could want to know. Understanding this is critical to success…

When a user takes a desired action on your site, we call this a 'conversion' and a conversion could be almost anything Below are some examples of common actions:
Making a purchase (eCommerce)
Downloading a file
Calling your business
Submitting a form (quote form, enquiry form, etc)
Clicking a link to another site (lead generation)
This is by no means an exhaustive list but it provides some insight into what can be tracked by tools, many of which are actually free or have a free version… Technology is a wonderful thing! For eCommerce sites, you can track every item added to a cart and ultimately purchased by users (website traffic).

This means that you can track to a very granular level, the value of users and evaluate marketing channels, which makes it possible to measure the ROI of using an SEO consultant or agency. It also makes it very easy for SEO agencies and consultants to demonstrate the value of the work that they do for you.
Appearing in the SERPs for relevant terms / keywords improves brand awareness, the more people search and find your site, the more familiar they become with your brand. Brand awareness is a powerful tool, people familiar with your brand are more likely to click your organic listings and ads, as well as being more likely to convert when on your site.
SEO or organic traffic is not directly paid for, in that you do not pay per visit to your site or per click of an organic listing. Although you may pay an SEO consultant, agency or in-house employee to do SEO for your site, this is typically a fixed cost that does not increase with more traffic or better rankings.

Conversely, paid advertising of any kind (content marketing, AdWords, Bing Ads, Paid Social, etc) charges you for each person that clicks one your ads. Hence you typically pay for every person that visits your site, and this can be a valuable marketing channel capable of delivering a return on investment (ROI). The flip side is that you will always have to pay for traffic, if you want more traffic you have to pay more for it.
You will often still have to pay agency or consultant fees on top of this to have the account managed effectively.

SEO is also significantly more accessible for smaller businesses that cannot afford to advertise on TV, radio, and print or at trade shows. The direct and 'at the point of interest' targeting of SEO also makes it more effective than low budget TV or radio advertising.

Consequently, good SEO is the Holy Grail for most online businesses as the fixed cost of a consultant or agency is split over a growing volume of people visiting your site. For some businesses, appearing at the top of the paid listings is prohibitively expensive, so SEO is the only option for getting material volumes of traffic for certain keywords.
SEO is not to be confused with SEM, or if you live in the UK or US, PPC (Pay Per Click)… SEO deals with the organic results and SEM or PPC deal with the paid ads (above and below the organic search results).

We cover SEM in a lot more detail in our SEM knowledge base.
In order for you to understand SEO (Search Engine Optimisation) you need to know a little bit about how Search Engines work. You are probably already aware of Google, which is the most popular search engine outside of China where Baidu is the most popular. We typically refer to Google as it is not only the most popular search engine but it's so much more popular that they have market shares of 70%-90% in most countries.
Search Engines use 'user agents' also referred to as crawlers, robots, and spiders to navigate through a website and log data about what they find. This process is referred to as 'crawling' a site with the purpose of 'indexing' pages.

Google tries to crawl all web content by default, whether it's a webpage with text, an image, video or PDF, all of it is added to Google index of web content.
Crawling
Essentially this involves following links on a webpage… These could be in the main menu, footer or links from within content and they could lead the user agent to other pages on your site or to another website.

Thus one of the objectives of SEO is to make your site as easy to crawl as possible. Because Google's user agent (Googlebot) will only spend a small amount of time crawling a website, you may want to guide or restrict the user agent to crawling only the webpages and content that will be relevant to it. Use of sitemaps, Google Webmaster Tools and a Robots.txt or Robots Meta Tags assist in this process.

There are a number of things that can prevent a crawler from being able to crawl a website such as:
Poor internal linking
Lack of, or incorrect sitemaps
JavaScript menu navigation and links
Incorrect use of code within robots.txt
Incorrect use of robots meta tags
Indexing

What we mean by indexing is that the pages discovered during crawl are added to Google's index (list) of web pages that it can show in the SERPs. Once a page is indexed it is possible for it to appear in the search results when someone searches for a term relevant to the page (target keyword)… This is given that the page is not breaking Google's guidelines or has been deliberately set with tags or code to prevent it from being indexed.

Thus there arises a need for SEO to assist in this process… There is a suite of tools available to an SEO such as canonical tags, robots.txt and Meta tags that help to control or influence the indexation of pages. There are also a number of issues that can prevent a page or piece of content from being indexed, for example:
Flash content
JavaScript menu navigation and links
Incorrect use of code within robots.txt
Incorrect use of robots meta tags
Incorrect use of canonical tags
Pages or websites that violate Google's guidelines can be removed from the index or not added to it
Google applies its algorithm to indexed pages, for every search performed there are likely thousands to millions of pages within Google's index that could be shown… Using a combination of around 200 factors or signals, Google's algorithm determines what pages from its index to show and in what order they appear in the results.

Some of these factors are things like the region and language of the user, search phrase and the webpages. Other factors such as the device on which the search is performed combined with time of day and location can all influence the search results. Typically these signals can be broken down into two main categories described below.
Primarily Google needs it search results to be relevant to the people searching, this is the very foundation of the service that they offer. If their search results are not relevant, users will use another search engine. Consequently it is relevance that Google strive to achieve with their search results.

There are both on-page and off-page factors that can contribute to relevance such as the content on a webpage, usage of keywords in on-page components, etc. We cover these factors in more depth in our complete on-page SEO checklist.

One of the strongest factors in relevance is CTR (Click Through Rate)… Organic CTR is calculated by taking the number of clicks an organic listing received and dividing it by the number of impressions that the listing received. An impression is defined as a person viewing the organic listing or the number of times the organic listing was shown in the SERPS.

A high CTR is a strong signal to Google that the listing being shown is relevant to the searcher. If a webpage received a higher CTR than other listings when in the same position it is likely to be moved up in the rankings. Consequently there are on page components like the Meta description that act as indirect ranking factors as they can influence the CTR.
Because there may be thousands or millions of relevant webpages that could be shown for a search, Google must use another set of signals to determine which ones to show. This set of additional signals contributes to a webpage's authority and is primarily driven by the volume of backlinks that a webpage or website has.

Page authority is measured in an aggregated metric called PageRank, named after 'Larry Page' who was one of the founders of Google. PageRank essentially works by counting the number of links to a page and assessing the quality of those links. PageRank is also distributed throughout a site through internal linking. We discuss backlinks in more detail later in this guide.
We have used the following terminology throughout this guide so far and the terms are so frequently used that they are worth explaining in more detail.
Search terms are the words and phrases entered into Google by a searcher when they are looking for something. They can be referred to as search queries or search phrases as well as search terms.
There is little distinction between search terms and keywords other than that 'keywords' are the specific search terms that are targeted by a webpage or website. Ultimately this comes down more to frame of reference, to a user / searcher their searches are search terms; to an SEO they are target keywords.

Keywords can be one word or many words in a phrase, for example a mortgage broker may target the keyword 'mortgages' as well as 'mortgage broker'… Both are keywords and search terms.
Rankings are a murkier area today than five years ago, with personalised search results and device specific search results; what one person sees is often different to what another person sees. That said there are many adequate tools out there that can provide you with actionable ranking data across desktop and mobile devices.

Rankings are very important for the SEO consultant to understand, as when rankings are combined with data around how much value each keyword has, you are able to determine which areas efforts should be focused in.
Keyword research is the cornerstone of any SEO strategy; typically an SEO strategy will begin with keyword research.
The purpose of this process is to find keywords that are both relevant, valuable and have appropriate levels of competition to be worth targeting. When done at the beginning of an SEO strategy, keyword research allows you to identify at granular level what keywords could potentially be targeted… But it also allows you to categorise the keywords and perform Meta analysis to understand how much value each category has.

For example, if you are doing keyword research for an eCommerce site, you may categorise keywords by product category and by brand of product. Using a program such as Excel you can then aggregate data across these categories to understand where the most value exists.

Typically we look at the following attributes of a keyword:
Average Monthly Search Volume – The amount of searches that are performed in Google for the keyword each month on average.
Competition – There are several tools that provide this data but typically we are evaluating a score between 0-1 (0% to 100%)… This provides an approximation of how difficult it would be to rank well for this keyword.
Relevance – This is a manual check that has no metric to represent it, typically a keyword is either relevant or irrelevant to a business.
Existing ranking – Using a keyword rank checker we will often check where a website currently ranks for a keyword… Spending time creating content and optimising for a keyword that the site already ranks in position 1 for may not be the most effective use of time.
Establishing a good set of target keywords early in a campaign is pivotal to success, targeting low value or highly competitive keywords under the wrong circumstances will prolong results or preclude them completely. Some less reputable agencies will target obscure low value keywords that are easy to rank for due to their limited value, later claiming success for the good rankings.

A good keyword should deliver value in addition to page one rankings and every website is different… A global brand may be more easily able to target super competitive terms quickly while a start-up with a 3-month-old domain will not. Pick your battles carefully!

There are some more advanced techniques that can be used in keyword research and we cover some of these in our guide to keyword research.
This adage is growing old but is becoming truer and more relevant with each year that passes. What it alludes to is that content is the most valuable asset that any website can have… Good content will attract users and potential customers, it will assist in ranking for your target keywords and distinguishes your website from others.

Google cannot read an image or determine the content of a video or podcast, consequently written content is essential to any website for ranking purposes. That said, video content is hugely valuable and comes with much higher rates of engagement than any other form of content. Hence a combination of different content mediums is essential when building out a content strategy.

Consequently creating high quality unique content in abundance is the single most important activity that can improve website performance. We cover various aspects of content in more detail in the following guides:
We have mentioned earlier in this guide that there are two main categories of SEO work; on-page and off-page SEO. On-page SEO refers to changes and techniques used on your website as opposed to activities that take place on other websites, which we cover in the section after this.
This is probably one of the most commonly known of processes in SEO, tweaking content and on-page components to more effectively target your chosen keywords. This process makes it easier for Google to determine what your website's content is about and thus improve your rankings.

Once you have performed keyword research and have mapped your keywords to webpages, you can begin the process of optimising each page for the target keyword/s. Typically a page will only be optimised to target a small group of closely related keywords, no more than four. The smaller the group of keywords, the easier it is to build relevance to that keyword; so often a small group will include slight variations on the same head term.

For example, if you had a page that sells red dresses, you may target the following terms on that page:
Red dresses
Red dress
Red dresses online
Buy red dresses
Targeting a keyword basically means using that keyword in certain places on the page and to do so with reason… Overuse of a keyword will not help you to rank well for it, hence keyword usage must be natural and follow Google's guidelines.

We have listed below the places on the page or in the page code where keywords should be used. Bear in mind that each of these components must adhere to various rules, guidelines in addition to simply using the keyword; we describe each component in more depth in other guides.
Page Title
The page title shown in the image below is one of the most important, if the not the most important rankings factor of all on page components.
Usage of the keyword within this component is essential, the closer to the left (front) of the text the keyword appears the more weight / importance it will have. This also appears in the search results as the title of your listing (as shown in the image below). As such it has an impact on how many people will click on your listing.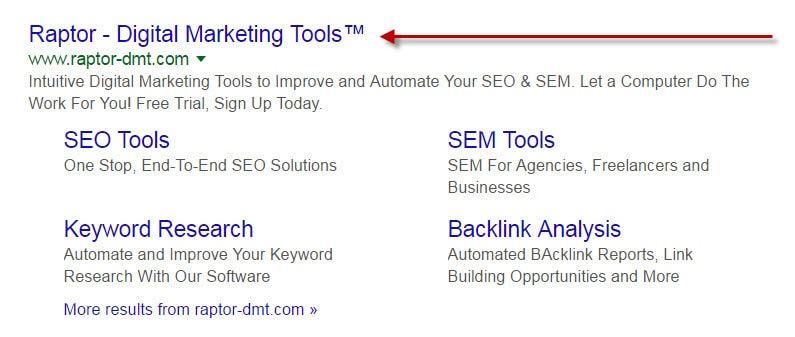 Read more about page titles in our guide to page titles.
Meta Description
The Meta description is the text that appears beneath the page title in your organic listing within the SERPs (see image below).
Although not a direct ranking factor, the Meta description can improve CTR (Click Through Rate) and hence can impact rankings. This is your sales message to the world and should be compelling, using the keyword improves relevance and encourages click through.

Read more about Meta descriptions in our guide to Meta descriptions.
H1 Title
Every page should have a H1 title or similarly styled title that heads the page, the keyword should be used in this, as it is a ranking factor. Outside of HTML5 websites only one H1 title should be used on a single page.

Read more about H1 Titles in our guide to H1 Titles.
Other H Titles
Where other H titles such as H2, H3, H4, etc. exits on a page, you can use the target keywords within them, but this is not essential.
Read more about H Titles in our guide to H Titles.
Anchor Text
Anchor text is text that is also a clickable link to another page or resource. Where a link exists to a page, use the target keyword of the page being linked to as the 'anchor text of the link (see the link in the following sentence as an example).

Read more about Anchor Text in our guide to Anchor Text.
Page Content
Using the target keyword within the opening and closing paragraph of a page and naturally throughout the page content is a powerful indicator to Google that a page is about the target keyword.

Read more about Page Content in our guide to Page Content.
Filenames
Where images and files appear on a page in any form other than template or design components such as background images, CSS files, JS files, etc… Using the target keyword of the page within the filename can improve overall page relevance to the target keyword. A good example of this would be to use the keyword within the filename of the 'hero image' on a page.

Read more about file names in our guide to File Names.
Mark-up Data / Micro Data
Where micro data is being used on a page, use of the target keyword in fields like title and description could help to drive relevance.

Read more about Schema.org in our guide to Schema.org.
There are too many types of technical issues that can arise on a site to mention here. Additionally with technology changing all the time, more issues can arise. We have detailed below the core technical components of a site that need to be addressed during an SEO site audit. These are issues that can directly affect rankings:
Broken Links
Broken links are links to pages that do not exist or for some reason, or a combination of reasons, are not accessible. You will likely have experienced them at some point if you have ever clicked a link and ended up on an error 404 page, saying something like "Sorry the page you are trying to access cannot be found".

Links should not be broken and if the page itself is actually missing this could lead to losing any rankings it may have acquired.
Read more about this in our guide to broken links.
Error Handling
Purposely enter an incorrect URL into your Internet browser using your domain to check if a customised error page appears. The 404 error page should include the site's logo, main navigation menu and a short message as to why the page in question was not found. If it does not, the site does not have a dedicated / customised error 404 page and will likely return an error.

Read more about this in our guide to error handling.
XML Site
Ensure that the website utilises a XML sitemap and contains entries for all canonical URLs of the website that you want indexed. This is used to help index your site and tell Google specific information about how each page should be treated, how frequently it is updated, how important it is, etc.

Read more about this in our guide to xml sitemaps.
Robots.txt
The robots.txt file provides instructions to crawlers (referred to as user agents within robots.txt files) regarding how to index and what to index on a website. An example of a robots.txt file can be found on here. As such a robots.txt file can prevent search engines from crawling directories of the site or just specific pages. Robots.txt can also specify what parts or pages of a site should be crawled.

Read more about this in our guide to robots.txt.
Page Speed
Webpage speed and load times are direct ranking factors due to their impact on the user experience. Slow webpages can increase user frustration and can lead to lost leads, business, increased bounce rates, and in some cases data loss due to performance issues.

As such it is crucial to have a fast website, faster websites will also typically be quicker on mobile and tablet devices improving the user experience across the board. Poor website speed can directly affect rankings.
Read more about this in our guide to page speed.
Canonical Duplication
A canonical issue is characterised by the same piece of content being accessible from multiple URLs.  Where a page can be accessed from multiple URL's, a risk emerges that Google will perceive these pages to be duplicates. This can also occur when a page contains some unique content but too much duplicate content; consequently, Google can remove it from its index.

Canonical tags can resolve most duplicate content and canonicalization issues. Read more about this in our guide to canonical duplication or canonical tags.
Bad Technology / Crawling & Indexing Problems
Use of technologies such as Flash cannot be read by Google, so making websites using this technology can prevent Google from reading your site and hence ranking it for its target keywords. Using things like JS (JavaScript) menus can also prevent crawling and indexing.

Bad Coding
Using incorrect code can make your site harder to, or impossible for Google to read. Moreover, there are potential issues such as concealing content with code or CSS that can lead to a penalty from Google.

Read more about this in our guide on bad coding.
Google use various methods to identify impact to the user experience, or metrics that illustrate potentially poor user experience, in their ranking algorithm. Slow page load times would be the best example of this as it directly affects the user experience.
Off-page SEO primarily deals with promoting your website throughout the internet and also acquiring back links or mentions in order to improve domain and page authority, PageRank and ultimately rankings.

As mentioned, SEO focuses in two main areas; relevance and authority, off-page SEO deals mostly with the latter, authority. We have set out below, the main components of off-page SEO and once again link to more in-depth guides on each topic.
Backlinks are the most powerful component of SEO for improving rankings and authority. Any clickable link from another website to your website is called a back link. Having undergone many changes over the past few years, link building has become more of an art form. We describe several components below, but as this is a beginners guide we don't want to bog you down with too much detail at this point.

As well as delivering authority to your site and some relevance to your target keywords but they also have the potential to deliver traffic to your site. This occurs when someone clicks the link and consequently lands on a webpage on your website.

There are several components to a back link and the aggregate of all back links that need to be addressed at a basic level for you to understand anything about back links. We cover this topic in a lot more depth in our guide to back links.
Trust
Trust is probably the most important component of a back link, links from untrustworthy sites or links implemented in an untrustworthy (to Google) way, can lead to more harm than good. A load of backlinks from Viagra sites, porn sites or paid for links from essentially fake websites can lead to a penalty from Google.

There are various tools that can help you identify poor quality or untrustworthy sites that link to you, but typically this can be avoided completely by not buying links (which we discuss later in this guide).
Authority
The authority of a link to your website is the most influential factor in terms of how much PageRank (mentioned earlier in the guide) is passed to your website through the link. Not all links are equal, and hence a link from a very high authority site can be worth a lot more (the scale is exponential) to you than a whole bunch of links from low authority sites.
Relevance
Relevance is primarily in relation to the content on the page that a link exists pointing to your site. If the content on the page is relevant to the content on the webpage that the backlink points to, you are all good… If the theme of content on the site linking to your site is relevant to the theme of content on your site, even better!

If however, you have links from websites and webpages that are not relevant to the content on your site, this could look unnatural to Google. This becomes more of an issue when the volume of irrelevant backlinks becomes large or the ratio is stacked in the favour of irrelevant content links.

There are circumstances where the situation is improved if the link is wrapped in something like a 'widget'… For example if you have created a calculator that you share and ultimately a few thousand sites use this calculator for various reasons and link back to your site.
Anchor Text
As mentioned, the anchor text of a link (text links only) is the text used to link to a page… This ties into relevance; if the anchor text of a link is relevant to the target keyword of the page being linked to, this can improve the relevance of the link and also has a strong positive impact on the ability of your webpage to rank for its target keyword.
Anchor Text Ratio
Because most sites have more than one back link we also have to look at the aggregate of all links pointing to your site. If your website sells red dresses and every single back link has the anchor text 'red dresses' you will come into problems… This problem will grow in significance the more links you have. Once you are racking up hundreds or thousands of links the ratio of anchor text becomes a potential factor in being issued an algorithmic penalty from Google.

An algorithmic penalty is one that is automatically issued based on problems detected by Google's algorithm. In the example above where all of the back links use the same anchor text you will have a 100% anchor text ratio of keyword rich anchor text (for one specific keyword). Anything above 50% could start to run the risk of incurring a penalty.

Consequently using variety in anchor text is vital to avoid a penalty from Google. Using your brand name as anchor text along with non-keyword rich anchor text in at least 50% of the back links will mitigate this risk. The remaining 50% should be a mixture of keyword rich anchor text, not all the same keyword.

The aim here is to have back links be, and appear, natural… Having a million identical keyword rich anchor text back links from a million websites is not natural.
Text vs. Image
Images can be clickable links to a website and hence a percentage of your backlinks will typically be images as well as text. It's good to have a mixture of images and text; despite text being more powerful as a back link due to anchor text.
That said, an image can be optimised by using Alt tags, if the alt tag contains the target keyword of the page being linked to.
Follow vs. Nofollow links
We cover this in more detail in another guide, but in short the default for a link is to be a 'follow' link, meaning that PageRank flows through the link providing value to the page being linked to. However, a small piece of code can be added to a link to make it a 'nofollow' link, thus preventing PageRank from flowing through it.

When building back links you ideally want to have 'follow' back links, but there are still benefits from having nofollow links such as traffic and brand awareness.
There are a number of techniques for acquiring backlinks, we have listed some of them below but for more information on this topic read our guide to back links. We briefly cover the most common forms of link building and authority building in this section. Each of these is a topic worthy of its own guide, so we only cover the basic principles or benefits of this activity here.
Guest Blogging
Although Matt Cutts publically stated that "you should stop using guest blogging for link building" this is still a popular tactic for link building for many businesses. More than just acquiring links, guest blogging provides a range of ancillary benefits. Placing content on other websites gets both your content and brand in-front of new relevant audiences.

This kind of activity can also provide social signals, often when a guest blog goes live, the host website will syndicate the post out through their social channels. We discuss social signals a little later in this guide.
Others Guest Blogging on Your Site
Getting other businesses or individuals to post content on your site can also lead to improvements in authority, especially when the writers produce high quality content or have material brand collateral.

When a company posts content on another site, they will typically syndicate this through their social channels; this can provide social signals, deliver traffic and create connections between your site and another relevant and authoritative site.
Collaborations
Collaborating with influential figures and businesses in your industry or related industries can help both parties. For example, if both you and another company produce videos for YouTube, collaborating on a video will often lead to increases in subscribers, views, thus driving brand awareness and traffic to your site.

Although not an easy technique to achieve results in, this can be a powerful tool for a business to help acquire new links and reach new audiences.
Link Bait
Link bait is a broad category of techniques that can vary from simply creating great content that people will naturally want to link to or share. This can be any type or medium of content; a good example of this would be 'Infographics' which are often shared socially or reposted (with a link to the source) on other websites. The aim is to be any (one or combination of) the following whilst also being unique in either content or approach:
Useful
Informative
Funny / entertaining
But link bait can include more targeted approaches, such as deliberately mentioning people, businesses and institutions within a piece of content and then reaching out to them to let them know they have been mentioned. A particularly good review could inspire the company being reviewed to repost or share the review for example.
Social Media
As mentioned, social media can be a powerful tool for promoting your content, your products and services… But it can also be a channel for building social media links. Links from social can come about in many different ways such as people sharing your web pages through on page sharing buttons.
Mentions
Finding where your brand has been mentioned online can provide a constant source of links, especially for bigger brands that get regular online mentions. It's easy to get a website to link to you if they have already mentioned on their blog or in an article. For the most part you can simply request that the mention itself be turned into a link (branded anchor text link).

This is obviously only relevant to when mentions are positive or at least neutral, a negative mention should be dealt with in a different fashion.
Competitor Analysis
Replicating what successful competitors have done is a great way to get ideas for sources of back links. There are some links that you cannot replicate but there will be many that you can; using various tools you can get a complete picture of any website's back link profile and you can categories and prioritise these in a spreadsheet.
Apps, Tools and Widgets
Providing apps, tools, widgets and other such things as embeddable content for websites is a kind of link bait but should really exist in its own category. This technique has been used for years and is still good today. For example, creating a calculator for mortgage repayments and allowing others to embed this onto their website (with a link back to yours) can enable you to organically generate back links.

A more advanced version of this might involve a partnership with another business where your webpages are shown on another website through iFrames or duplicating content (using canonical tags). For example, you may have products or services that appear on another website as a white labelled product. Partnerships are much harder to acquire and often involve contractual agreements, costs and regular collaborative work.
Good PR & Outreach
For businesses that have a PR person or a PR team, there is huge opportunity for the SEO person to work with them feeding into their daily activities. PR teams often get stories published in online news outlets or get mentions online, SEO can help optimise this by providing recommendations as to what anchor text to use or when to ask for a link.

Many of the techniques listed here could fall under the umbrella of 'outreach', which is a broad description of contacting website owners, businesses and individuals through email or phone. Outreach has become the backbone of link building for many SEO agencies, who often have a team of people acting much like telemarketers, calling people every day in attempts to get links, place content (apps, widgets, blog posts, etc), get guest posts, arrange collaborations, etc.
Buying Links
Buying links is a massive 'no no' for anyone who would like to avoid a penalty from Google. There are a number of ways in which you can illegitimately buy links such as paying directly for a link or paying for sponsored guest blog post on a site that does not label the post as 'sponsored'.

Paying an SEO agency to do link building does not fall into this category. If you would like to know more about the pitfalls of buying links, please follow the link.
Google said in 2010 that social signals were part of their ranking algorithm but later in 2015 said that they were not… Leaving most people wondering if they are and Google simply don't want gaming to ruin it. There is at least a correlation between domain authority and social media links. Certainly being present on social media and with a legitimate following won't harm your efforts.

In addition to any SEO value they may provide in the form of backlinks, legitimacy and algorithm ranking factors, social media provides a host of other advantages to your online marketing strategy.

Social media is also, for a lot of businesses, a great channel for seeding and promoting your content, reinforcing your brand and growing your audience. Read more about social media in our guide to social media.
Ensuring that a website is accessible from any device has meant that SEO's need to understand the difference between RWD (Responsive Website Design), AWD (Adaptive Website Design) and mobile sites. Because these methodologies for design will heavily impact their functionality and accessibility on mobile and tablet devices it is crucial that the right technology is used.

Typically, we would recommend a responsive adaptive site that can work on any screen size allowing most people to find and access your content. Mobile devices are growing in usage and consequently now around half of all searches are performed on a mobile device. Google rank websites differently between mobile and desktop or tablets, as such it's important to have a site accessible on all devices.

This can give you a competitive advantage in areas where other online businesses haven't upgraded or taken advantage of this development.
Probably one of the most powerful aspects of SEO is its ability to track and report on almost any component of the website's performance. Many of these will require tools, which we cover in the next section. That said most of the tools are either free or cheap for single licenses.

The ability to track almost all behaviour to some degree enables you to measure the success of your SEO efforts or that of your agency. We have detailed some of the most valuable metrics for measuring success below, but we cover a lot more in other guides.

Note: You will need to have setup Google Analytics or a similar analytics tool on your website to be able to track any visitors or visitor activity.
As mentioned earlier there are many forms or sources of traffic, for example organic traffic, which is most relevant to SEO, can be further broken down into the particular search engine that sent that traffic (Google, Bing and Yahoo for example). But you can also see and measure how many visitors come from every website that delivers traffic to your site.

Measuring both year on year (YoY) and month on month (MoM) organic traffic provide good indicators of your SEO efforts. SEO is a long term strategy that can take months to deliver results, so often longer views of this data are required to get a proper understanding of what is happening.

Analysing traffic trends and identifying seasonality can help to guide your content production, capitalising on trends to maximise traffic. Comparing keyword rankings with organic traffic can also provide demonstrable proof of effective SEO. For example, if traffic declines between October and December but in that period rankings remained stable or improved; it is likely that some seasonality has been the dominant factor in traffic.

As always, a granular view of the data will reveal more valuable insights than simply looking at one top-level metric.
Conversions (otherwise known as goals in Google Analytics) are essentially actions that you want someone to take on your website, often this is something like making a purchase or getting a quote… But this can be anything that can be tracked, such as clicking a button, visiting a certain number of pages or visiting one specific page.

The power of this is not to be underestimated, you can set up conversions relevant to your business goals and both track and analyse this data at a granular level. This makes it easier to demonstrate the value of SEO and the work that has been done on a site to optimise the site. It is also possible to assign static or dynamic values to conversions; we cover more on this in the Revenue section below.
Engagement metrics include things like:

Avg. time on page - The average amount of time that visitors spend on a page or an average across all pages.

Avg. time on-site - The average amount of time that visitors spend on your site.

Bounce rate - When a visitor lands on your website and then leaves without having visited any other page, this counts as a 'bounce'. Dividing the number of bounces by the number of visitors gives you the 'bounce rate'.

Avg. Pages per session - The average amount of pages that a visitor views on your site.

These are a few examples of engagement metrics that provide indicators of how people are engaging with your site and its content. Each site is different and consequently may have different objectives that make other metrics more relevant than others.

If you notice that visitors view a lot of pages but spend very little time on each page, it may be an indication that they are not finding what they are looking for. As well as Google looking for indicators of poor engagement, providing a user with a poor experience will not encourage return visits or social sharing.

Thus, ultimately, engagement although not a primary concern of SEO, is nonetheless one of the most important aspects of the data available to you.
If you have an eCommerce site or you are able to ascribe monetary values to your conversions, you will benefit from being able to track revenue. For any business, revenue and profit are the bottom line and being able to report on this, again at a granular level, is a huge advantage over other forms of advertising.
Tools are essential part of most jobs, SEO is no different, although there is a great selection of tools out there, at the most basic level you will need at least the following tools. The tools described below are a part of every SEO's toolbox and without these you will not be able to measure success, identify problems or work effectively.

Tools reduce workload, improve efficiency and in many cases allow you to do things, which if done manually would take forever. Having a range of tools allows you to analyse your website, its performance and identify issues as well as optimising it for better performance.
Google have a large suite of products, of which Google Analytics is one of the most commonly used for tracking website data. By installing a small piece of code onto each page of a website, you can track a vast range of performance metrics. Google Analytics can also be setup to work with eCommerce sites, tracking transactions, revenue, etc.

Google provide a paid version of Google Analytics (Premium) and there are many competitors that provide a comparable service… but Google provide a free version that is used almost ubiquitously across the Internet. Most paid services are very expensive and are used only by large businesses.
Google Webmaster Tools is another of Google's products that is designed to help webmasters understand how Google crawl their site as well as identifying problems with the site. It is also possible to submit your xml sitemap to Google through Webmaster Tools, thus allowing Google to identify and index all of your webpages.

Google Webmaster Tools (GWT) also provides information on crawl errors, HTML errors, crawl stats, security issues and much more. Find out more about GWT in our guide to Google Webmaster Tools. This is a completely free tool with no paid version available. In addition to Google's Webmaster Tools, you can also setup free Webmaster tool accounts for Bing, Yahoo, and Alexa.
In order to track your progress and success you will need to get some keyword ranking software, there are many providers of this type of tool. The cost of this is very cheap for small businesses, but can increase for larger businesses tracking hundred or thousands of keywords.

A ranking tool is an essential piece of kit for any online business. Some suites of tools such as Moz include a ranking tool as a part of the whole package, but you can also buy desktop tools, online tools, you can setup your own proxy servers, buy or rent them… In short there are a lot of ways and combinations of ways to track rankings depending on your needs.
When analysing a site, it is often an impossible task to do this without a tool… Scraping URLs, page titles, Meta data, canonical tags, etc is easy with a tool but to do manually would take more time than it's worth! This becomes even more insurmountable when you are analysing a site with hundred or thousands of pages.

Tools like Screaming Frog offer a free version that will do the basics for 500 pages or less, but the paid version is pretty cheap (around $100 per year for a single license). Moz also provide a site analysis tool as part of their suite of SEO tools.

There are also tools such as Xenu that look exclusively at one aspect of the site such as broken links. Its also worth looking at Chrome and Firefox plugins that can enable you to analyse specific pages for specific issues… For example, there are plugins to count the words on a page or check that the Google Analytics code is implemented correctly. These can be very useful for when you need to look at just a few pages and don't need to crawl an entire website.
Tools like Ahref and MajesticSEO are fantastic for looking at your own link profile but also competitor link profiles. Although less essential for some smaller sites, these tools are invaluable on larger sites or sites competing in crowded markets, where every advantage you can get is vital.

These tools are also useful when identifying problems resulting in a penalty from Google, specifically in cases where unnatural back link profiles are causing the penalty. As mentioned earlier, you can also use these tools to help with your link building strategy.
Google also provide a keyword research tool for free, which is essential for doing keyword research, defining your keywords and understanding which of them are the most valuable. We cover this in a lot more detail in a guide to keyword research.
Excel is an essential tool that is often overlooked in lists like this, without Excel you will be forced to use the abomination of a tool 'Numbers' provided on Apple computers or Google Sheets…neither of these tools provide the functionality or ease of use as Excel.

Whether you are downloading data from Moz, Majestic, Google Analytics, AdWords, Screaming Frog or almost any program, you will need Excel to view that data. More than viewing data, Excel allows you to manipulate that data, filter, cut, slice, pivot and visually represent it in any number of ways.

In addition to Excel, Word and a format free editor such as Notetab Pro are also used by most SEO's every day. These are used for making notes, stripping formatting, reporting and any number of other activities.
There are, as you can imagine, a lot more tools out there such as competitive intelligence tools or alternatives to the above tools.