Content
Contents:

The main purpose of Search Engine Optimised copy is to develop content that is relevant to the theme or subject of the site. For this reason, each page should be written around a single central theme. Page content drives the relevance between the page's target keywords and the page itself.
Furthermore, content is the very reason all users have accessed your site, thus it stands to reason that your content should be as good as possible!

We are primarily referring to text-based content in this article, with only a cursory look at video and image based content.

There are many different uses for text based content and locations where it can be used, we have listed most of these below with a brief explanation. Every type of content listed is designed or exists for a purpose in that it meets a different need for both the user and the publisher.
News packages content about events into digestible chunks for users, this could include almost anything from changing interest rates to new technology. Although not relevant for every website and you don't need to be the next BBC, creating news can be a powerful tool for attracting users to your site.

News traffic tends to come in spikes as a news story is typically only relevant for a short period of time. Consequently you will often see traffic such as those shown in the example below: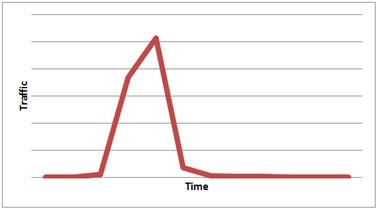 Getting your content into Google news can also provide a steady stream of traffic to a site, News traffic often not very likely to convert. However, the traffic that does flow through to the rest of the site is often very valuable.
Blogs are often used as a catchall location for tonnes of content typically providing topical advice or tips within a niche. Blogs are good places to build up readership, subscribers and set yourself as subject matter experts. Google loves blogs when used properly (and news) as they keep a website updated with fresh new content.

Blog posts can have a range of traffic patterns, but are often more flat than with news... Having lower highs and higher lows. Blogs also play a part in the upper parts of the conversion funnel and when done well can actually play a part throughout the whole funnel.
These are marketing material informing people of important happenings within your business, anything from launching a new website to expending into a new region. Depending on the nature of the press release, traffic will often be similar to that of news but in smaller volumes.
This is where someone publishes a post on another website's blog; this can be you publishing externally or someone outside of your business publishing on your blog. In either case you are likely to gain access to new audiences and have your content syndicated out through external social channels.

If you are publishing on an external site, this will often acquire you a back link and exposure to the readership of that blog.

If you have the recipient of the content, you get free content for your blog and usually the writer will share this to their social media followers, again reaching a new audience.
Blog traffic behaves the same whether it's a guest blog or a normal blog but with an added boost.
These are in depth and valuable pieces of information, they therefore often sit behind a login or require an action (such as a share, like, subscribe, or even pay for) in order to download. This type of content really sets an entity apart as subject matter experts. These take a lot of time and research to do well and hence are not as common and in a lot of cases as relevant to many industries.

This type of content attracts shares and likes, links and traffic. White Papers have some longevity but are often primarily useful in the year in which they were created.
This knowledge base would fall under this category, the aim being to address specific questions or needs of a niche audience through creating comprehensive and useful content. More evergreen, this content should be updated to remain current but is not at 'topical' as a blog post of news. Good quality content in this category, done well, can play a big part in many parts of the conversion funnel.
These are often the 'money' pages of a site where you are selling a product or a service. Content on these pages needs to address the lower parts of the conversion funnel and be designed to convert users. Often these pages are the most valuable pages on a website, delivering most to all of the online revenue.
These are more navigational, allowing users to browse products or services and they may only small one line descriptions of those products and services rather than long in depth content.
Reviews are great for users and great for websites, they provide honest and useful information from consumers that enable other consumers to make informed decisions. Reviews can often deliver users that are very close to the 'point of purchase' and as such the traffic value is often very high.

Reviews also provide a bulk of relevant content usually for free from users on your products and services, improving the overall holistic relevance between your site and a group of target keywords.
Questions & Answers or FAQs are a class of common queries that people have about your business, product, service, topics on which you talk, etc. They can be entirely for internal use or can be useful to a broader audience.
Legal information includes things such as privacy policy, terms and conditions, disclaimers, details about how you use cookies and or personal information. This has no real SEO value but is often a legal requirement to have it present. Having this kind of documentation also lends a certain amount of credibility to a site.
Search engines use text on a webpage in order to identify the subject of that page as well as keywords for the page to rank – therefore the more information available to the search engines, the easier it is for search engines to classify and rank the page accordingly.

Content on individual pages should also be written to match approximately 1 to 5 keywords for focused keyword targeting. For example, a page on blue widgets should contain only information on blue widgets. It is also ideal to use semantically related terms such as "blue" or "cyan" within the page copy.

Keywords should be placed at, or near the beginning of the opening and closing paragraphs on a page to both emphasize keywords within the page copy. This helps to increase the relevance of the page to each keyword.
Check the readability of every page's content, checking for unnatural and unnecessary keyword insertions as this can been seen as 'keyword stuffing'. This is a very old and outdated technique that will lead to more trouble than benefit.
Some keywords are not even grammatically correct... in this case consider using them only in H titles verbatim. But when using them in the main body of content, add in the necessary words (of, and, to, it, etc) to make the keyword grammatically correct.

I would suggest doing a CTRL + F when looking at a webpage for the main head term and reviewing if it has been excessively used. In Google Chrome using Ctrl+F (using Windows) highlights the words on a page providing a strong visual clue as to whether a keyword has been overused.
Although a phrase hated and looked down upon by SEO's, it really is just another metric like any other, a cold hard mathematically derived number. And, like it or not, there is a point after which the ratio could negatively impact the web page's performance.

Use Raptor's SEO Tools to determine the number of words on a page and the number of times a particular keyword appears on the same page. Using these two figures, divide the number of times the keyword appears by the number of words on the page to see the 'keyword density'. This is a percentage figure and should never venture over 3.5% to 4% as a rule of thumb.

Content should always read naturally and hence editing text to work in keywords in an unnatural way will impact both the user experience and potentially the site's ranking for the target terms.
This is in many ways a macrocosm of the previous section on keyword usage, where each page acts like a keyword in the overall aggregation of the content being clustered.
Clustering content based around keywords is a great way to capture broader varieties of keyword traffic and build relevance to a particular topic or niche.
For example; if we assume a page targets birthday cake recipes, creating a range of additional content around other types of birthday cake recipes would create a broader range of content to attract a broader range of search traffic.

Targeted keywords should be supported in the content by other relevant terms and phrases including synonyms to reinforce the topic of the page. Where possible, try to include other individual keywords that are mapped to the page.
Content on the website should always be written for the audience first and search engines second. Bombarding a site visitor with too much information may discourage them from browsing the remainder of the site. Conversely not providing enough content can lead a user to leave the site, so there is a sweet spot for most web pages.

The optimal volume of content will vary depending on the nature of the content and the user intent when searching for it. Ever since Hummingbird was released in 2014 the importance of meeting the user's search intent has never been more important for your rankings.
Since engagement metrics & indicators started playing a significant factor in determining rankings, providing the best user experience possible is directly incentivised by increases in rankings.

A word count of 300 to 500 relevant, keyword-focused page copy is generally considered to be the ideal amount of text to provide information for search engines for them to determine what the page is about.
Users often come to expect that much of what they need from a website is provided for on the homepage, without drilling too far down. Due to this user-behaviour, the homepage becomes undoubtedly the single most important page on every website and so, search engines tend to place much value on a site's homepage.
For optimisation purposes, it is ideal that your top-most targeted keywords are found on the homepage in the heading, with appropriate keyword frequency and within internal linking.

All sites are different, large and well established global brands don't necessarily need 500 words of home page content, especially if they are spending millions of dollars in above-the-line TV advertising. Whereas a small local business may need all the content they can get on the home page!
As such there is no general advice that will apply to more than a handful of websites when it comes to how much content to use on the home page.
Extremely long content pages that attempt to target too many keyword phrases / themes and could benefit from being split up into individual landing pages. The classic example of this is a services index page that mentions a lot of different services offered by the company, but there is no landing pages for the individual service.

Splitting this type of content out into separate pages makes the content less diffuse in terms of what exactly it is targeting, increasing the focus on each target service or keyword. Ensuring that this content is well linked to and has strong navigation will also assist in improving the overall user experience.
Ensure that HTML / Text based content is available for non-Flash enabled devices (e.g. SWFObject). In general Flash content should be avoided as many devices cannot play or read it and search engines specifically cannot identify what Flash content is, meaning that they will not rank it.

Flash is not as popular as it once was but it's never been good for SEO and should be avoided, where possible use another method to achieve your desired goal than Flash.
Linking to pages contextually through in content links is a great way to direct users to relevant content on a similar topic or a product that may be of interest. We cover this topic extensively in an article on internal linking.
Video is a fast growing medium with very high engagement compared to text based content. Its often easy to digest, allows for more efficient branding and is proven to enhance sales. We cover videos in greater detail in another article.
Images are a valuable asset for any website and web page, breaking up content, providing visual examples and compelling call to actions. Please see our article on image optimisation for more information on this topic.
This is a topic unto itself which we dive into in other guide on content strategy, for now we will provide some general advice around this topic. You should always have a content strategy in place if producing content for a website either on a small or large scale. The alternative is to simply randomly produce content.
Strategies are goal driven tactical plans that structure the approach taken to delivering or implementing content to your audience. Content Strategy inherently involves research to identify what content should be produced and when it should be published. Without a strategy in place, opportunities will be missed and time could often have been better spent doing something else.

Thus there are two ends to why this is important; firstly you can waste money and time doing things that may not work, secondly you may lose out on profits from not doing something better.
A good example of this would be in understanding when a valuable keyword is trending in a year, producing the content in time to target this peak period will maximise the value of that content.
The first step is to decide what you are trying to achieve and when you want to achieve it by. These should be measurable goals, we talk more about measuring success later in this article.
Goals could be anything from increase in traffic of +75% in 9 months to increasing conversions or reducing bounce rates.
Research can include any of the following:
Keyword research (Identify valuable keywords and gauge the cost required to succeed)
Competitor analysis (See if there are any gaps & see what is working for those who are where you want to be)
Trend analysis (Identify when keywords are most valuable)
General topic research
Social research (identify what is trending)
Personas / Demographics (Identify the audience what do they want, where do they get their content, what type of content do they engage with. Then create personas and target them)
By covering off each of the above research techniques you will be able to build a good picture of what you need to do to succeed in your content strategy. This part of the process informs what content will be produced, what type, when, who it should target and how.

Performing the research required to create a strong content strategy often provides a range of insights into the user's conversion funnel, as well as reinforcing your knowledge of the search landscape.
As mentioned you should have measurable goals in place before beginning. There are a lot of metrics for success and they depend on what you are trying to do and what you value. Common metrics are:
Traffic
Conversion rates
Profit
Conversions
Revenue
For more information on measuring success and web analytics, please follow the link.
The frequency with which you publish new content impacts how frequently Google will spend crawling your site. It also provides a reason for users to come back to consume the new content. Thus the is an inherent value is producing content regularly and consistently throughout the year.

Content should also be maximised by being delivered in time to be ranking for when it is most valuable.