Page Titles
Contents:
Title tags are arguably the single most important ranking factor that can be edited on page. The title tag can be seen in your Internet browser tab (shown below above the URL):
The below image is an example of the home page title tag shown within the SERPs: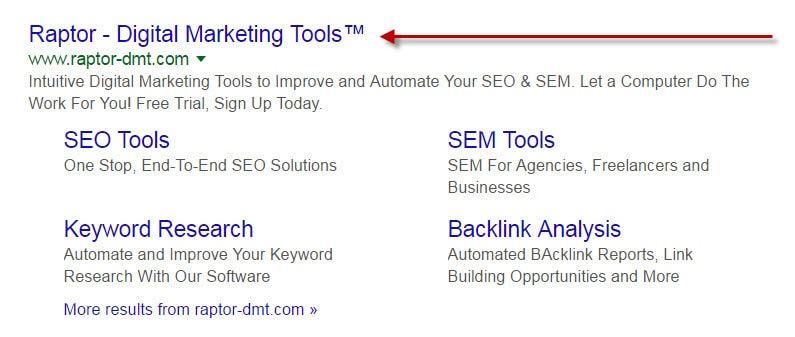 Every page should have a title tag and ideally these should target the keyword/s that page targets.
The title tag should ideally contain about 6 to 9 words incorporating target keywords. Keywords should be placed at the beginning of the title for maximum optimisation value. The brand or company name can be placed at the end of the title. This serves two purposes:
Placing keywords at the front of the title allows more weight to be placed on these keywords rather than the company name since most sites are already ranking for their own brand/company names.
Most search engines only display a certain number of characters in their results page – Google for example only displays the first 65 characters of a site's title in the search engine results. It is important to have keywords at the front of the title as keywords within the search engine results are highlighted, making the search listing stand out. Having keywords as titles also helps search engine users to find what they are looking for quickly
Title tags should exist within the header section of the source code of each webpage. The correct code for title tags is as follows:
<title> Keyword 1 | Keyword 2 | Brand Name</title>
To write optimised titles for search engines, the following guidelines should be observed:
The title should be written in order to place the most important keyword at the front, followed by secondary keywords and company name. The general format of an optimised title is: [Primary keyword(s)] [Secondary keyword(s)] [Brand name].
Titles should reflect and be relevant to content on the page. Keywords in the page title should be within the page content.
Keep titles between 6 to 9 words, approximately 60 to 70 characters long (any higher and the title can be truncated in Google's search results)
The character length limit includes spaces, punctuation and symbols such as pipes.
Titles should be as clear and concise as possible.
Ensure they do not contain tracking or session parameters
Ensure consistency in page title structure throughout the whole site
All page titles should be unique among all other page titles within the site
We cover special characters in more detail in an article on Meta Descriptions.
Often people treat Page Tiles as a one off job, optimise it and move on… But this should not be the case, can and often should re-optimise titles as and when the data determines it is valuable to do so.
Due to the power of Page Titles to optimise for the target keyword, changing the target keyword used in the title throughout the year to compensate for seasonal changes can provide a distinct advantage.
As mentioned the keyword at the beginning of the Page Title is the most valuable and important, so even swapping the order of the keywords can take advantage of search trends. For example if the two most profitable products on an ecommerce site are BBQ's and umbrellas…
Each product will be more poplar at different times of the year, this would be a prime example of when to change a title tag to take advantage of the increased search volume for each product when it is trending.
For high value areas of the site, testing should be conducted to try and improve the performance of your Page titles.
You need to have enough data in order to establish a baseline for any test, also try to limit testing to outside of atypical periods of the year. Ensure that all factors are considered such as:
Checking keyword rank in a tool - Traffic will be affected by your position as will CTR, so you will need to compare 'apples with apples'. If, of course, your rankings improve shortly after testing a new Page Titles, it may be that the CTR improvement was such that it has increased in position.
Check average position in Google Webmaster Tools
Be consistent with other marketing channels in both the baseline setting & testing periods. For example do not run a load of display advertising and Search network advertising targeting the same keywords as the test in just one phase. E.g. if you run paid advertising in the baseline period, run similar levels in the testing period.
Below we have detailed the most common types of mistakes made with Page Titles:
Missing Page Titles are very common; web admin when building websites can overlook them. Page titles are a very important ranking factor (arguable one of the most valuable on-page) and so missing them out reduces the organic performance of that page.
Having duplicate Page Titles can result from a range of issues, all of which should be addressed. This again misses the opportunity to target a page's target keyword and improve organic visibility.
This will result in truncating the Page Titles and thus renders part of the message redundant. Hence searchers will not see any information over the character limit.
Depending on how short the Page Titles is, if it is just a few characters, then you may be missing the opportunity to create a more compelling title with a stronger CTA (Call to Action).
Having placeholder text is very bad; having "enter page title here" show up in the SERPs is not going to encourage anyone to click on your listing. Often this problem can be site-wide or affect a large portion of a site.
Quotation marks "" within a Page Titles will cut it off, instead use a single quotation >'< instead.