Video Optimisation
Contents:
Video content has become hugely popular over the past five years, with around 35 hours of video being uploaded to YouTube every second and most companies producing it regularly. Like any web based content or resource, it can be optimised for increased performance on the web.
Videos are a great way to bring content to life, people engage more with videos and are more likely to engage with a video than text. This means that they see and hear more of your message more of the time.
Videos are demonstrated to improve conversion rates, sales, and other engagement metrics which all factor into Google's algorithmic ranking factors. Videos also open up a whole host of different marketing opportunities on and off page.
They can be great for building back links, branding, setting you as a subject matter expert and assisting in both the conversion funnel and the user journey.
Hence, videos and video marketing is a fast growing and almost essential part of any modern online business strategy.
Ensure that videos have a relevant and meaningful description, tags, titles, etc. to ensure that it reaches the right audience and is picked up by Google or YouTube algorithms that can only identify written content.
Optimise your video descriptions with keyword targeted content and if hosted on YouTube ensure that it links to your website from within the content.
Optimise titles to include the target keyword where possible.
Videos take time to produce, due to the amount of work involved, it also costs money to either buy all of the equipment (lighting, rigs, green or white screens, camera, mic, etc):
Research
Planning
Scripting
Filming
Editing
Production
Publication
Promotion
Consequently it behoves you to have a clear strategy to map out what you aim to achieve with your videos so that you do not waste time producing videos on "topic X" when "topic Y" would yield better results.
Thus keyword research and market research should play a big part in the initial phases of planning to understand how to get the most out of your videos.
Having and specifying a thumbnail image is important and can be done with micro data (discussed in another article in the knowledge base about schema.org mark-up code. Create and add a thumbnail image micro data, such as in the example below:
<div itemprop="video" itemscope itemtype="http://schema.org/VideoObject">
<meta itemprop="thumbnail" content="image-file-name.jpg" />
Failing to specifying a thumbnail image means that you do not have control over what frame / image will be shown as the thumbnail image. This is a missed opportunity to provide a relevant image with some branding.
This is not a direct SEO ranking factor, but a more compelling thumbnail can encourage click through from the video SERPs (Search Engine Result Pages), and that is a direct ranking factor.
You can use branding and add information such as a title, etc to make it more useful to viewers. Create a compelling thumbnail image that encourages users to click on the video.
Specifying a thumbnail image allows you to control how the video looks before the video is played, this can prevent odd / random frames from being selected.
Try to ensure that if the video is hosted within the website and that video file names are optimised and revolve around the content of the video. File names should also be descriptive rather than using alphanumeric strings.
Where possible, try to provide a HTML/Plain text transcript of the video content (or at least a full synopsis). This is important because it provides Google site visitors with content that their robots can read to determine what the page is about… Something that is not possible with videos.
Also mentioned in the video sitemaps article in the Knowledge Base, creating an XML sitemap for your videos is also an important step, for more information on this please refer to the other article.
It is important to facilitate the quick and easy sharing of videos on social media platforms,. You should ensure that social sharing buttons or functionality is immediately next to the video content.
Video is one of the most socially shared forms of content on the net, make it easy and people who are so inclined will share. Social media, links, shares, likes, etc all aggregate into 'social signals' which are a direct ranking factor, which makes this an important component to your video strategy.
Video provides a great opportunity for branding and driving brand awareness, ensure that the company logo and branding is present in the video content. It does not have to be present in every scene but should be displayed at the beginning and end of the video to reinforce your brand.
As mentioned, videos can be marked-up with Schema.org micro data making their appearance in the SERPS more prominent and also telling Google vital information about the video. This is discussed in greater detail in the Schema.org section of the Knowledge Base.
There are a number of ways of hosting video content on a site, embedding videos, direct hosting, iFrames, etc. all provide unique pro's and con's.
If you are using YouTube then it may also be worth your time reviewing our YouTube Optimisation guide. Unless iFrames are used the below recommendations will be relevant to optimising a video.
Often businesses opt not to use YouTube due to the player loading and suggesting other videos once the current one has finished. This can lead to people clicking on more videos or leaving the site to watch videos of cats or some such thing! 
Control the content on your site by using a proper video player.
These are essentially windows that show content from another location, consequently Google knows that the content is neither yours nor is it located actually on your site. This prevents Google from crawling this content and attributing any advantage to the location of the iFrame.
Consequently using iFrames provide no advantage and where possible should be avoided.
We cover this in more depth in another article on YouTube as it does not fall under on-page optimisation which is the primary focus if this section of the knowledge base. But needless to say that YouTube is a powerful platform with billions of users and can assist in getting your video content out to your audience.
You can also embed YouTube videos onto your website, but you are unlikely to have that page rank for the video content as the content is actually located on YouTube.
There are a number of compatible technology solutions for hosting videos on sites using HTML5, the comparison table below (taken from praegnanz.de)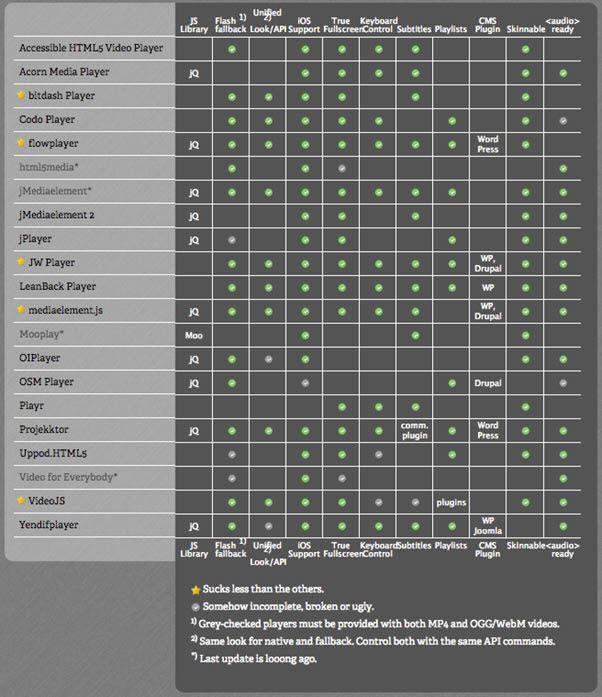 Here we cover some of the most popular video players for websites:
This is probably the most popular video player for websites. Coming jam-packed with features and HD capability. There are options for free and paid accounts with a range of benefits such as maximum upload in MB per week. Find out more about Vimeo here.
Originally just an image site, Flickr has expanded to include videos now. These limit video length to 90 seconds however and as such this limits their usage. Find out more about Flickr here.
A similar concept to YouTube, Daily Motion comes in HD, and allows for multiple uploads at the same time. This has limited privacy settings, meaning that only Daily Motion users can watch videos. Find out more about
Daily Motion here
.