Pages That Load Between 3 & 4 Seconds - Raptor SEO Data
This data shows the number of HTML pages that were analysed during a crawl that load the between 3 and 4 seconds. Pages that take between 3 to 4 seconds to load are very slow and should be reviewed. Google places significant weight on page load times due to the impact of page speed on the user experience.
When Raptor crawls a site, we determine how long the text on the page takes to load, we test this from a UK (United Kingdom) based server and measure the load time to within two decimal places.
Page speed has never been as prized as a Search Engine Optimisation (SEO) factor as it is now. With Google creating their own PageSpeed Insights Tool, this is a powerful indication of how important they see it. This is due to the importance that page load times can have on the user experience, slow loading pages can make users click away from your site.
The video tutorial below illustrates what exactly this data means, how to identify it, how to use it and we also demonstrate some of the options available within the summary tab.
Identifying Slow Web Pages
These pages load between 3- and 4-seconds load in up to double the 2 second maximum load time that Google recommend, as such we flag this as a serious error. These pages although not very slow, they are slow loading nonetheless and should be investigated further to improve the load times.
This and the two subsequent categories indicate which pages on a site load slowly and so you can use this data to easily and quickly find slow loading pages.
Where Can You Find Very Slow Loading Pages?
You will find this data in the reporting section under the summary tab, in the 'page speed' section, as is shown in the image below:
This data is analysed as part of the website crawl and is segmented into this category if the page loads in between 3 & 4 seconds. We show you this data because these load times are very slow and are likely to have a major impact on the user experience. This is long enough for a user to click back to the search results which can mean a loss of traffic and online revenue.
Furthermore, pages that load this slowly are likely to be devalued by Google as page speed is such a powerful ranking factor. It is worth taking note of what percentage of your sites HTML pages load in this category as this will have a more dramatic affect of the overall organic visibility of your site.
Compare the Number of Pages That Load Between 3 & 4 Seconds
Raptor's SEO reporting feature allows you to compare the data between any two crawls. We have highlighted in the screenshot below the column that shows the difference. You can use this to see if your site is increasing or decreasing in load times over time:
If you have recently updated your website for any reason comparing crawl data from pre and post changes can highlight problems with page speed or improvements. You can also use this data to correlate with other data such as rankings or traffic to see if a shift in the distribution of pages by load time could be the root cause of a change in performance.
Look at The Specific Load Time Data
Clicking on either of the two numbers shown for this metric (current and previous crawl, both of which can be selected from all crawls) you will be taken to a page that details all the URLs that fall into this error category. Our site does not have any pages that load in more than 1 second, but the page, data and structure will look exactly the same as this: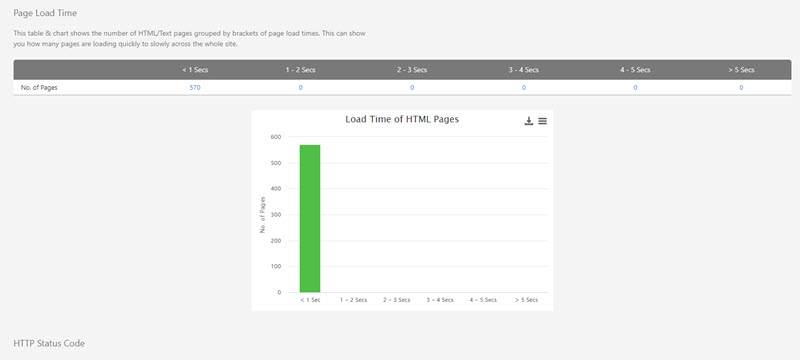 This data provides the specific load times for each URL determined during the crawl along with various other data. From here you can download the data to CSV or view the paginated data online.
Visualisation of Page Load Time Data
We also show this data s a chart within the SEO audit section of the software, as shown in the chart below:
You can use this chart to easily see the volume of pages across your site that fall into this load time segment to see how much of an issue the problem is.
This chart is not a part of the summary tab (it is located in the SEO Audit section) but nonetheless it provides a sharp visualisation of the page speed data that we analyse during website crawls. We colour code the columns in the chart to highlight the potential severity of the page speed. In this example you can see that the colour is orange.
The orange colour indicates that this is an error but not a major error, relative to the faster load time brackets that we show you.