Legacy Google Analytics Code - Raptor SEO Data
In this this check of the data we scrape for each page we analyse whether pages have legacy Google Analytics (GA) tracking code present on them. This means that an older outdated version of GA tracking code is being used on the page/s shown in this segment.
This is a minor error but an error, nonetheless, ensuring that you are using the latest version of the code is important because the old code may no longer be properly supported by Google Analytics. The video shown below illustrates to you what Google Analytics tracking code is, why it is important to have the latest version why this data is useful to you.
If you would like to learn more about Google Analytics errors, or any of the other data in our SEO tool, please check out the guides below:
Support: Google Analytics and Tag Manager Data
Our website scraper scrapes raw data from each page of a site and then analyses that data to produce a summary. The raw data is downloadable, but the summary tab makes assessing it fort yourself a lot easier. This data is then shown in the summary tab of the SEO reporting tool (see screenshot below).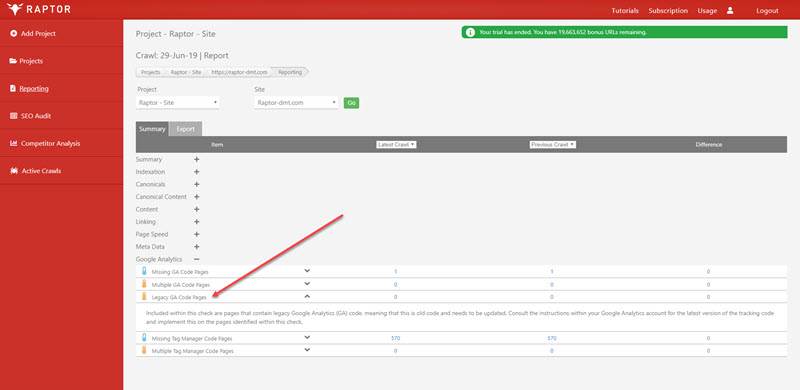 What is Google Analytics Tracking Code?
Google Analytics tracking code is cod that is used to track users that visit your site, once installed on a site you can then use Google Analytics (the software itself) to see the data it collects. For example, Google Analytics will show you:
Where users come to your site from (Google, Bing, Facebook, Other sites, or direct)
What pages they visited
How long they stayed on each page
How many people came to your site each day or by hour of the day
More advanced features allow you to setup goals and events to track when someone clicks a button, completes a form or makes a sale for example.
The image below shows what the tracking code looks like when looking at it in Google Analytics: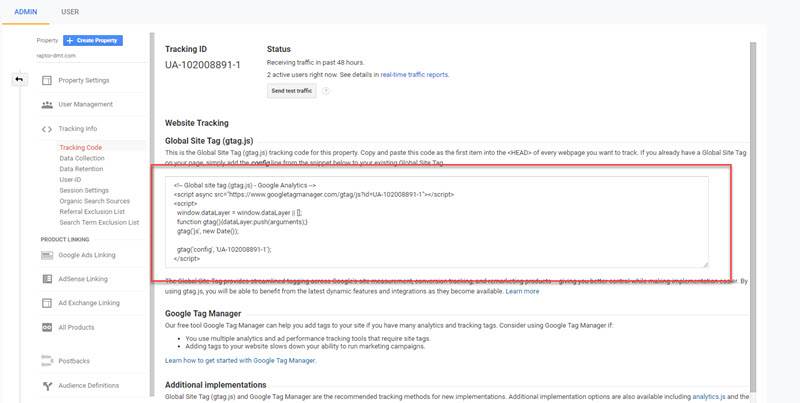 Identifying Pages with Legacy Google Analytics (GA) Code
Our SEO software makes identifying this error very easy, simply navigate to the reporting section of the tool and you will see the Google Analytics Data Summary section. We present this data in the summary tab and present three columns of data within this tab:
The number of pages with legacy GA tracking code from the current crawl
The number of pages with legacy GA tracking code from the previous crawl
The difference between these two numbers
By clicking on either of the first two numbers you will be taken to a 'drill down' page that lists all of the pages that have legacy GA code, we do not have any pages on our site that have this issue… So, the screenshot below shows what this drill down page would look like, but with no actual URLs listed:
When Is This Data Useful to You?
If you are using Google Analytics to track your users and their behaviour, ensuring that you have the latest code is very important. This will ensure that all features are available, that the load times are as fast as they can be for the code to trigger and ensure data integrity.
How Can This Happen & What It Can Mean
This issue is not uncommon, every now and then Google update their tracking code and provide this to you in Google Analytics. If you do not keep on top of the updates or lack the ability to update the tracking code, you will likely suffer this error.
It is unlikely that this error will creep in over time, it will only occur if the code is not updated when it should be. The impact you in the following ways:
Load times (one update made the code load asynchronously meaning that it reduced load times of web pages)
New features may not be available with legacy code
Legacy code may no longer be supported by Google
This could lead to data integrity issues