Pages That Load in Less Than 1 Second - Raptor SEO Data
This data shows the number of HTML pages that were analysed during a crawl that load the text in less than 1 second.
These pages are fast loading pages and ones that likely do not need too much of your time in terms of focus. When Raptor crawls a site, we detect how long it takes to load the text on the page, we test this from a UK (United Kingdom) based server and measure the load time to within two decimal places.
Where Can You Find This Data?
You will find this data in the reporting section under the summary tab, in the 'page speed' section, as is shown in the image below:
This data is analysed as part of the website crawl and is bucketed into this category if the page loads in less than 1-second. We include this within the summary tab as it is not an error or an issue of any kind.
Compare the Number of Pages That Load In Less Than 1 Second
You can choose to compart any two crawls of a single site and then compare the difference between these crawls. We have highlighted in the screenshot below the column that shows the difference. You can use this to see if your site is increasing or decreasing in load times over time:

Drill Down to the Load Time Data
If you click on either of the two numbers shown for this metric (current and previous crawl) you will be taken through to a drill down page that shows you all of the URLs that fall into this category:
This data provides the specific load times for each URL determined during the crawl along with various other data. From here you can download the data to CSV or view the paginated data online.
Visualisation of Page Load Time Data
We also show this data s a chart within the SEO audit section of the software, as shown in the chart below: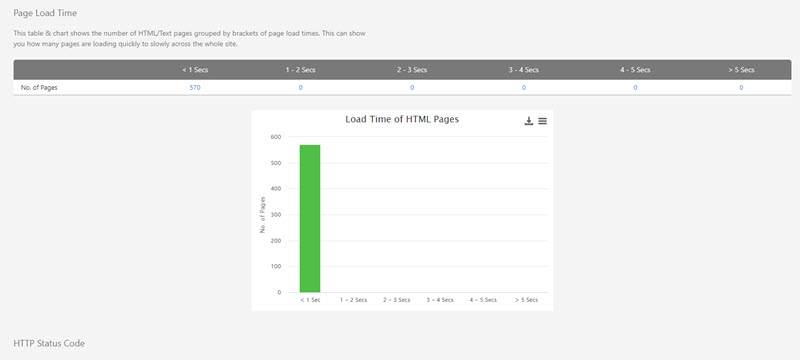 This chart, although not a part of the summary tab does provide a clear visualisation of the page load time data that we scrape and analyse during site crawls.