GA Code Missing From Page - Raptor SEO Data
This check assesses whether HTML pages have Google Analytics (GA) tracking code present on them, if they do not then they are bucketed into this dataset. What this means is that the numbers shown in this segment are pages that are missing Google Analytics tracking code.
If your site uses Google Analytics tracking code to track its users, events and goals then the tracking code should be implemented on each page of the site. The video below shows you what Google Analytics tracking code is, why it is important and both when and how the data is useful to you.
If you would like to learn more about Google Analytics errors, or any of the other data in our SEO tool, please check out the guides below:
Support: Google Analytics and Tag Manager Data
Our web crawler scrapes raw data from sites and then process that data to produce a summary of the findings. This summary is shown in the summary tab of the reporting tool.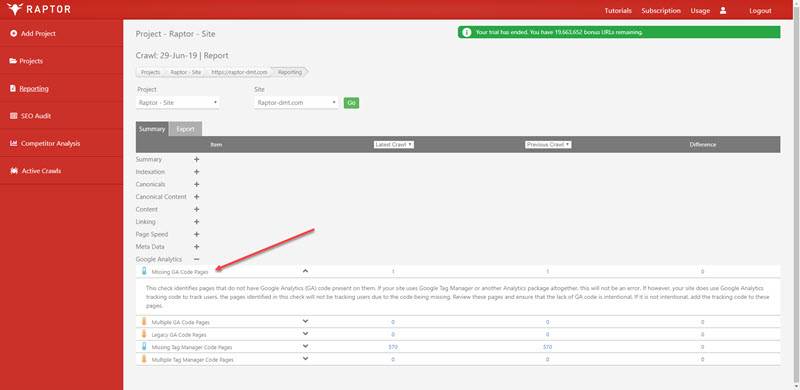 What is Google Analytics Tracking Code?
Google Analytics tracking code is cod that is used to track users that visit your site, once installed on a site you can then use Google Analytics (the software itself) to see the data it collects. For example, Google Analytics will show you:
Where users come to your site from (Google, Bing, Facebook, Other sites, or direct)
What pages they visited
How long they stayed on each page
How many people came to your site each day or by hour of the day
More advanced features allow you to setup goals and events to track when someone clicks a button, completes a form or makes a sale for example.
The image below shows what the tracking code looks like when looking at it in Google Analytics: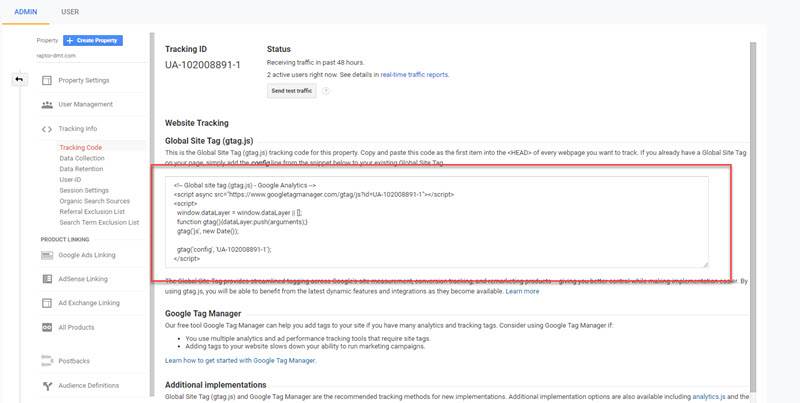 Identifying Pages Missing Google Analytics Tracking Code
The primary reason that Raptor performs this check is to help you identify pages missing Google Analytics tracking code. Simply navigate to the reporting section of our SEO tool and at the bottom of the summary tab you will see the 'Google Analytics & Tag Manager' section. The first row in this section contains three columns of data:
The number of pages missing Google Analytics tracking code from the current crawl
The number of pages missing Google Analytics tracking code from the previous crawl
The difference between these two numbers
By clicking on either of the first two numbers you will be taken to a 'drill down' page that lists all of the pages missing the Google Analytics tracking code (see image below).

In this instance you can see that there is one URL on our site that does not have Google tracking code implemented. We can use this data, to go ahead and install the tracking code as per Google's instructions.
When Is This Data Useful to You?
This data is useful only if you use Google Analytics tracking code to track users, if you use another form such as Tag Manager to deploy tracking code or a different platform such as Adobe then this will not be useful. If you do use GA code, then this data will highlight whether you have any errors or not.
Website Update
You will also find this data useful if your site has recently undergone any kind of wholesale changes, such as a redesign or a migration. By comparing the latest with the previous numbers, you can see if they have changed, this could indicate that as a result of a website redesign all of the GA code has been dropped from the site.

Loss of Traffic
If you use GA regularly to assess data, you can also correlate this against crawls, to see if a drop-in traffic is down to a loss of GA code throughout the site.
General Monitoring of Your Site & Audits
Keeping a close eye on your site, its traffic and performance is imperative to the success of any website. Regularly crawling your site with our web crawler enables you to keep a track of changes which would otherwise be almost impossible to identify or at least take a long time to identify. Sites get new content added to them all the time, they undergo regular changes, and so it's easy for errors to creep in.
Raptor helps to identify Google Analytics Code errors and track them over time. As a small business using this data in our tool provides transparency over what the people managing your site are doing. As a freelancer or agency worker, our software allows you to track the implementation of your recommendations. As an in-house (client side) SEO you can monitor your site, and ensure data integrity and continuity.