Multiple GA Code on Same Page - Raptor SEO Data
This check assesses whether individual HTML pages have multiple versions of Google Analytics (GA) tracking code present on them. To be specific this check looks at whether a single page has more than one version of GA tracking code on it.
This is an error under all circumstances as there are no reasons to have more than one set of tracking code of a page. The video below shows you what Google Analytics tracking code is, why it is important and both when and how the data is useful to you.
If you would like to learn more about Google Analytics errors, or any of the other data in our SEO tool, please check out the guides below:
Support: Google Analytics and Tag Manager Data
Our web scraper collects raw data from individual pages of a site and then process that data to produce a summary of its findings. This data is then shown in the summary tab of the SEO reporting tool (see image below).
What is Google Analytics Tracking Code?
Google Analytics tracking code is cod that is used to track users that visit your site, once installed on a site you can then use Google Analytics (the software itself) to see the data it collects. For example, Google Analytics will show you:
Where users come to your site from (Google, Bing, Facebook, Other sites, or direct)
What pages they visited
How long they stayed on each page
How many people came to your site each day or by hour of the day
More advanced features allow you to setup goals and events to track when someone clicks a button, completes a form or makes a sale for example.
The image below shows what the tracking code looks like when looking at it in Google Analytics: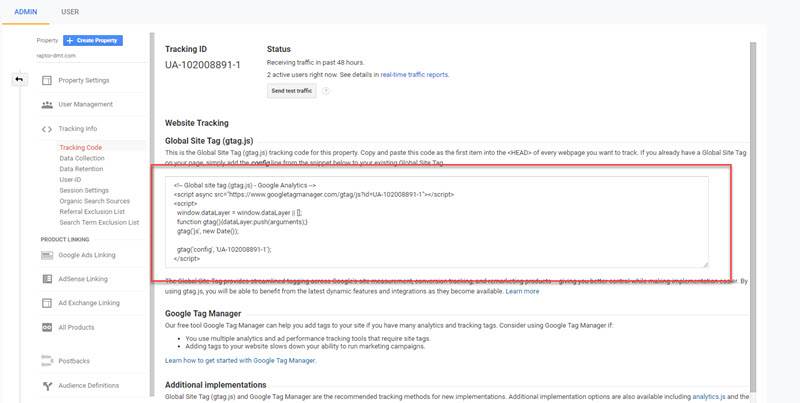 Identifying Pages with Multiple Google Analytics Tracking Codes
Raptor make it very easy to identify pages with multiple versions of GA tracking code present on them. We present this data in the summary tab and present three columns of data within this tab:
The number of pages with multiple GA tracking code from the current crawl
The number of pages with multiple GA tracking code from the previous crawl
The difference between these two numbers
By clicking on either of the first two numbers you will be taken to a 'drill down' page that lists all of the pages that have multiple Google Analytics tracking code, we do not have any pages on our site that have this issue… So, the screenshot below shows what this drill down page would look like, but with no actual URLs listed:
This will show the UA numbers of each set of tracking code used, which highlights the other aspect of this problem. There are various possibilities:
Multiple versions of the same GA code
Multiple versions of different GA code
Its also possible to have more than two versions on a single page which can cause even more issues.
When Is This Data Useful to You?
Having multiple versions of the Google Analytics code on a single page can cause various issues, depending on if they are the same UA Numbers of different ones will also impact this.
Two identical versions of GA Code
Not tracking data properly (incomplete data)
Double counting data
More than double counting data if more than two versions exists
Slows down page load times as more components have to load
Two different versions of GA Code
Not tracking data properly (incomplete data)
Only one set tracking data (this could be inconsistent throughout a session)
Double counting data (across both accounts)
More than double counting data if more than two versions exists
Not counting any data
Slows down page load times as more components have to load
How Can This Happen & What It Can Mean
This issue is not common, but we have seen it enough for it not be completely rare. This type of issue can creep in from a number of reasons such as:
Changing SEO agencies where the SEO agency setup and own the GA account.
Changing management of the SEO such that a request is made to implement new code, without removing the old code.
Updating a site and having the code implemented twice by mistake (user error)
Updating from legacy code to new code but without removing the old code
There may be other reasons, but these are the ones that we have experience of ourselves. Some of these are hard to resolve, if an agency is holding the keys to your GA account and they won't give you access, you will potentially lose historical data.
If you have updated a site for any reason, you can compare crawls and see if these numbers have changed. You can select any two crawls to compare data between them simply by selecting the crawl date from the drop-down menu and the top of the reporting summary tab. You can then compare the numbers shown in the screenshot below to spot changes in this error.

General Monitoring of Your Site & Audits
Rather than waiting to see if GA traffic is starting to do weird things, you can use Raptor's suite of SEO tools to track changes on any frequency you want. This means that you can spend less time suffering the problem and less time trying to identity the source of the problem and more time fixing it. You can also use this data during audits to identify problems for your clients.
Raptor helps to identify Google Analytics Code errors and track them over time. As a small business using this data in our tool provides transparency over what the people managing your site are doing. As a freelancer or agency worker, our software allows you to track the implementation of your recommendations. As an in-house (client side) SEO you can monitor your site and ensure data integrity and continuity.