Multiple Google Tag Manager Code on a Page - Raptor SEO Data
Tag Manager code facilitates the tracking of users on a site, having multiple iterations of Tag Manager on a single page can cause tracking issues. This can result in lost data, fragmented data or double counting of user data. Depending on the number of Tag Manager iterations on a page, this can also affect load times.
Ensure that each page has only a single iteration of Tag Manager code present.
In this this check of the data we scrape for each page we analyse whether each page has multiple Google Tag Manager codes present on them. If your sites use Google Tag Manager to deploy tracking code, then this check will identify pages where the code has been deployed incorrectly.
This is a pretty major error for most sites as multiple Google Tag Manager codes means that the affected page may not be tracking anything properly. We have made short tutorial video below where you can see the impact pf having multiple iterations of tag manager code and where to find this in our software.
In this series of videos, we look at  tracking issues and specifically Google Analytics and Tag Manager. Much of the data is informational as there are many platforms with which to track data. GA (Google Analytics allows you to track users, track revenue and conversion data and helps to inform strategic decisions about your SEO. So, getting this right is essential.
If you would like to learn more about Google Tag Manager errors, or any of the other data in our SEO tool, please check out the guide below:
Support: Google Analytics and Tag Manager Data
Raptor's website scraper collects a lot of the raw data from each page of any site that we crawl we and analyses this data to create a summary. Although the raw data is downloadable, we provide this in the summary tab to make analysing the results of web crawls a lot easier. This data is then shown in the summary tab of the SEO reporting tool (see screenshot below).
What is Google Tag Manager Code?
Google Tag Manager code is used to deploy tracking code such as Google Analytics tracking code, but it ca also be used to install tracking pixels and code from other platforms often used to track users between platforms like Facebook.
You can also use this code to deploy conversion tracking such as when an action is performed by a user such as making a purchase, adding a product to a cart or completing a form.
The screenshot below shows what the Google Tag Manager code looks like when looking at it in Google Tag manager. This also provides instructions on where to install this code: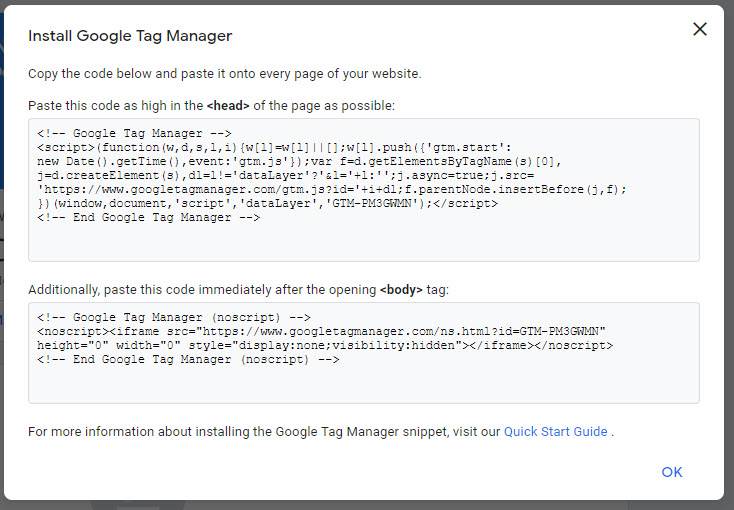 Identifying Pages Multiple Google Tag Manager Codes
Our SEO tools allows the identification of pages with multiple tag manager codes present really easy, You just need to navigate to the SEO reporting section of our SEO tool and you will see the Google Analytics & Tag Manager Data Summary section. We present this data in the summary tab and present three columns of data within this tab:
The number of pages with multiple Google Tag Manager codes from the current crawl
The number of pages with multiple Google Tag Manager codes from the previous crawl
The difference between these two numbers
You just need to click on either of the first two numbers you will be taken to a 'drill down' page that lists all of the pages that have multiple Google Tag Manager codes present on them. We do not use tag manager code to deploy tracking code… So, the screenshot below shows the drill down page without the URLs listed:

When Is This Data Useful to You?
If you are using Google Tag Manager to deploy tracking code, then this data will be useful to you, if you do not use this on your site, it will be of no interest!
The Impact of Multiple Google Tag Manager Codes on a Single Page
The impact of having multiple tag manager code deployments on a single page can vary but can include any of the following issues:
Not tracking data
Tracking code not triggering
Double counting or triple counting data
Data integrity issues
Increased load times and page flickers as the code tries to load multiple times