SEO Report
In this guide we explain how to generate and understand the 'standard report' or SEO report available in Raptor's SEO Web Crawler.
This report provides you with all the data you will typically need to perform a range of SEO audits or analysis on a site. The report splits data out into well-presented and pre-formatted worksheets making it easier to both navigate and use.
Create SEO Report
Simply follow the steps below to crate a broken link report. You will need to have a created a project and crawled a site in order to build or download a broken link report for a site.
Step 1: Login
Open a web browser and navigate to:
Once there, login with your Raptor Username and Password: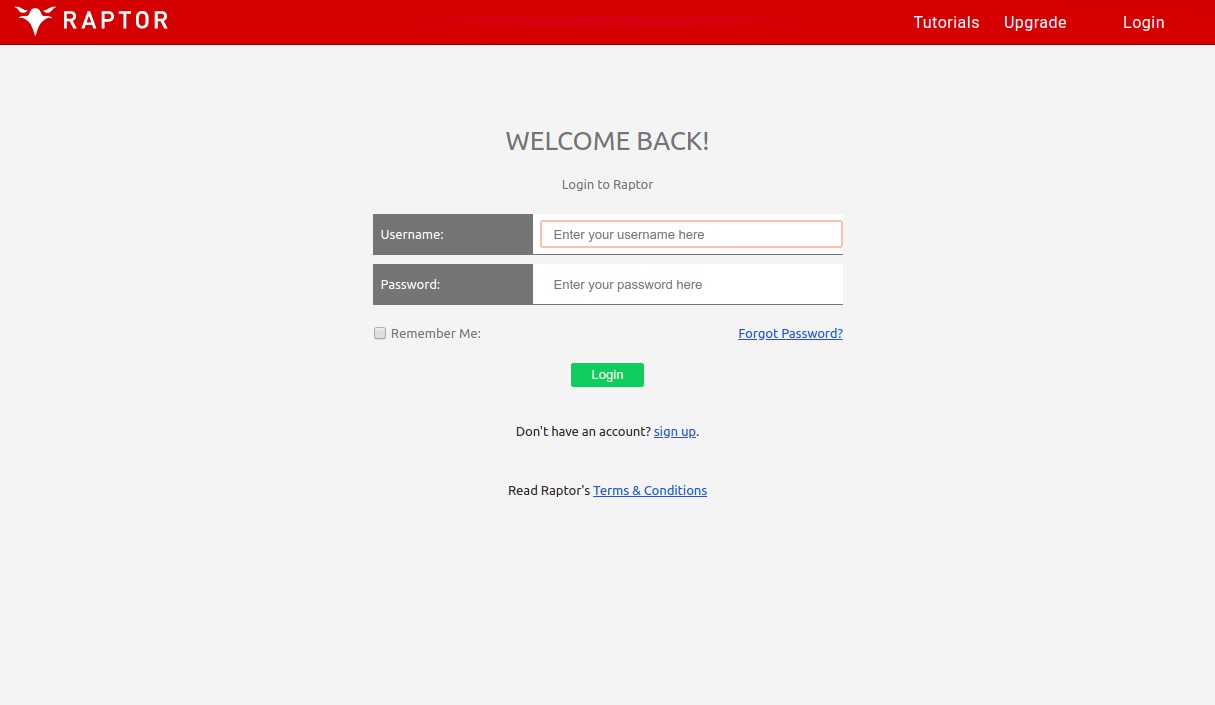 You can click on the 'Remember Me' tick box to save your details for future access on that device.
Then click on 'Sign In'.
Step 2: Choose a Project
By clicking on the 'project name' link in the table shown in the screenshot below you can view a project: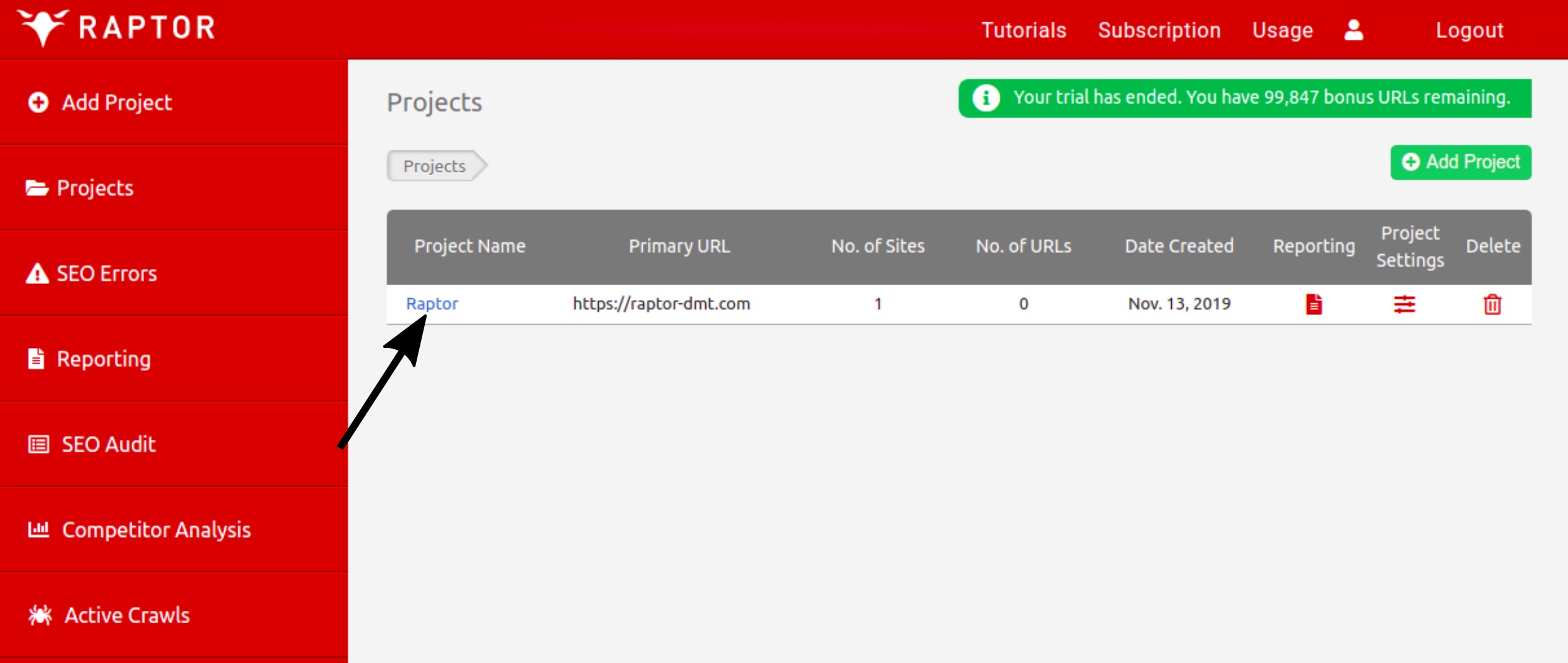 Step 3: Click 'Report'
Click 'report' in the 'Create Report' column for any site or competitor: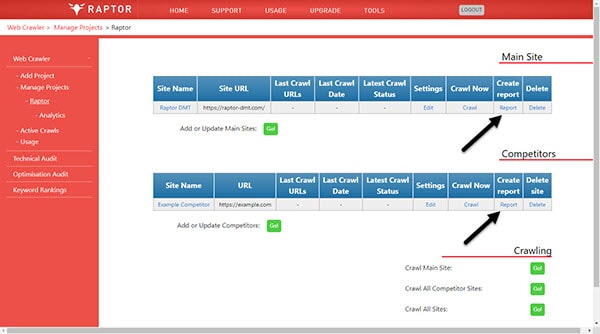 Step 4: Build SEO Report
You will be taken to this page, where you need to click 'Build Standard Report' to begin generating the analysis of the data. We analyse data to provide you with meta data such as whether a page is canonical or if it is listed in a sitemap.
You can see in the image below that where to click in order to do this:
This will then show a pop-up window (see below) telling you that this may take a while. The amount of time it takes depends on the number of URLs being analysed but is often just seconds.
Step 5: Download SEO Report
Once the SEO report has been built, you will notice that the text on the button changes to 'Download Excel'… Simply click the button to start downloading the report.

The file will be downloaded to your default downloads folder and is usually shown in the bottom left corner of the web browser: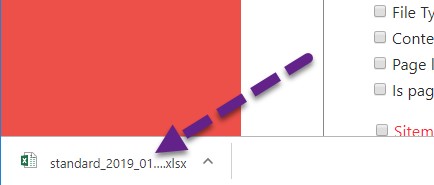 Understanding The SEO Report
The SEO report looks like this when first opened: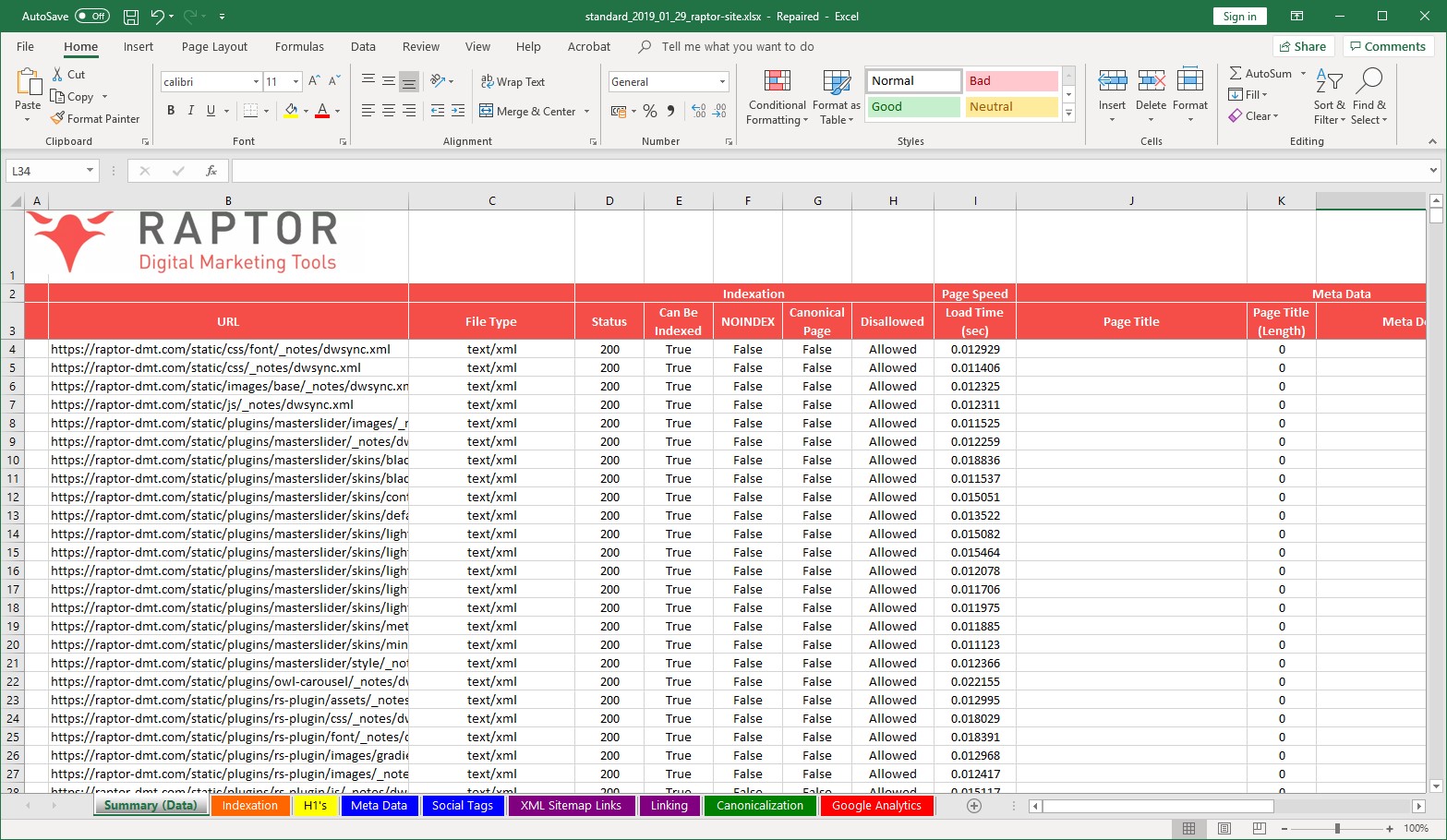 This report currently has nine tabs each of which is covered in more detail below, for information on any specific data, please review our data guides.
Summary (Data)
This tab / worksheet contains the following data and is intended as a overview of the valuable SEO site data:
File Type
Status
Can Be Indexed
NOINDEX
Canonical Page
Disallowed
Load Time (sec)
Page Title
Page Title (Length)
Meta Description
Meta Description (Length)
In XML Sitemap
Sitemap URL
Word Count
Image Count
In links (Follow)
In links (Nofollow)
Indexation
This tab shows indexation data such as the status code, whether the page has a noindex tag and if its disallowed by the robots.txt file. Data included in this tab is as follows:
File Type
Status
NOINDEX
Disallowed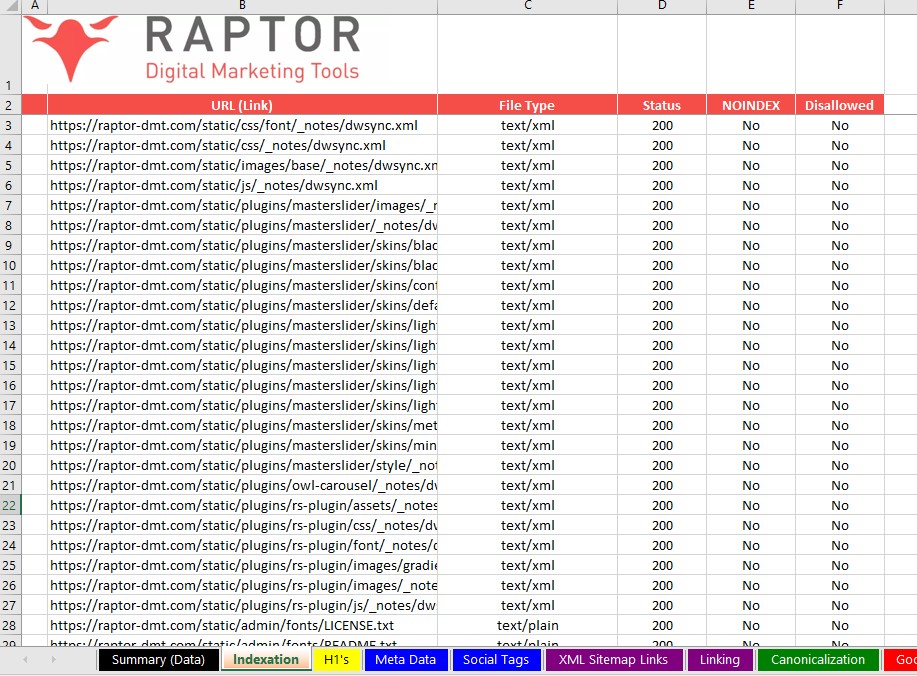 H1's
The H1 tab shows all the headers such as H1 and H2 headers on the site. We also include data where multiple tags of the same type exist on a page. The data shown in the columns on this page are:
H1 (First)
H1-2 (Multiple)
H2 (First)
H2-2 (Multiple)
H2-3 (Multiple)
H2-4 (Multiple)
H2-5 (Multiple)
H2-6 (Multiple)
Meta Data
The meta data tab shows data for page titles and meta descriptions and includes the following data:
Page Title
Page Title (Length)
Page Title Count
Meta Description
Meta Description (Length)
Meta Description 2 (Multiple)
Meta Description 2 (Length)
Meta Description 3 (Multiple)
Meta Description 3 (Length)
Social tags
The social tags worksheet shows the OpenGraph and Twitter tags and their contents for each page. The data included in this are as follows:
og:title
og:type
og:image
og:url
og:description
twitter:card
twitter:site
twitter:title
twitter:description
twitter:image
twitter:creator
Itemprop="name"
Itemprop="description"
Itemprop="image"
Itemprop="url"
XML Sitemap Links
The XML Sitemap worksheet shows data about what which sitemaps pages are listed in and shows pages that are not listed in a sitemap. The data included in this set are:
Linking
The Linking sheets shows data around the internal and external links identified during the crawl, the following data is include in this worksheet:
In links (Follow)
In links (Nofollow)
% Follow In Links
Sitemap Priority
External Links
Canonicalization
This sheet looks at the canonical data for the site and includes some indexation data as they are often looked at together.
Canonical Link
Canonical Page
Type
Status
NOINDEX Tag
Crawlable
In XML Sitemap
Google Analytics
This sheet shows data surrounding the Google Analytics & Tag Manager implementation across the site such as, UA numbers, multiple accounts on the same page and legacy code.
GA Code (first)
GA Code Count
G Tag Manager Code (first)
G Tag Manager Code Count
Global Site Tag Code (first)
Global Site Tag Code Count
Legacy GA Code (first)
Legacy GA Code Count
Related Content
If you liked or found this article useful, you might also be interested in the below guides, these are also in the 'reporting' section of our support documentation.