Total Words on a Site - Raptor SEO Data
The total number of words is a metric that measures the word count across an entire site regardless of whether the pages containing those words are canonical or indexable. This metric provides some insight into the volume of content on a site.
Raptor's web crawler collects data from every URL and about every URL that is crawled, this raw data can be overwhelming to look at and so in this section (summary tab) we break this down.
The video below shows what this metric means, how it can be used and the value of knowing it.
This shows the total number of words we have identified a site.
Why is Word Count Important?
Although the following sections of data within the content category of the summary tab in our reporting tool provides a visualisation of the distribution of content across a site; knowing the total word count is important to know. More often this information is used in the context of other data, for example:
How does your word count compare to your competitors?
Has your word count increased over time
Has your word count decreased over time
Compare Word Count Between Crawls
One of the features we provide in our reporting tool is the ability to choose the crawl dates you want to compare and then see if the total word count has changed between those crawls. This is especially useful if your site has been growing or undergone some recent update or even a migration.
Comparing the data over time can indicate the speed at which your site is growing in terms of content and if there are issues that have arisen from changes to the site.
You can see from the screenshot above of the data on Raptor's site that between Nov-18 and Jun-19 we have grown the total words by over 158,000 words… Which is a lot of content!
Drill Down into The Word Count
The data shown in the summary tab can be clicked on and 'drilled down' into to see the word count of each page on your site. Using this data, you can see how much content you have on a subject or topic. Again, comparing this to competitors is a great way of benchmarking your site against the SERP landscape.
Th screenshot below shows the drill down page once you click on one of the two numbers (latest or previous crawl):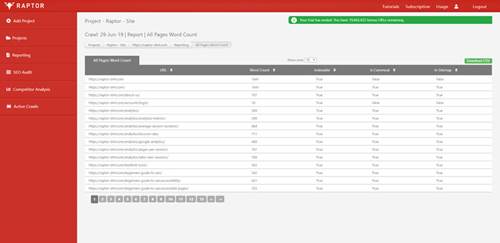 From here you can download the data to CSV or expand the number of rows as well as sort by the various column headers available.